Life At Vega IT
Want a happy business? Make a better world!
Author: Maja Budinski
Categories: Life At Vega IT
Date 29-May-2018
6 minutes to read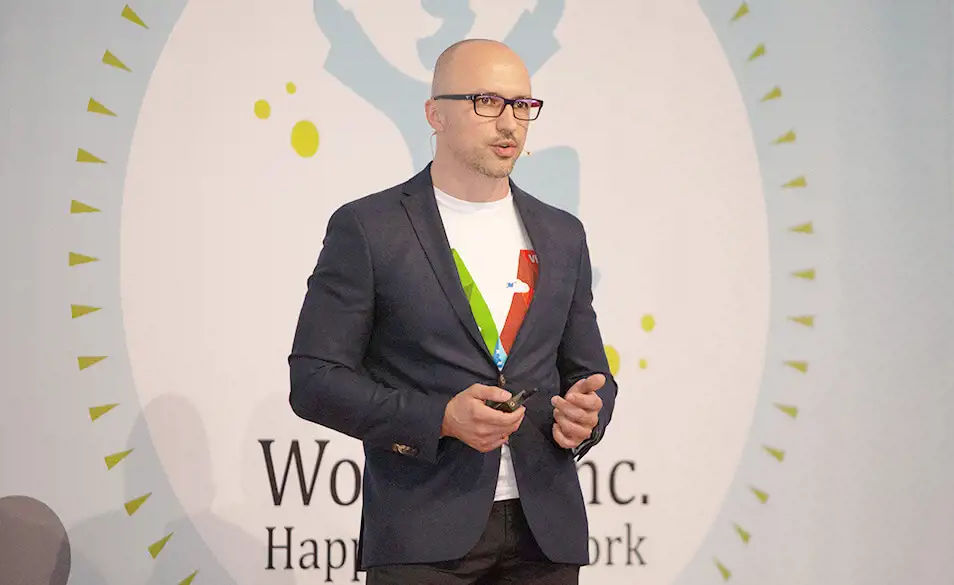 The International Conference on Happiness at Work that took place on the 17th and the 18th of May this year handpicked 12 most amazing speakers in the field. One of them was Saša Popović - our CEO and a passionate supporter of the idea of creating a happier workplace.
M: On this year's Happiness at Work Conference, you gave a lecture named "Want a happy business? Make a better world?". Why that topic and how did you come up with it in the first place?
S: Essentially, when Alexander Kjerulf, the Chief Happiness Officer of Woohoo inc invited me to participate at the Conference, he proposed the topic. He asked me whether I found it attractive and whether I would talk about it. At first, I didn't like this idea, mainly because that's not the topic we usually talk about. Although there are many things we do, not only for our colleagues but also the community that surrounds us, we haven't talked so openly about it. I believed that, if you talk so much about all the things you do to make your colleagues happier as well as for the community that surrounds you, the whole idea loses its sense and it seems like we are bragging about it.

From the first day we established the company, we have been investing a lot of effort into creating good working conditions for our colleagues.
However, once I consulted a few of my colleagues and Alexander as well, I came to the conclusion that it actually makes sense to talk on this topic. I realized that by sharing our experience with others, we can set a good example for other companies and help them reach even better results within their organizations and the world we live in. So, in the end, I decided to accept the offer and join the conference.
M: When did you first start thinking about the importance of happiness at work?
At heart, even before we established the company, my business partner Vladan Ostojić and I wanted to work in a place where we would feel comfortable, satisfied and happy. This was not the result of any particular research. We just wanted to create a workplace where we would both feel happy. We both wanted a job that would make us feel good from the moment we get up in the morning until the moment we finish our working day and go home. From the first day we established the company, we have been investing a lot of effort into creating good working conditions for our colleagues. We wanted to build good relationships and a thriving culture that will ultimately contribute to the happiness at work.
M: At the Conference, Alexander Kjerulf talked about the connection between happiness at work and job satisfaction and he emphasised how important they are for creating a happier workplace. What's your view on this?
S: First, those two are completely separate concepts. While job satisfaction is something we rationally think about (something more concrete and tangible), happiness is how we feel about things (about our job in this particular case). Happiness is something we cannot explain in a rational way, but that can significantly improve and increase the overall quality of our life.
M: One of the things that you talked about at the Conference are the activities and different kinds of events that we and our colleagues organise because we believe they have positive impact not only on the organisation and happiness at work but also on the lives of other people. Can you tell us more about it?
S: We believe that these deeds have a positive effect on both sides - on those who feel happy about helping others and on those who are being helped. Here are some of them:
M: Sometimes, it seems that all the perks the people are provided with are simply not enough to make them feel happy and satisfied with their work. What, in your opinion, is the thing that motivates people? What's the thing that makes them want to thrive in their work?
S: It's important to keep in mind that perks have a positive effect on job satisfaction and not on the happiness at work. Of course, this doesn't mean that perks don't contribute to the happier working environment. In other words, if we are satisfied with our work it doesn't mean that we are also happy. But, if we are not satisfied, we will not be happy. The thing that motivates people is not only professional work and achieving excellent results. There are other things as well. For instance, nurturing good relationships with our colleagues and clients can have a positive impact on our results which, then, can contribute to our happiness at work.
M: Is there anything else we could do to feel good and satisfied at work?
S: I recently read the book "Why we work" by Barry Schwartz, who points out three basic motivators:
>
A job as a way to gain financial resources and survive

A job as a career opportunity

A job as a calling
I think that people would feel much happier if they could view their job as their calling instead of just a mere work execution. This can be either doing something good for the community or thinking about how our job can contribute to the betterment and the well-being of our children, relatives, and our entire family. I think that different people are motivated by different things. But, I also think that everyone is capable of viewing their job as a calling, that is, something much more meaningful than just a job or a career.

Happiness is something we cannot explain in a rational way, but that can significantly improve and increase the overall quality of our life.
M: From your own experience, what would you say are the most common challenges and obstacles to creating a happy working environment?
S: The thing that we recognized as a challenge is that, back in the past, we used to talk about happiness at work too much. My advice to others is to put an effort into creating a happier workplace without emphasizing the whole concept of building it. Instead of insisting on creating a happy workplace, and talking about it, work on it without giving it a name.
One more challenge we have encountered is more related to the environment we live in and the general attitude of the people in our region. Back in the past, people didn't use to talk about happiness at work so much. So, now when we talk about it or do things that help us be happier at work might make some people think we are being insincere or even fake. It might seem there is something hidden and that things are not as pretty as we present them. I believe that, in order to build the culture where people feel good and happy about their job you need to set good examples, do small things that will lift people up on a daily basis, and invite them to join you on this path.
M: Thank you!
We will continue working on creating a workplace where people nurture social interactions in a sense of trust, respect and dignity which will benefit our capacity to create something bigger than ourselves! We are looking forward to the next year's conference!
Want to find out more on this topic? Feel free to ask!