We work with
global game-changers
Give your digital agency the strength, skills and firepower it needs to succeed.
We're not the kind of software partner who just sits back and solves tickets. We take time to learn everything about your business: your dreams, hopes, fears, challenges. And together we find new and inventive ways to solve the problems you face. It leads to innovations that can unlock a whole new future for your business.
Let's go
Our recent case studies and some industries we have experience with
With over 1000 successfully delivered projects across Europe, USA and UAE and clients that are choosing to work with us for years, VEGA IT has made its mark in more than 15 different industries. Our expertise and work got verified in some key areas such as fin-tech, pharma-tech, health-tech, transportation & logistics, food-tech, enterprise blockchain and others.
Our work
Our tech stack: designed to work with yours
.NET

Java

Python

Node.js

HTML

CSS

React
Angular

Vue.js

React Native

Swift

Flutter

AWS & Azure
Our speciality?
High-performing, semantically-rich and accessible markup, paired with perfectly organized CSS/SCSS architecture. Dreamy.
Progress happens when we co-create
Sometimes you need a self-managed software engineering team to drive your success. Other times you just need a little extra capacity. We do it all – blending with your team to give you the skills and capability you need to succeed. Here's what we do for our clients: 
Software product development
Custom software development
Corporate websites
Annual reports 
Content loading 
Get in touch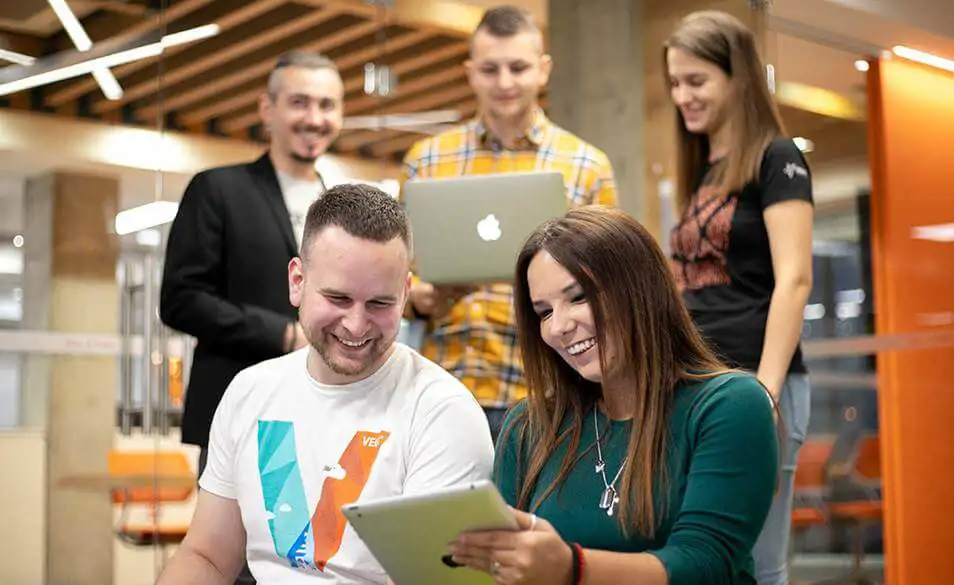 Innovators, not just problem-solvers
Heads in the world. Hearts in the code. We are software partners, co-creators, passionate innovators. Our flexible service model is designed to fit your needs, whether you need a couple of engineers to expand your capacity, or a whole product team to ship the next big thing. Our clients from leading digital agencies love us for many reasons: 
Technical expertise
We work in all major programming languages, and use a wide range of technologies to find the best solution for you. 
Extensive domain expertise
We've been helping clients get results since 2008, and along the way we've gathered a whole heap of domain expertise from different industries. That means we understand your business context, and how to create lasting value in whatever we build.
Relentless passion
We never sit back. We're always looking for better ways to solve the challenges you face.
Reliability and flexibility
Reliable tech partners. Innovative co-creators. HealthTech software development companies match your ambition, extend your team, and supercharge your progress. 
Which business model suits you?
Different budgets, deadlines, challenges, and requirements. There is no one-size-fits-all approach to software development. To match your exact goals and ambitions, we offer two types of business models:
Time & material: Greater control. Flexibility. Participation in candidate selection. With no rigid processes or end dates, this business model is easier to scale up or down as your business needs change.
Fixed price: Fixed scope. Fixed budget. Fixed timeline. Those are the main benefits of the fixed price model. You set the requirements upfront, and we deliver the project within them.
Many clients choose to start with the fixed-price model. However, as their project scope evolves, they typically shift to the time & material model.

Some Content Management System we love
Moving past limits. Going somewhere new. Our specialised front-end development team of over 100 developers has experience with a wide range of CMS systems to give you firepower when you need it.
Strength in numbers
Expert software engineers
Sasa co-founded Vega IT 15 years ago with his former university roommate Vladan. Their dream of founding an IT company has grown into the premier software company with more than 750 engineers in Serbia. If you prefer to send an email, feel free to reach out at hello.sasa@vegaitglobal.com.
Real people. Real pros.
Book a call today.
Send us your contact details and a brief outline of what you might need, and we'll be in touch within 12 hours.