Business Insights
How we built the LeadDev website from scratch
Categories: Business Insights, Case Studies
Date 29-Sep-2023
3 minutes to read
LeadDev hired us as their tech partners – to help them build their event management website from zero.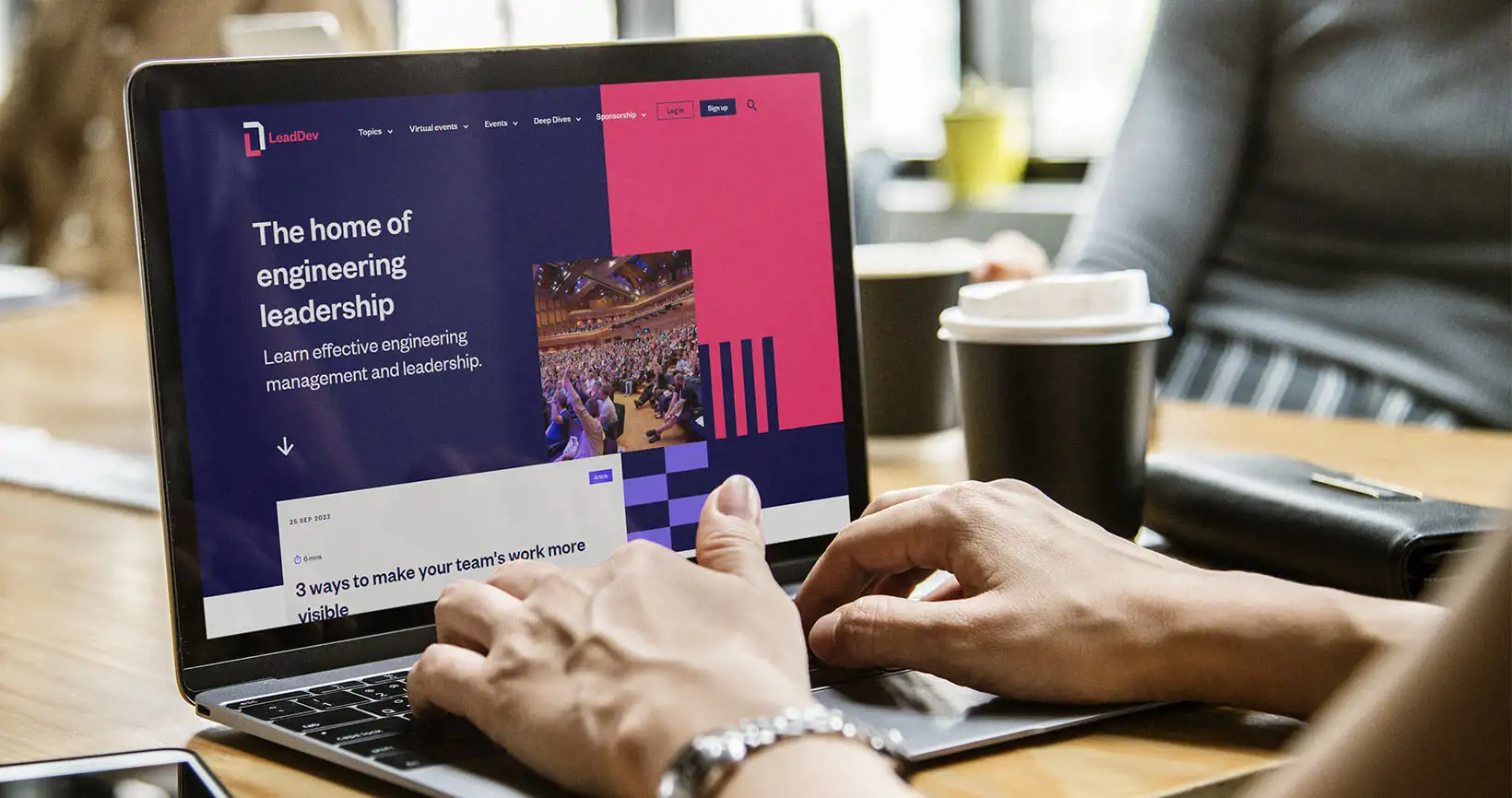 The more you care about something, the more successful you become at it.
Those are the core values LeadDev breathes and lives. It represents a community for software development professionals who want to grow personally and create an impact. They ran their first conference in 2012 and have grown exponentially ever since.
LeadDev offers both in-person and virtual conferences, providing education for IT professionals through a wide range of content, including articles, thematic content series, video talks, and panel discussions, produced by the most prominent voices in the engineering sector.
The challenge: Finding experienced Drupal developers to build the website from the ground up

The primary goal of LeadDev was to increase its brand presence and visibility in the UK market. For that to be achieved, they needed an easily accessible website. Fast. Comprehensive. Easily navigable. They chose Drupal as a CMS and were looking for experts to help them build such a website from the very beginning.
With over 15 years of expertise in Drupal development and extensive experience in event management, Vega IT proved to be a perfect fit for their requirements.
In addition to website development, the client also required regular website revamps and maintenance. They wanted us to use innovative technologies, update modules, add new functionalities to the website, and modify existing ones.
The team: A team of top-notch professionals, gathered to drive success
LeadDev was looking for seasoned software developers who could perform their tasks independently and provide them with expert recommendations that could drive project success. In the software development landscape, where there are not so many experienced Drupal developers, Vega IT sounded like a perfect fit.
We provided them with an expert team of Drupal software developers, front-end developers, and a project manager who worked on website development and maintenance.
The solution: A stable Drupal website, built to convert
We created the LeadDev website from the ground up, building it brick by brick. And, do you know what the most amazing part of such projects is? It's the fact that we were actively participating in all stages of website development, from thorough research and planning to website creation, testing, launch, and maintenance. That means that we talked to the client and listened to their ideas, pain points, values, and expectations. We used them as the starting point for the project, creating a custom-tailored website that perfectly matched their needs.
Additionally, we brought value to the client by improving the environment in which their CMS rests, improving the app stability, and optimizing their overall workflow.
The result? A stable, well-performing solution that makes LeadDev more visible in the online landscape and ensures that all user journeys are seamless and frictionless.
The full tech stack:
Drupal as a CMS
Composer for PHP package management
Gulp as a toolkit for automating and enhancing the workflow of asset building
jQuery for the front-end part
Custom front-end CSS preprocessors (SCSS)
Acquia as a cloud platform
SSH used to pull db backups and generated files
Mysql as a database driver