Life At Vega IT
Vega IT Caravan: Visiting 13 Schools across The Country
Bojana Savanović
Categories: Life At Vega IT
Date 15-Jun-2022
2 minutes to read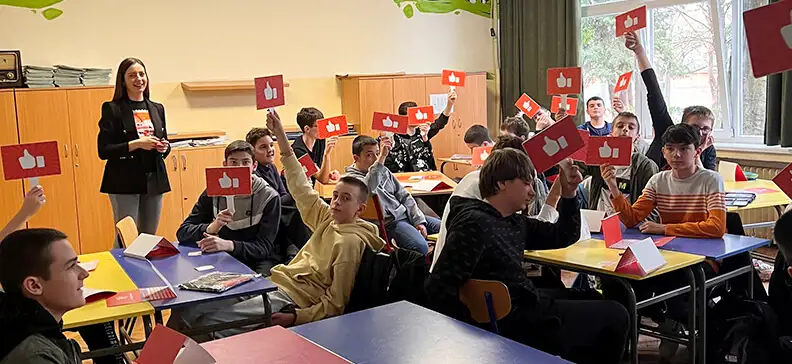 Knowledge-sharing and giving back to the community have always been very important initiatives we started from the company's early beginnings. Over the course of 15 years, we have organised many knowledge-sharing events for the local community, but this time we wanted to share our experience with young people across the country.
Our goal was to bring the IT industry closer to students from different backgrounds and parts of Serbia.
What Is the Idea behind Vega IT Caravan?
We realised that IT has become more popular among pupils, but not many of them are familiar with the variety of different roles they can explore. That's why we wanted to bring elementary and high school students across Serbia closer to the IT world and show them the diversity of career paths they can take in IT.
Which schools have we visited?
The Vega IT Caravan project started in February this year and we have visited 13 schools in 10 cities:
High School "Jovan Jovanović Zmaj" Novi Sad
Elementary School "Sonja Marinković" Novi Sad
High School "9. maj" Niš
High School "Nikola Tesla" Kraljevo
High School "Nikola Tesla" Zrenjanin
Zrenjaninska Grammar School, Zrenjanin
Mitrovačka Grammar School, Sremska Mitrovica
High School "9. maj" Bačka Palanka
High School "Veljko Petrović" Sombor
High School "Žarko Zrenjanin" Vrbas
Secondary School of Mechanical Engineering, Novi Sad
High School "Vuk Karadžić" Sečanj
First grammar school of Kragujevac, Kragujevac
What did the visits look like?

During our interactive presentations, the pupils learned more about all the different roles and projects in one IT company. Our colleagues also shared their insights on what type of knowledge and skills are necessary to find their ideal jobs in IT and how to take a step into the IT world.
We wanted to motivate them even more and so we invited them to apply for the 4-year scholarships we donate as a part of the Start Today Campaign.
We were amazed by the students' curiosity as they kept asking us amazing questions, gave impressive answers, shared interesting thoughts and ideas. We are looking forward to seeing these youngsters at some IT events in the following years. And we would be more than happy to know that our visit has impacted their future development at least a little.

During the visits, we invited students to feel the atmosphere of working in an IT company and visit us. And we had a pleasure to host 6 classes from Zrenjanin, Kraljevo, Sremska Mitrovica and Vrbas. Our colleagues gave them a tour around the company and shared more about what an ordinary work day looks like in Vega IT.
What is next?
With the end of the school year, our project Vega IT Caravan has come to an end, but our commitment to knowledge sharing and social responsibility continues.
In our efforts to continuously support secondary education in our country, we have started the campaign Supporting Knowledge, where our focus is to donate computers to high schools in Novi Sad, Niš and Zrenjanin.
You still can join the campaign, as a company or an individual and help us improve the quality of teaching and education of our high school students.