Life At Vega IT
VE:conf - Start Learning Today
Bojana Savanović
Categories: Life At Vega IT
Date 04-Jun-2021
3 minutes to read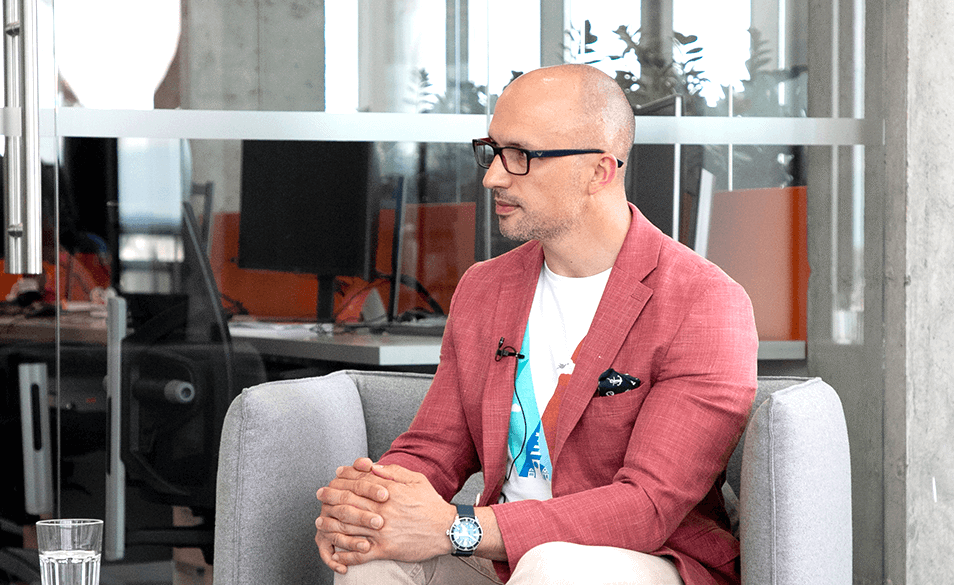 What do you think is the most important skill one can improve during student days?
We've joined forces for the third time with the student association EESTEC and organized VE:conf, an online conference to share our knowledge and experience with the future IT professionals.
We want to motivate young people to start working on their personal and professional development, in order to have a successful career, or even their own company.
What Did We Talk About During the Conference?
We started the conference with the topic How to build a successful company?. Dunja Dmitrović, a human value manager, interviewed our CEO Saša Popović, about his path from programming to managing the company with more than 300 employees.
Saša Popović: How to Build a Successful Company?
While still a student, the CEO and cofounder of Vega IT, Saša Popović, already knew he wanted to build his own company. Setting his mind to starting his own business, he focused on developing his skills in many ways—by reading, listening to courses, participating in different projects at the university, etc.

During the interview with Dunja Dmitrović, he drew attention to one important thing—"Don't neglect soft skills." Technical skills are fundamental, but working on soft skills is also an indispensable part of professional development. Their significance is particularly relevant in communication with colleagues and clients.
Working on the relationships with clients is crucial if you want to build a company. Therefore, Saša shared two things, which enabled him to acquire the skills necessary for entrepreneurship:
Participating in a student competition showed him how much you can learn in a short period if you care a lot about creating something meaningful.
Freelancing, which helped him learn how to communicate with clients and develop sales skills.
Besides entrepreneurship, young people can navigate their career into the role of team lead. So, we talked about the path from a software developer position to a team lead position at the panel Leadership From Three Angles. The panel participants were Ana Bjelica—a development lead, Nemanja Šobo—a software team lead, and Aleksandra Vujanac—a project manager.
Panel Discussion: Leadership From Three Angles
The panel's moderator, a partner and the Chief People Officer, Maja Nedučić, tried to find out from our panelists which skills they needed along the way and which ones they wished they'd acquired earlier.

It was a very interesting discussion and here are the impressions of our panelists:

Ana Bjelica: I desired to motivate students to work on their skills and knowledge, as well as to make them see that anything is possible if we try hard and believe in ourselves. Whether it is a change of profession or finding the first job after graduation.

Aleksandra Vujanac: The conference was a success, and we all had a lot of fun. I think that we managed to explain to the students what our job looks like, and I hope that we've inspired them to improve and go towards their goals with even greater self-confidence.
Nemanja Šobo: I enjoyed a relaxed discussion with my colleagues, where everyone shared their views on the current role as well as the experience they gained. I hope that we've motivated students to start working on themselves and drew their attention to the importance of soft skills.

By participating in a conference, our panelists showed that learning is a continuous process. For them, this experience meant stepping out of their comfort zone and practicing their presentation skills.
This event was a great experience for the organizers as well, especially for the students from EESTEC.
A Word From Our Co-Organizer

It was a real pleasure working with young people while organizing this event. One of the members of the student association EESTEC, Ana Obradović, shared with us her point of view regarding the organization of this event:
"I gained a lot of experience and self-confidence while working on this project, and I believe we all did a great job together.
Leadership is an inexhaustible topic, and it was presented in a way students are familiar with, thanks to the conference participants. They emphasized the qualities that we, as students, can start working on today, if we have ambitions to try ourselves in this branch of business."
Start Learning Today
We hope that the attendees of this conference learned something new and got motivated to start acquiring technical and soft skills needed for developing great careers or companies.
If you still haven't watched the conference, you can do it right now on this link.
Also, if you find this event interesting, follow our social media and be first to know about other exciting events we are working on. We are always in the mood for knowledge-sharing meetings and giving a company tour for the students.