Life At Vega IT
The Story About 7 Most Valuable Professionals in 2022
Author: Anđela Arsić
Categories: Life At Vega IT
Date 21-Feb-2023
3 minutes to read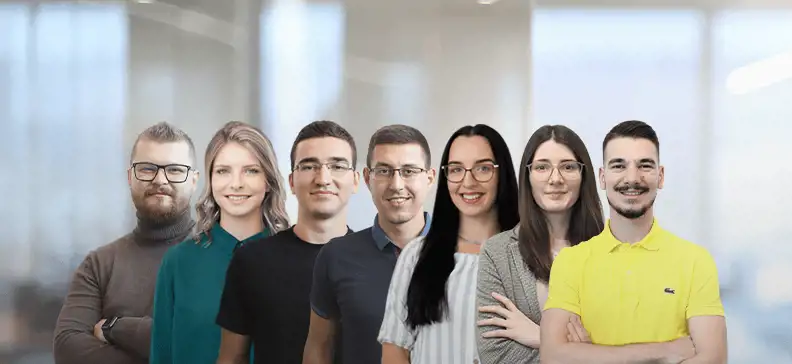 2022 was truly an amazing and rewarding year. None of our successes would have been possible without the strong dedication and inspiring team spirit of our colleagues.
Although each one of them put their mind and soul into their work, we have to give a shoutout to a few of our special colleagues who truly pushed their limits to reach new heights. We bring you the inspiring story of the seven most valuable professionals in the year behind us. And if you are not sure what our MVP program is and why we started it - check the link. ;)
Standing ovations for Nikola, Nikolina, Kosta, Lazar, Ana, Bojana, and Nikola. You all managed to make outstanding results during the last year. The knowledge and experience you shared and the dedication you showed are really something to look up to.
Chapter #1: Motivation, Hard Work, and Dedication
What does it take to be the most valuable professional in a dynamic and challenging environment such as IT? From talking to our colleagues, we singled out the three most important factors that can create impact: motivation, hard work, and dedication.
They have it all, but the one that differentiates them is motivation. We asked Kosta, Ana, and Nikolina to talk about what drives them to be the best version of themselves.
Kosta Kuprešak:
"For me, MVP was just a side effect. My motivation was to learn new and improve my existing skills. Working on myself has always been a big part of who I am, and in the end, MVP means that I share the same values with the company."
Ana Svitlica:
"I always felt like I could do more than just sit and write code. Even though I sometimes had doubts about myself, the MVP program was serving me as a motivator or a form of gamification for the challenge I gave myself."
Nikolina Belić:
"I am motivated to participate in the company's knowledge initiatives because it provides an opportunity for personal and professional growth, and promotes continuous learning and improvement. Furthermore, it allows me to apply what I learn during my daily work, see its impact on my performance, contribute to the company's success and build a strong team spirit and collaboration with my colleagues. This is what drives me to be better every day."

Our MVPs - Ana, Nikolina and Kosta
Chapter #2: Happiness, Satisfaction, and Honor
With great work comes great satisfaction.
Behind every recognition, there is a lot of work, lectures, and growth - both personal and professional. All those make you step outside your comfort zone and create a space for further progress. And how cool is it to be awarded and recognized by your company for your effort?! 
We chatted with Lazar, Nikola, and Bojana about their thoughts on being the most valuable professionals in our company:
Lazar Jović:
"This award is the wind in my sails motivating me to continue the work I am doing and keep going forward to learn even more. It also means that my work is appreciated. It always makes me feel good."
Bojana Kliska:
"This award filled me with happiness and satisfaction. I'm grateful and honored that our company sees and rewards hard work. Also, MVP Award motivates me to continue with personal growth and participate in the other MVP activities I haven't taken part in yet."
Nikola Brodić:
"The MVP Award for me is proof that Vega IT recognizes the commitment and effort of its employees. I am not just proud and honored to receive this award but also motivated to continue to improve my skills and help others. I am grateful to the company for showing, in countless ways, that it cares about the advancement of its employees."
Chapter #3: Inspiration
To be surrounded by people who inspire you is one step closer to being someone's inspiration. We strongly believe that by supporting and celebrating our colleague's success, we nurture growth and motivate others to do the same.
Nikola Mitrović pointed out how this was his main drive through the entire process:
"As I am always looking for ways to advance in my career, I considered the MVP program to be a good opportunity to push myself to reach my goals. Also, this is an opportunity to inspire new colleagues to become better versions of themselves as well."

Our MVPs - Nikola, Bojana, Lazar and Nikola
Final Chapter: Keep Aiming High
Since the beginning, our goal has been to create an organization with various opportunities for growth. Thank you, Nikola, Nikola, Ana, Bojana, Lazar, Kosta, and Nikolina for sharing this journey and values with us.
While we wait for next year's nominations, here is a friendly reminder for all new and returning MVPs: continue to aim high!