Life At Vega IT
The Colleague of the Month of June 2022: Lazar Veličković
Katarina Vasić
Categories: Life At Vega IT
Date 07-Jul-2022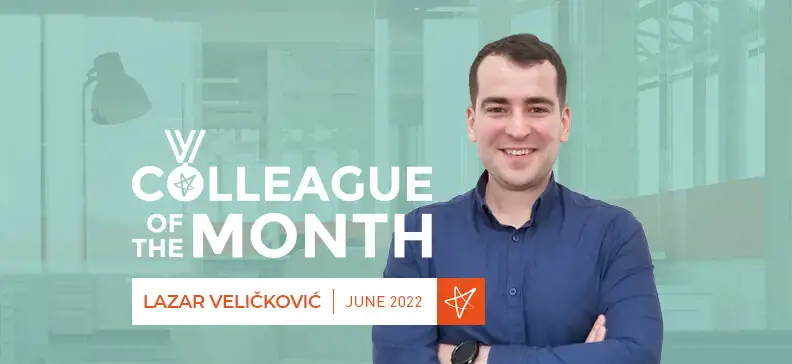 "Good colleagues are those who know that WE is more important than ME." - Anonymous
As part of our company culture, we encourage teamwork. Some actions are recognized through the programs such as Vega IT Values You, and, more specifically, through the Colleague of the Month program.
Anyone can nominate a colleague for this award by giving the reason why this particular someone should receive it. After voting, the person with the biggest number of votes will become our new "Colleague of the Month".
This time, the recognition goes to our colleague from Niš, Lazar Veličković.
The nomination:
"Last week, my neighbor, a student, got an assignment to create a project with his friends by using technology that they have never worked with before. Although I put all my efforts into helping them, I couldn't do it because I didn't have enough knowledge in that particular field.
However, Lazar heard about it by chance and wanted to help us during one of the conversations in the hallway. Although the project was very time-consuming, he remained focused and continued to be a good mentor for us all.
My neighbor and his friends will always remember Lazar's knowledge and professionalism".
Meet our colleague Lazar
Lazar is an experienced engineer passionate about his work. Before he became a Software Engineer he was working as an accountant.
He believes that every problem could be quickly solved simply by working in teams and paying attention to all the details.
Lazar, congratulations and thank you for always going the extra mile for all of us in the company!
Who will be our next colleague of the month? Stay tuned and find out ;)