Life At Vega IT
STAR Coneference 2023: Reunited
Author: Anđela Arsić
Categories: Life At Vega IT
Date 07-Mar-2023
3 minutes to read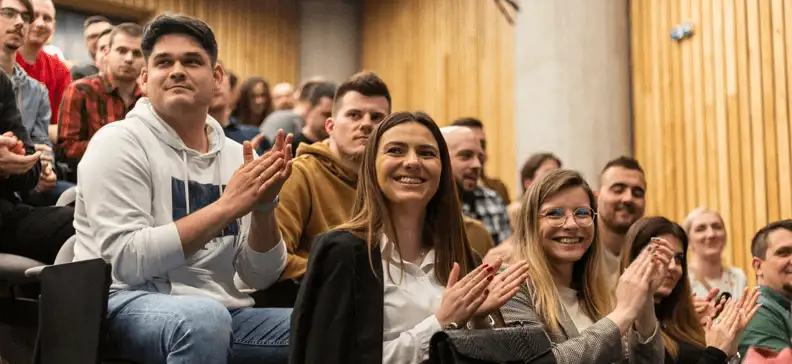 "In learning, you will teach, and in teaching, you will learn."
This February we reunited to both learn and share our knowledge. After three years, our internal STAR conference is back, and the motto remains the same - Colleagues for Colleagues.
The conference took place in Science and Technology park in Novi Sad and more than 250 colleagues participated as contributors, hosts, lecturers, and guests. It took eight hours, 20+ lectures and workshops to make this conference the best one so far. The conference was followed by applause and we could see many smiles in the audience.
Highlights and impressions
Our colleagues are the ones who reflect our values the best. Knowledge and growth opportunities have always been one of the most important values that drive us further.
The idea behind the STAR conference is to motivate colleagues to push their limits and step out of their comfort zone. Here are a few reasons why this conference is a great event:
It gives our colleagues a chance to participate in organizing and designing a complex event as a conference
It provides a safe space for all of the colleagues who want to overcome their fear of public speaking through sharing knowledge with colleagues
It's a great opportunity for all of the attendees to learn, support their colleagues, and encourage themselves to do the same
Jelena, Marko, and Zorana, who all had different roles in organizing the event, shared their point of view with us:
Jelena Perišić, as a attendee:
"As a non-technical person, I found a lot of interesting topics for myself and really enjoyed the company of colleagues who came with the same goal - sharing knowledge and spreading a good mood. Every opportunity to get together and spend time together is very important, and when you add quality lectures, selfless transfer of what we know, and gaining new experiences, at the end of the day it turns into a great feeling of fulfillment and satisfaction. I just see this conference as a perfect example of all our values. And who knows, maybe you will see me as part of the organization next year, and if I gather enough courage, I might even show my teaching skills :D"

Marko Puzović, as a lecturer:

"This was my first time attending this kind of event and I was quite pleased with the number of people that were eager to share their passion for tech and the topics that they are interested in. As we all know, the IT industry is full of smart people but the majority of them, myself included, lack a few communication skills to put their ideas into words.
The Star Conference allowed me to break out of my comfort zone and expose myself to new things I previously was not aware that I could do or was too afraid to try. All of that happened in a fun and familiar environment where there was no fear of making mistakes.
It is essential for a company to encourage their employees to break their routines and develop a set of skills that would lead them to the path of personal and professional development by enabling them to share the knowledge that they have accumulated throughout the years. That is why I would gladly participate in the next Star Conference and I would also encourage anyone who would like to try something new, to take part in the conference as this may be a good way for them to find out if they are good at something. They may be amazed by what they can achieve."

Zorana Marić, as a contributor

"At this year's Star conference, I was a presenter and contributor. Although I love public speaking, I must give a slight advantage to my contributor role. The main reason is that, as a contributor, you work in a team, and the creativity and energy that are exchanged between colleagues are irreplaceable. Star conference is definitely one of my top 3 events because it gives us an opportunity to learn, improve our skills, hang out, and try something we may have never done. I cannot wait for next year's conference to move the boundaries again, because, with the magic of the stars, everything is possible!"
'Till the next Conference!
We are already super excited about the next opportunity to reunite and show the courage to step out of our comfort zone, share knowledge, and support each other. Big BRAVO to all of you who made this event so special - you truly are our STARS.