Life At Vega IT
STAR Conference 2019: Magic of the Stars
Tijana Popov
Categories: Life At Vega IT
Date 14-Nov-2019
5 minutes to read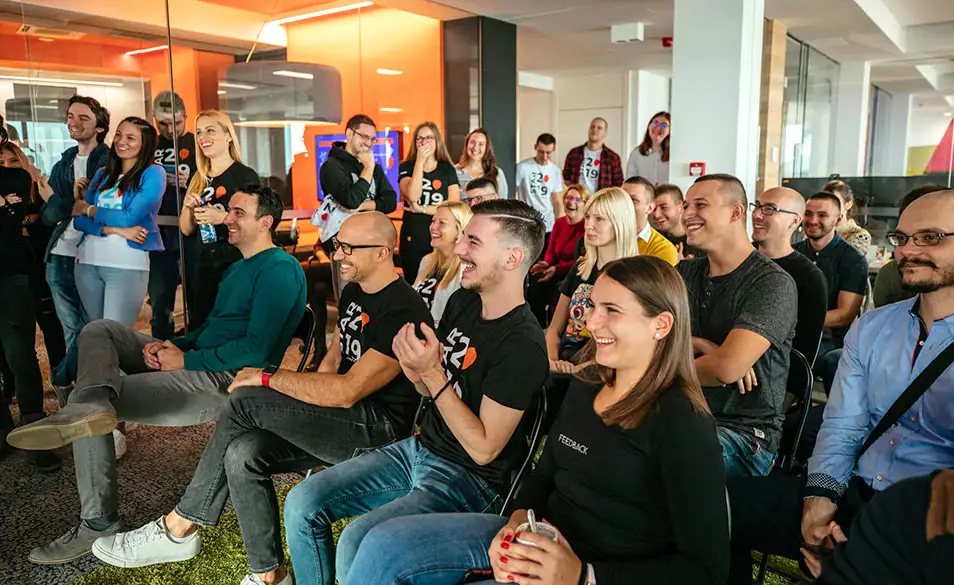 "Magic is believing in yourself, if you can do that, you can make anything happen." - Johann Wolfgang von Goethe
Can you guess what one of the most anticipated months of the year at Vega IT is? Would you be surprised to find out that it is November? Wondering why is this so?
During the first week of November, we do our magic and turn our headquarters into a real conference venue! The motto of our STAR conference is always the same: "Colleagues for Colleagues".

STAR Conference 2019 at Vega IT
In order to learn more about individual perspectives, we sat with Tijana Bašić (the contributor), Kim Novak (the mystery speaker), Maksim Bogunović (the guest) and Vladan Ostojić (the panellist) to find out more about their experiences and roles at the STAR conference.
#1: What was the highlight of this year's conference?
Tijana: This year we had two new things, mystery questions and an admin's corner, and it's really difficult for me to decide which was more interesting. So, I would say that both of them are the highlights of the conference. Mystery questions were equally interesting for both the audience and Saša, Vladan and Boban as well, who were answering the questions. Plus, our admin team came up with a great idea to entertain visitors by showing them a piece of computer history.

Tijana Bašić announcing the start of STAR Conference.
Kim: The highlight of this event was the atmosphere throughout the entire conference and the people who took part in it. The conference was excellent from the beginning to the very end, the organisation was top-notch and speakers and the audience were excellent as well. Some pretty amazing things were taking place during the breaks, such as the Admin's corner, which is this year's novelty. All in all, we didn't feel bored for a second. It was that fun!
Vladan: For me, this was the best organised and the most visited STAR conference so far. This conference has become a tradition. One can feel the positive energy spreading across the company and not only on the day of the Conference but for the months before it takes place. I must say I can't single out any highlights. When I look at the people who are excited about knowledge sharing events of this kind I can only say that the entire event was the highlight.
Maksim: For me, the highlight of this year's conference was the variety of topics which our STARS covered. I've had the opportunity to learn about the things that are not strictly job-related but still equally interesting and helpful.
#2: Most interesting lecture and why?
Tijana: It was interesting to listen to Ivana Tešanović while she was talking about how she saved herself from herself because a lot of us have experienced the same or similar issues while discovering how cruel the world really is. And it's really great to see her winning that battle and feeling good about it.
Kim: The most interesting lecture was the one given my Milan Deket called "My Startup Story: Fail or Success? You get to decide." I find this lecture to be the most interesting one because Milan shared some interesting anecdotes he had with his clients with us as well as bizarre situations he found himself in. The lecture was educational and it demonstrated some of the obstacles which we can encounter on our road to founding a Startup."

Kim Novak as a mystery speaker.
Vladan: Although I had an insight into what topics would be presented during this year's Conference, I can say that the most interesting thing about the event was the fact that the colleagues who don't have any technical knowledge background had a chance to gain some hands-on experience and install and configure the operating system themselves. In addition, each colleague who made an effort to prepare the lecture deserves my gratitude as well as the gratitude of other colleagues.
Maksim: The most interesting lecture was "Evaluation of knowledge with adaptive testing". This lecture really opened my eyes about the flaws of normal evaluation testing and how adaptive testing can change the quality of studies.
#3: Will you change your role next year?
Tijana: Definitely not! I have been a contributor since the first STAR conference and I feel great being a part of this machine which makes our colleagues willing to spend their Saturday in the company's space and improve their knowledge and/or their soft skills. The STAR conference was awesome this year but we'll make sure that the next year's conference is not just better but the best conference our colleagues have ever been at.
Kim: I hope not. I like giving lectures, and being a speaker at the STR Conference has been the best experience so far. The atmosphere was excellent, all of our colleagues were in a good mood and I didn't feel anxious while giving a lecture for the first time in my life. I can hardly wait for next year's STAR Conference to start. :-)
Vladan: Last year I was the guest, and this year I was one of the panellists. I can say that I enjoyed playing this role. Considering the fact that I don't have much opportunity to be a speaker throughout the year, I might as well apply for that role next year. I am still not sure if that will be a mystery lecture or not. ;-)

Vladan Ostojić answering mystery questions.
Maksim: Even though it's nice to be a contributor, being a spectator suits me more. But never say never! If I come up with a good lecture that I want to share with my colleagues, I'll definitely change my mind!
As you can see from our colleagues' responses, the option to choose their roles is what makes our internal conference stand out. Some of us change our roles each year and some of us stick to the ones we are the most passionate about.
Last year we donated the proceeds from the tickets to the NURDOR Association (National Association of Parents of Children with Cancer). Don't get confused by this! - STAR conference is free to attend. ;-) We just multiply the number of people who come through our doors by 1.000 dinars.
This year we have chosen two organisations: Organisation "Osmeh na dar" and Suicide prevention organisation "Srce" ("Heart"), where each organisation will receive 70.000 dinars. If you do your math, you can see that 140 of our colleagues were involved in the STAR conference.
We have an entire year to get ready for November 2020 and create another great conference. In the meantime, we will continue to organise and visit other knowledge-sharing events.
So there you go! This is how it feels to work in a place where learning continues! With a little magic of the stars, everything is possible! ;-)