Life At Vega IT
Impressions and Thoughts From JavaScript Fundamentals Workshops
Author: Anđela Arsić
Categories: Life At Vega IT
Date 01-Oct-2021
4 minutes to read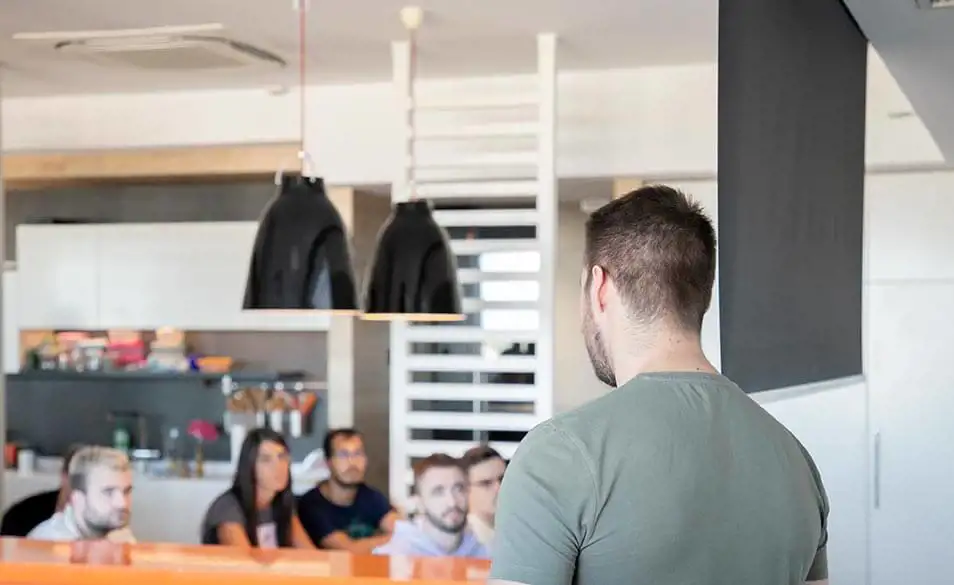 In a dynamic environment such as the IT industry, learning is a never-ending process, and what better way to learn than from each other?
A couple of weeks ago, our colleagues had the opportunity to participate in a two-day workshop on JavaScript Fundamentals led by our colleagues―Janko Vrbnjak and Nenad Perčić.
This was the first of three workshops on this topic that will take place in the next few weeks.
What Did Our Colleagues Learn From This Workshop?
The idea of the workshop was to deal with performance optimization, code writing style, as well as the way of thinking in which we decide to focus on just one or the other.

Nemanja shared with us his thoughts about workshops
Our colleague Nemanja Lekić pointed out that the experience from the workshop meant a lot to him, and that he had the opportunity to learn many things that will be important for his further work:
"I learned some new JavaScript methods from attending the workshop, as well as data structures that I had not used before, and I learned to look at the code I write differently.
I realized that I need to pay more attention to whether my code is readable or preformant, as well as to consider a situation where one of those two items would be more important to me.
Nenad and Janko are great lecturers, and I had the impression that they complemented each other very well at the workshop, and I think that they make a great team."
What Were the Dynamics of the Teams Like?
The concept of the workshop was to join experienced colleagues with the ones with less experience to solve tasks together.

Igor really enjoyed teamwork and the atmosphere
The teamwork that was emphasized throughout the workshop is exactly what our colleague Igor Malešević liked the most:
"Teamwork and the atmosphere that reigned in the teams is definitely something that made this workshop special. Each team consisted of those more experienced and the colleagues with less experience, and that is what made the workshop fun, but also very useful for both sides.
I also liked that, after the completed tasks, we had the opportunity to look at what the other teams did, which allowed us to see different approaches to solving the same tasks. Absolutely great experience!"
What Are the Benefits of Attending a Workshop Like This?
One of the main benefits of workshops is that they help us improve our work and encourage us to look at things from a different perspective.ve
Our colleague Magdalena Lakić pointed out that the advice and the guidelines she heard at the workshop were extremely important for her further work:
"It meant a lot to me to hear some advice and guidance from more experienced colleagues, especially since I am currently working on a project that uses JavaScript.

Magdalena got some useful tips for her further career development
Given that we work with a large amount of data, I haven't had much opportunity to think about the performance of the code itself, which is extremely important. Also, we had the opportunity to practice our teamwork skills in an unknown team, as well as to improve our communication and presentation skills.
While discussing with colleagues about their ways of thinking, I learned a lot and adopted some new tricks that will prove valuable in my future work."
In addition to the exchange of knowledge and experience, the support offered by the lecturers, Janko and Nenad, as well as their encouragement of the participants to think for themselves, has motivated our colleague Bojan Zelenković to further develop and improve his technical skills:
"I would definitely recommend the workshop to all the colleagues, because I think that, by attending it, we are given the opportunity to collect good practices from it and, thus, learn something new and improve our work. In particular, it helped me a lot to see new, useful methods when it comes to programming and I discovered aspects of my work that I could improve."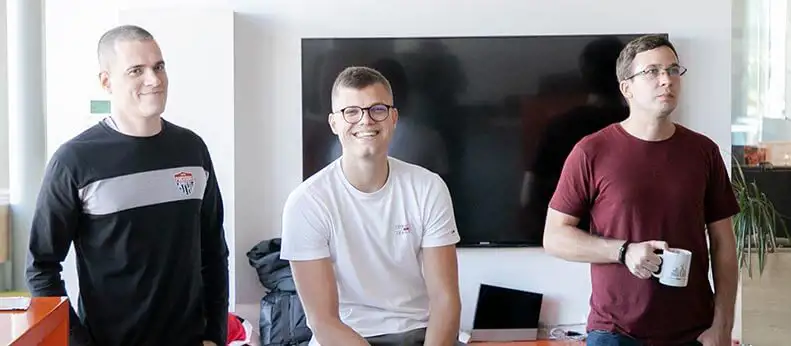 Bojan discovered aspects of his work that he could improve
Vega IT ― A Place Where Learning Continues
We are proud to be a learning organisation, and we will continue to organise internal lectures, internal conferences and workshops like this one. We strive to motivate each of our colleagues to expand their knowledge and improve both their technical and soft skills.
While we eagerly await the next JavaScrip Fundamentals Workshop, we cannot be more proud of Nenad and Janko―they've proven to be great experts, lecturers and that they make a great team together.
Have you ever had a chance to participate in an interesting workshop like this one?
Feel free to share with us your experiences, and give us your suggestions for the next topic in the comments below.