Life At Vega IT
Empple Festival Awards 2022: Bojana Savanović Is the Employer Brand Manager of the Year!
Anđela Arsić
Categories: Life At Vega IT
Date 14-Nov-2022
3 minutes to read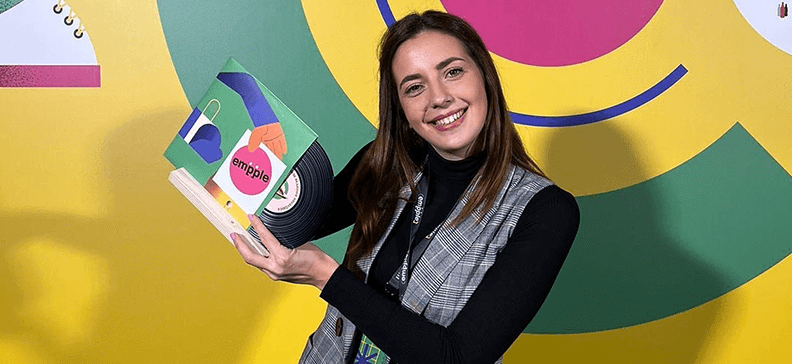 Last month, we attended the first employer branding festival in Serbia, for the second year in a row.
The idea behind Empple festival is to present many different areas of employer branding and various good practices for improving the company's reputation, employee satisfaction, and attracting new potential employees.
After the first part of the festival, during which we heard a few interesting lectures, we got ready for the awards. Drumrolls... Our colleague Bojana Savanović is the employer brand manager of the year! Congrats, Bojana - it's well deserved!
The Story Behind: Interview with Bojana Savanović
In the last two years, Bojana has been one of the key players when it comes to the company's employer branding activities.
We sat down with Bojana and talked about her journey at Vega IT.
1. Bojana, congratulations on this amazing achievement! From my point of view, it's a well-deserved recognition of your work. How do you see this award, and what does it mean to you?
"First of all, just being nominated for this award made me feel grateful and proud to work in a company that recognizes and appreciates my work, effort and commitment. On top of this, I am happy to have the support of the phenomenal people I work with.
Also, I am proud that something I was working on was recognized by the community. I really value everything the Empple team is doing to create a better employment ecosystem and that makes me appreciate this award even more. And as the festival's message this year was 'Look back. Move forward'. - it reminded me to stop and reflect on my achievements.
My main goal at the beginning of my studies was to find a way to do what I love, and don't forget to enjoy the journey. So, when I won the Empple Award for The Employer Brand Manager of the Year, I felt twice as happy because I realized that the project and the activities which led me to the award were the ones I enjoyed the most. It is the confirmation that I am, and that I can move forward in the same direction."

2. As the festival's message says, let's take a look back for a moment. We can all agree that a lot of small steps lead to great achievements. How would you describe your journey in Vega IT?

"I can say that my first connection with Vega IT started when I visited the company with my class in the 4th year of my studies. And, it's interesting, because today I've been taking more than 30 tours like this, as a host. :) Meanwhile, I finished my studies, got some experience in marketing agencies and then became part of Vega IT.
My career path in this company was based on trust, support, and knowledge-sharing given by the team lead and the team members. Also, It was full of opportunities to try new things, to learn and challenge myself everyday. It included working on social media activities, event management (online and offline; internal and external), CSR activities, PR, offline branding, online advertising, copywriting, email marketing, creating landing pages, creating reports,etc…Summarizing all this things, I can say that I'm the most proud of the fact that the stepping out the comfort zone become everyday thing to me. I believe that it made me calmer and more focused on finding solutions when it comes to unexpected situations. Another thing I'm very proud of is the relationships I've built with my colleagues.
Working with a lot of different people on a daily basis could be challenging, but also a true pleasure when you realize that half of the work is in good communication. I have to mention that a good organizational culture greatly facilitates this process."

3. As you mentioned, you have worked on various projects and activities during the last two years. Each of the projects had a great impact on your personal and professional development. Can you single out some of the most challenging and inspiring projects for you?
"As you said, every project is a significant part of my professional and personal development, especially because each of them is unique. For example, Vega IT Karavan took me to 13 schools across Serbia. This initiative was aimed at providing students with all the necessary information about the IT industry when choosing further education. It was a phenomenal experience, especially because I had a chance to see how this type of support meant to the pupils.
On the other hand, there is GreenIT, an ecological CSR project, which was very challenging as it included 4 locations, 30 other companies, 200 eco-enthusiast, 154 saplings and 4 months of dedication and work. I have to mention great internal projects as well, such as organizing a New Year's online event and the company's birthday party. The party was conceived as an all-day gathering at Salas 137 with lots of team building activities and was attended by more than 600 colleagues. Let's say that these four were the most challenging and most inspiring projects I have worked on so far."
4. Trying new things and embracing challenges is what can lead us to higher growth. What did you learn from challenges that led you to new victories?
"We have an intern joke in the team that during every event/project 3 things must go wrong. And once you fix them, you can relax. Joke aside, usually external factors beyond our control create the most challenges. From my experience, in those kinds of situations teamwork played a crucial part.
The synergy of good relationships with colleagues, great communication and focusing on the solution (not the problem), is the halfway to finding a solution to any challenge. I'm lucky to be a part of the team where everyone is willing to help each other in difficult situations. It's very important to know that there is always somebody ready to jump in when you face an obstacle.
5. We often forget to step back and reflect on our work's impact. Has this award helped you realise the importance of the projects you have worked on and personal contribution to the community?
"The Empple's slogan says 'Everything starts with the people' and I absolutely agree with that. One of the reasons I love my job is because it is people focused. The feedback coming from my colleagues, potential employees and community members is always a sign that we did a good job. Based on the feedback I have received, I believe that the projects I was working on have contributed to fostering a company culture that includes great teamwork, trust, openness, recognition and fulfillment.
On the other hand, I'm very grateful that I'm working in a company where I have a chance to take part in significant CSR activities, which have definitely created a long-term positive impact. Both internal and external projects inspire me to give my best to create positive changes in our company and society."
Thank you! You are truly an inspiration!
Now is the time to look forward to new joint victories.