Life At Vega IT
Ask the Experts 2022: Sharing Knowledge and Creating New Connections
Anđela Arsić
Categories: Life At Vega IT
Date 31-Oct-2022
2 minutes to read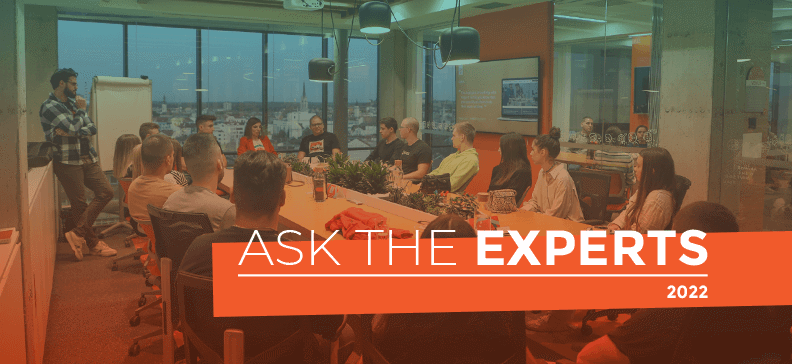 Sharing knowledge and experience with both our colleagues, and the community, has always been of great importance to all of us.
After two years of online gatherings, last week we finally got together and organized another "Ask the experts" event. This year's event brought together more than 100 people interested to hear more about six different fields in the IT industry.
The story behind the "Ask the experts" event
How often do you have the opportunity to hear first-hand experiences from IT experts and get advice on how to dive into the specific field in the IT industry?
Whether you are changing job orientation, making the first steps in your career, or just want to develop professionally, all these journeys can be challenging and full of questions. And we have all been there.
So, a couple of years ago we organized a knowledge-sharing event where professionals from our company answered questions and shared their experiences with all participants.
Today, this event has become a tradition, where in addition to knowledge, people with the same interests gather and connect. Such was the case with our colleague Zorana Deurić, who came here a few years ago as a participant, and now she was one of the experts:
"As someone who attended these kinds of events during studies, I am glad that I was also a part of this year's event as one of the company's representatives. Ask the experts is a very useful event, primarily for people who are starting their professional career. For them, this is a great opportunity to find out everything they are interested in first hand and see what a typical working day of a software developer looks like. I think that through an informal and completely relaxed atmosphere, we exchanged experiences, initiated various useful discussions and answered the attendees' questions, giving each of them enough information for further steps in their career development."

What were this year's topics?
In a dynamic industry like IT, the need for new positions and methods is constantly changing. So we try to keep up with the hottest topics so that we can dive deeper into the topcis and answer all of the burning questions at events like these.
So, last week our colleagues answered all the burning questions regarding these six topics:
Software development
Front-end development
Project Management and Scrum
DevOps
Data Science
QA
During the two-hour session, they answered more than 80 questions that we received prior to the event, as well as the questions the attendees asked at the event.
It turned out that one of the most interesting fields nowadays is Project Management and Scrum. Aleksandra Vujanac, Project Manager from our company, gave us her her perspective on this event: "I see the "Ask the experts" event as a unique opportunity where anyone can get answers to many questions they have. This can be related to Scrum, project management, but also the way our company works. As I entered IT myself a few years ago, I understand the challenges that arise in the process of choosing what suits a person best, which path they should choose, and we also often talk about that topic at this event. Sometimes we are lucky enough to have participants join us in the company after the event - some of my favorite colleagues are among them."

Until next year!
Sharing knowledge and experience encourages others to do the same, and in that way, we all learn from each other.
So, until we reunite next year for one more "Ask the experts" event, feel free to send us your questions via our social media platforms. And if you are ready for the next step, check out currently open positions on our career page. We would love to meet you!