Life At Vega IT
Ask the Experts 2020 Event: Impressions
Author: Uroš Gostović
Categories: Life At Vega IT
Date 06-Nov-2020
18 minutes to read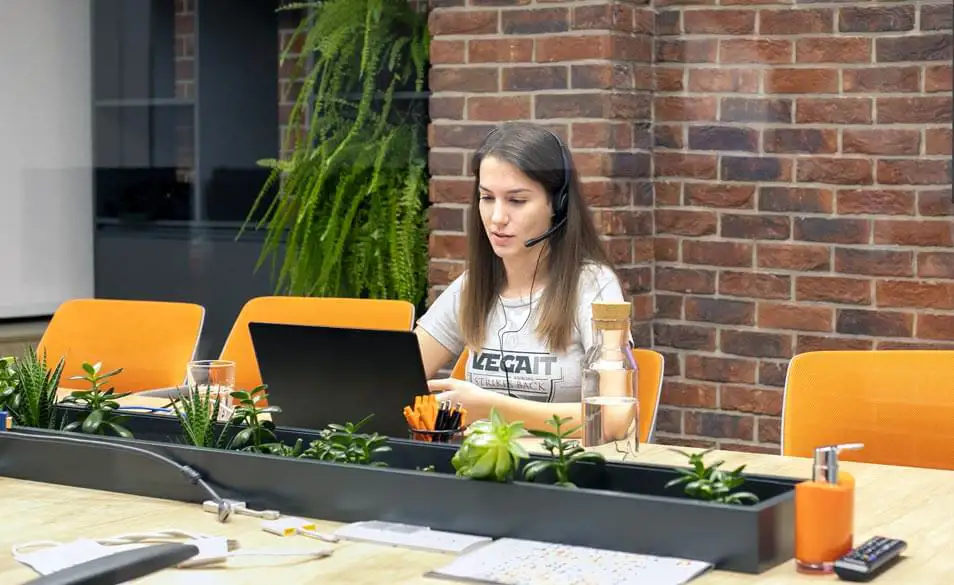 We believe that one of the essential things that drive our company success is a constant flow of knowledge. A learning organisation where knowledge-sharing is a priority engages employees, builds stronger relationships and stimulates innovation. This is why knowledge sharing is one of the pillars of our company.
"Knowledge increases by sharing, not by saving." - Kamari Aka Lyrikal
Why did we organise the Ask the Experts event?
Spreading knowledge amongst our colleagues, but also with the community is something we take very seriously. This is why we try to organise both internal and external knowledge sharing events. These events are also a great opportunity for our colleagues to become more confident in their expertise by sharing knowledge with others.

Ask the experts was just one of many knowledge-sharing events we've organised this year. The goal was to give participants a chance to meet with our professionals and get the answers to all of those burning questions regarding these five topics:
Front-end Development
Software Development
QA
Project Management
People Operations
However, unlike the previous Ask the Experts events this one had a little twist.
Prior to the event, we asked you to send us questions about any of the five given topics. Later on, during the one-hour session, our experts answered more than 70 questions that we received via the questionnaire.
Besides that, participants also had the chance to talk directly with our experts during the event, ask additional questions, find out what they've always wanted to know and discuss different topics that interest them. :)
We talked with our experts after the event to find out their impressions, and here's what they had to say:
Ana Bjelica, Front-end Developer:
This year's "Ask the experts" event is the first one I took part in and it left a very strong impression on me. A large number of people attended the event outside our company who had various questions regarding the way our FE team operates, work on projects, as well as regarding the application process for internship and job positions in our company. I think that a few of my colleagues and I managed to bring the atmosphere and our daily routine closer to the people, and I hope that we inspire them to continue learning and improving themselves both professionally and personally so that they would join our team one day.
Dunja Dmitrović, Human Value Generalist:
Ask The Experts event was a very positive experience and I believe that this was a very nice and creative way to introduce our employees and the company to the people who are interested in hearing more about us. I was proud to have a chance to answer the questions we got and I might help somebody gain an insight into what our company culture is like. Another thing that left a strong impression on me was the fact that we had freedom to be ourselves and solve some dilemmas people face in an informal way.
Aleksandra Vujanac, Digital Project Manager
Coming to this event as a speaker was exciting and it made me reflect on the moments when I used to talk in front of a large group of people. The opportunity to share my knowledge and talk about the ways of doing things inside our company with the participants gave me great pleasure. We answered many questions which, hopefully, helped everyone who has recently joined this field.

Our Project Management team answering questions at Ask the Experts 2020 event
Nikola Živković, Software Developer:
Although we had to organise this event online this year, I think it was successful and useful. I am really glad that we managed to address some questions related to the very beginnings of a career, since this is a very challenging period in the professional development of every engineer. Besides that, I am generally pleased with the topics the community is interested in.
Ivana Vujić Milić, QA Engineer:
Participating in an online conference is an unusual experience. You know that listeners are behind the screen, but your sense of sight and hearing do not help you confirm that. I am rather grateful to all the people who asked questions and I hope they find the answers helpful. I must admit that I am a bigger fan of "offline" knowledge-sharing, and I hope that we will have a chance to organise that kind of an event in a near future.
Becoming an expert is not something that is achieved overnight.
Continuously working on expanding your knowledge and skills is the only way to succeed and progress. We hope you enjoyed our event and that our experts answered all of your questions.
In case you missed out, don't worry, we have all the answers all of our experts shared during the event. :)
However, knowledge-sharing never stops at our company and we are already working on the next big event VE:Conf, during which you can learn more about mentorship and its importance.
If you want to take part in the event, register here and tune in to our live stream on November the 19th. See you there! :)