Corporate Social Responsibility
Vega IT Advent Challenge: Collecting Funds for Campaign Holiday Smiles
Bojana Savanović
Categories: Corporate Social Responsibility
Date 28-Dec-2022
2 minutes to read
We welcomed this holiday season with even more excitement, by initiating the Vega IT Advent Challenge. It was a great addition to our traditional holiday campaign, Gifts of Happiness.
The main goal of the campaign is the same as in previous campaigns, and once again, we got in touch with the organization "Osmeh na dar" to help them raise money to buy New Year's gifts for the underprivileged children.
After exciting 24 days we're happy to share with you more about how our colleagues and the community responded to the challenge.
What Was The Idea behind Vega IT Advent Challenge?
Vega IT Advent Challenge lasted from the 1st of December to 24th of December. Everyone who joined the challenge had a chance to choose between logical and coding assignments, and got one assignment each day.
Besides choosing and doing the daily assignments, the participants could also contribute by donating their money that would help the organization buy New Year's gifts for the youngest ones.
The players tracked daily progress on the scoreboard, so this is how it looked like in numbers:
2472 total answers
386 players joined the Advent Challenge
243 players played logistics challenge and 143 chose coding challenge
6 players successfully answered all 24 assignments and 3 of them won the maximum points
But that's not all! The festive mood continued for our colleagues at Holiday Market.

Holiday Market Brought More Holiday Smiles
Last Friday, 16 teams gathered to sell food, treats, hot drinks, and Christmas decorations to our colleagues. More than 200 people visited our Holiday Market and raised more funds for the organisation "Osmeh na dar".
What Were the Final Results of the Campaign?
This year, the campaign "Together for Holiday Smiles" brought holiday vibes, competitive spirit and above all, willingness to put smiles on children's faces! And here are the results:
Together with our community, we collected 426 000 RSD and raised funds for 213 gifts.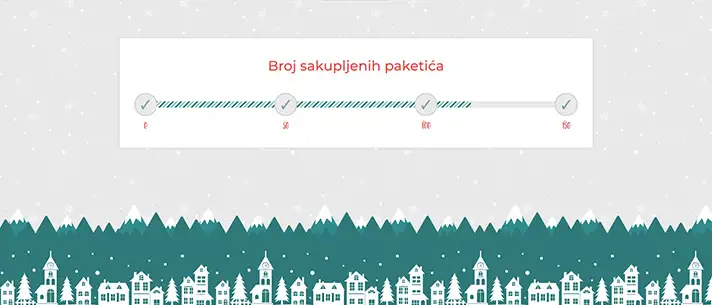 Big thanks to all the colleagues and the community members who took part in our holiday campaign - this would not be possible without you! It's a great honor to have the opportunity to be a part of this cause and help underprivileged children feel the joy of the upcoming holidays. May your holiday season be filled with joy!