Life At Vega IT
We Are the IT City 3: From a Developer to an Intrapreneur
Bojana Savanović
Categories: Life At Vega IT
Date 10-Sep-2021
2 minutes to read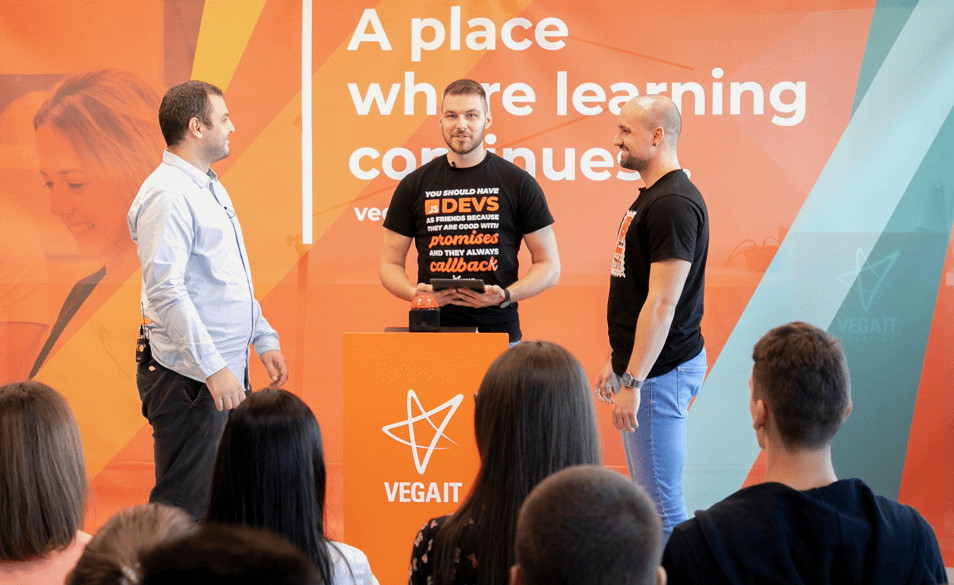 Did you know that developing entrepreneurial skills is possible while working in the company as well?
It's not an ordinary practice, and maybe that's why at the third We Are the IT City conference, this topic has attracted more than 120 online attendees and it has had more than 800 views.
As well as the last year, we joined forces with the student organisation We Are the Future of IT and called eleven IT experts to share their knowledge and experience with the future IT professionals.
Our goal for this conference was to be educational, fun, and humanitarian. How? Find out in the following few paragraphs.
We Shared Experiences and Collected Donations for the Nurdor Organisation
Together with the students from We Are the Future of IT organization, we decided to donate 100 RSD for every online attendee at the conference. We agreed that the donation will go to Nurdor—the National Association of Parents of Children with Cancer.
So, the sharing was one of the lessons at this event, and there were a few other lessons about software development and intrapreneurship.
From a Developer to an Intrapreneur
We opened the event by talking to two of our colleagues whose job is to take care of the career development of the engineers in our company.
The Role of a Development Lead in an IT Company

Mihajlo Radmilovic, Nenad Percic and Nenad Rad
During the conference, Nenad Rad and Mihajlo Radmilović shared with us what the role of a development lead includes, and why it is important for software developers.
After the conference, we asked Mihajlo to share his impressions with us:
It was interesting and fun, even though I was a little nervous because it was the first time that I participated in a conference that was being broadcast live. We tried to explain to the students what the role of a development lead means, and how we build and nurture trust in the team.
After Nenad and Mihajlo helped us understand which things are important in the career path of a developer, we moved to the second topic to find out how a developer can become an intrapreneur.
And the answer was—partnership.
Partnership as a New Career Milestone

Milan Kosanovic, Stanislav Grujic and Boban Miksin
When an employee is made a partner at the company, he or she steps into intrapreneurship at the same time. Does this change their everyday job and attitude towards work?
The answer to this question was given to us by our colleagues Stanislav Grujić and Milan Kosanović. Both of them are Co-CTOs and partners at the Vega IT, and they were more than willing to share with the students the stories about their career paths.
These are Stanislav's impressions after the conference:
I am happy to have participated in the IT City conference and shared my insights with the young people who are just entering the world of IT. On the other hand, it was also a revealing experience for me to learn a thing or two about my colleagues by listening to their interviews.
On the other hand, we heard completely different ways of starting a partnership from our colleagues who were made partners at Vega IT Teams:
Nemanja Maločić, Software Developer & Partner at Vega IT Delta Team
Igor Gaijić, Software Developer & Partner at Vega IT Gamma Team
Luka Vučković, Software Developer & Partner at Vega IT Sigma Team
Dejan Bešić, Software Developer & Partner at Vega IT Beta Team
Milan Deket, Software Developer & Partner at Vega IT Omega Team
Our eleven participants had a lot of experience and knowledge to share, but also they enjoyed their share of fun with the audience.
Games: Never Have I Ever and Five Second Rule
Our guests have proved once again that exiting the comfort zone is not strange to them. Some of them accepted the challenge of playing the game 5 Second Rule, and the others have shared their stories by playing the game Never Have I Ever.

Maja Bozic, Nemanja Malocic, Dejan Besic, Milan Deket, Igor Gajic and Luka Vuckovic
We had many interesting and inspirational observations, so if you missed the conference, you could watch it here.
And for the end, we can agree with our moderator and partner at Vega IT, Maja Božić, who said:
I believe that events like this are significant so that students can hear from several different angles about the topics related to entering the IT world, and I look forward to all the upcoming events we are planning to organize (hopefully live). :-)
Till then, you can enjoy the video from the conference, and start thinking about your career path by checking out our Career page. We would like to meet you! :)