Life At Vega IT
Ve:Conf 2022: A Career With No Limits
Anđela Arsić
Categories: Life At Vega IT
Date 24-Jun-2022
3 minutes to read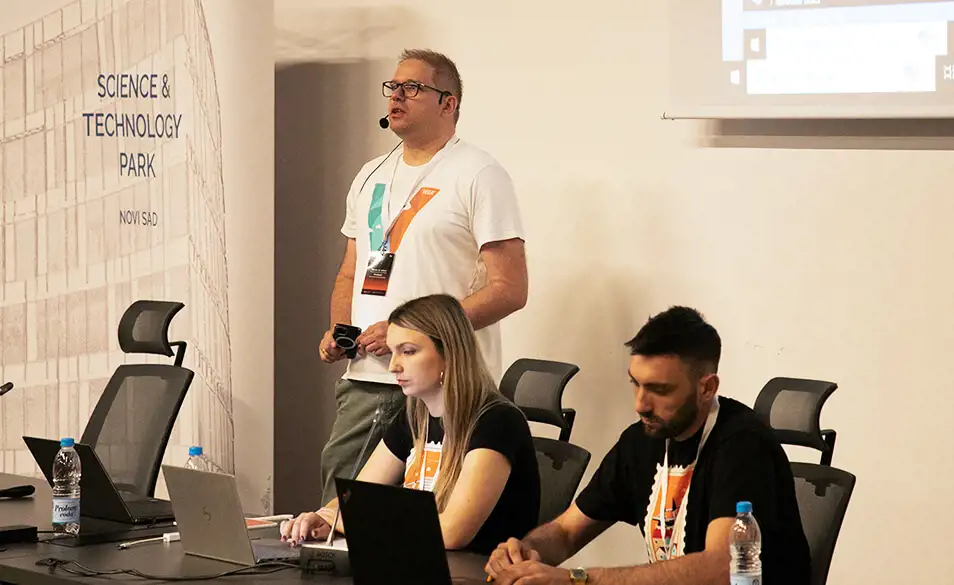 Three years ago, we joined forces with the student organization EESTEC and organized the first VE:conf conference. Over the years, we have discussed various important topics such as career, leadership and mentoring.
Last week we gathered again for the fourth VE:conf conference where we shared our knowledge and experience with future IT professionals. This year's topic was career, and we talked more about the different roles and opportunities the IT industry can bring to all the young enthusiasts.
The day was filled with great lectures, and a lot of fun, with the aim to motivate students to further upgrade their knowledge.
How Did We Choose The Topics?
When students applied to participate in the conference, we asked them which positions in the IT industry are most interesting to them and where they see themselves in the future.
Together with our co-organisers from EESTEC we collected a lot of interesting answers and some of the most interesting areas of interest were Software and Front-end development, Data Science, Salesforce, Project management, Scrum project methodology and QA.
Our goal was to introduce students to each of these roles, and perhaps help them decide which career path to take.
Here are a few topics discussed at the conference:
Why is machine learning not enough for one Data Scientist? - Dušan Stamenković, Data Science Team Lead
A methodology of project management in IT - Spasoje Ješić, Digital Project Manager
Is a QA position an "easy" entrance in the world of IT? - Dušan Subašić, Quality Assurance Engineer
5 quick tips on how to make more readable code (live coding session) - Jovan Vučetić, Partner and Software developer
React Hooks: Useful examples for every challenge (live coding session) - Vukašin Janković, Software developer
How to build a Salesforce app in less than 25 minutes (live coding session) - Jovica Turčinović, Partner and Salesforce Lead, Gorana Gajić, Salesforce Consultant and Borisav Grujić, Software developer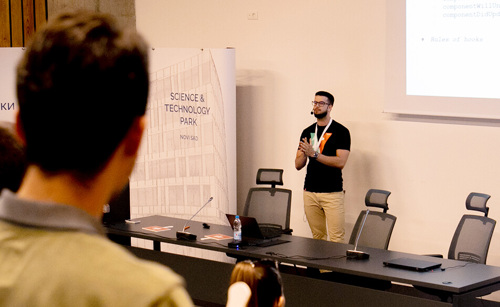 In a dynamic industry such as IT, learning is a never-ending process. So, we wanted to encourage students to continue to explore and learn after our lectures, too.
How did we do that? Each of our lecturers shared their book recommendations courses and articles about the topics they talked about.
Our colleagues Jovica, Gorana and Borisav even went a step further and created a Salesforce application, through which everyone who applied could use to get useful and interesting information about Salesforce. Students also had the opportunity to leave their questions and feedback via the app, which was a great way to connect, but also learn more from each other.
A Word From Our Co-Organizer

It's always great to work with young people, while organizing another successful VE:conf event. We were curious what our co-organizers from EESTEC think about this year's conference, so we asked Sandra Jovic to share with us her point of view:


"It was a pleasure to work with wonderful people from Vega IT, from whom I learned a lot about organization, management and business communication, which is very important to me, as a student. This is a friendly, and kind people which is, I believe, one of the most important reasons why this event was so well-organized. , and I think that is exactly the reason for the well-organized event.
I am happy that the visitors learned a lot about the areas they are interested in and that they learned so many new things they haven't had a chance to learn before…"
Which Career Path Will You Choose?
Entering the world of the IT industry and choosing the right position to start your career can be a real challenge. That is why it has always been very important for us to share our experience and knowledge with young bright minds and make it easier for them to make their first steps in their professional career.
We are very happy that this year, together with the student organization EESTEC, we organized another VE:conf event that will be remembered! Also, we hope that all the participants learned something new and got motivated to start acquiring technical and soft skills needed to develop great careers.
If you want to take the first step into the IT world, check out our Career page and learn more about our internship program and job opportunities. Looking forward to seeing you on the next year's VE:conf.