Life At Vega IT
The Colleague of the Month of April 2022: Dušan Subašić
Author: Uroš Gostović
Date 06-May-2022
3 minutes to read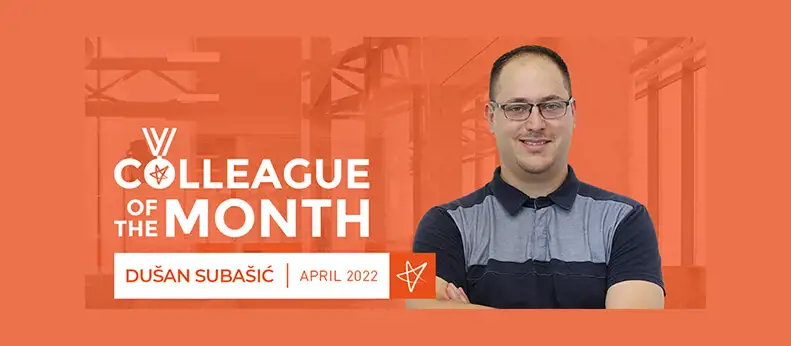 Going above and beyond to help your colleagues feel better at work, solve a challenge they've been stuck on or be their support in any way is a big part of our culture. We believe that these actions deserve credit and should be publicly acknowledged.
A few years ago, we started a programme "Colleagues of The Month" to give our colleagues a chance to nominate their colleagues for this award and publicly praise them.
Anyone can nominate a colleague for this award by sharing their reasons and thoughts why that particular colleague should become our "Colleague of The Month". After we collect the nominations, we put those nominations on the vote to see which colleague will win the most votes and deserve this award.
And this month is no different. We are thrilled to announce that the votes are in and the award goes to our colleague Dušan Subašić!
The nomination:
"First of all, I would like to point out that I would nominate my colleague gladly not only for the colleague of the month, but for the colleague of the year. Dušan is a colleague who will, no matter how busy he is, find a way to help his colleagues when they are facing a problem."
One day I woke up feeling completely stiff which then continued for days. But then, one day, I was not able to move any part of my body, nor to sit, stand, or lie down, and there was a big hour-long interview coming which I had to attend. When I told my colleague that I am not sure whether I will feel any better to be able to attend that meeting, he did not even give me a chance to consider attending the interview. He realized that the time slot booked for this meeting fits in with the client's lunch break and that it would not be a problem for him to replace me. He didn't allow any discussion, the only thing I had to do from that moment on was to rest."
This was not the first time Dusan proved to be a great colleague with whom I could easily come to an agreement and who has a full understanding of all the circumstances and is always ready and eager to help. I am extremely lucky to have such a colleague who you can rely on at any given moment and this is why Dusan is not only a colleague of the month!"
Meet our colleague Dušan
Dušan has been part of Vega IT for over a year now as an experienced QA engineer. He is a proud father of a 5-year-old girl, and a great basketball lover. He is also into table tennis, so if you ever want to organise a match, he is your go-to person!
Dušan, thank you for always going above and beyond for all of us in the company!
Who will be our next colleague of the month? Stay tuned and find out. ;-)