Life At Vega IT
Student Activities in Niš: Days Full of Fun and Knowledge-Sharing
Author: Anđela Arsić
Date 29-Apr-2022
3 minutes to read
Over the years, our company has continuously participated in activities with students that encourage them to take their first steps in the IT industry. Last year, we opened our first office in Niš and continued this practice in Niš - we took part in two student events - Job Fair and Technology 'n' Trends conference.
During those few days, we had the opportunity to meet a lot of great bright minds, motivated to further upgrade their knowledge. Both events were filled with great lectures, numerous questions and a lot of fun - a typical scenario when our orange booth is around.
Job Fair - "Your career starts here"
The first event which we were a part of was the Job Fair, organized by the student organization BEST Niš. When we first met the organizers, we were sure that this would be a great journey - and we were right. All three days were filled with great lectures and activities that students could follow both live and online. These activities included:
Lecture and workshop with Marija and Jovana
As this was the first event where we met with students in Niš, we tried to bring them closer to our company's culture, but also introduce them to our internships programs and ​​the required level of technical knowledge they need to have. ur colleagues, Marija Lazarević and Jovana Radakovic, played an important role in this particular event. They held an interactive workshop on "How making mistakes and receiving feedback help you reach success". Marija i Jovana talked about the culture of feedback, but also shared their personal stories and experiences from the beginning of their careers. In this way, they wanted to encourage students to take the first steps and point out that  mistakes are part of the journey.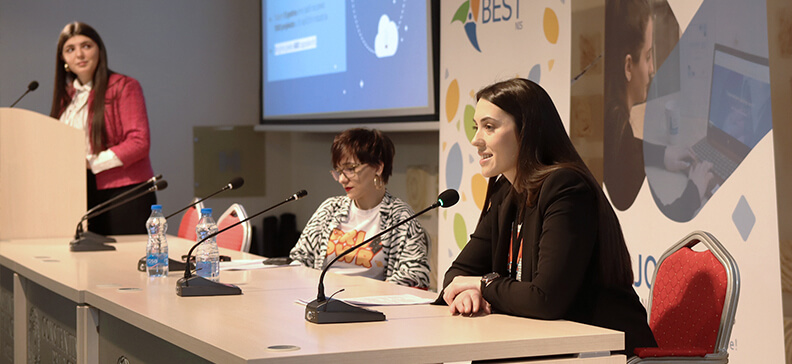 Marija and Jovana at Job Fair in Niš
Panel discussion - "Motivation and progress at work"
Who can better share motivating stories and thoughts on progress than someone with twenty years of experience? 
Aleksandar Milinčić was our representative at the panel discussion and shared his experience and knowledge with students. Full of constructive advice and thoughts on this topic, Aleksandar gave specific guidelines through his answers, which are important to anyone who is just starting their career.
Vega IT Booth: A Zone of Entertainment and Technical Challenges
Besides taking part in knowledge sharing activities, students could also visit our booth and play interesting games or find out more about our company and internship programmes.
Also, some of them played our Vega IT challenge, and those who were lucky (and knowledgeable :) ) enough, they won the participation in our Q&A session and Tech trivia quiz.
Technology 'n' Trends Conference
It didn't take us long to meet the students again and be part of the Technology 'n' Trends conference organized by SICEF. During the two days of the conference, students who wanted to learn more about tech innovations gathered in the Science and Technology Park.
We had a great time sharing knowledge and experience. Here are some of the activities that took place at the conference:
Lecture: Modern Web Technologies the What, Why and Where to?
Our colleague Đorđe held an amazing lecture where students had the opportunity to learn more about some of the most famous web technologies. Through practical examples, Đorđe compared technologies and talked about their future development.

Technology and Trends conference in Niš
Tech Quiz: Turn the wheel and win prizes
At our orange booth, students could also play our technical quiz and spin the Vega IT wheel to win great prizes.
Besides testing their technical skills and luck, students could also find out more about our company, internship programs and current job opportunities.
See you again next year! 
Entering the world of the IT industry can be a real challenge. With this in mind, we've always been focused on sharing knowledge and experience with young bright people and this tradition will definitely continue in the years to come. 
In the meantime, if you want to take the first step into the IT world, check out our Career page and learn more about our internship programme and job opportunities.