Life At Vega IT
Soft Skills Academy: Leadership and Productivity - Our Thoughts
Bojana Savanović
Categories: Life At Vega IT
Date 10-Dec-2021
2 minutes to read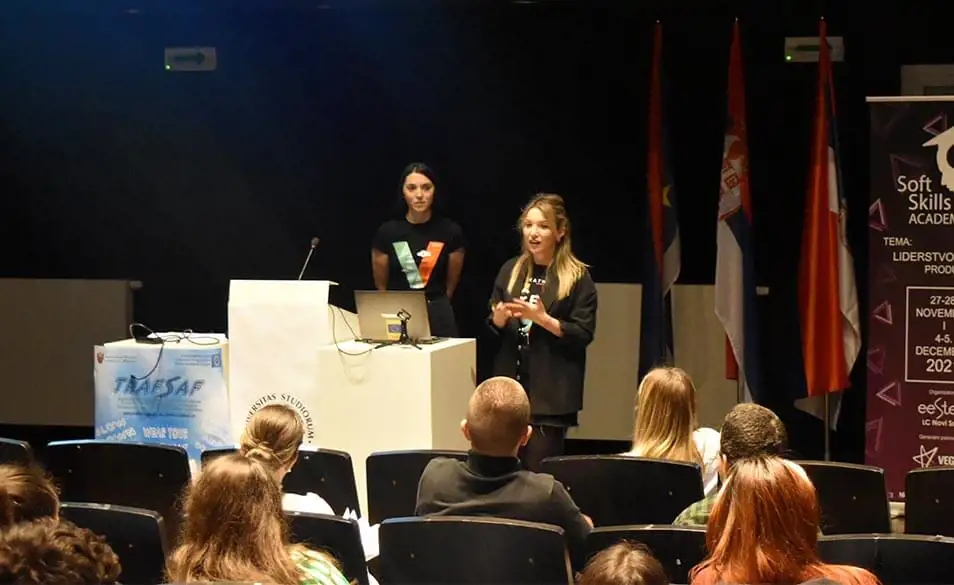 How much attention is dedicated to soft skills in the IT world?
Nurturing soft skills development of our colleagues is an important part of our company culture. That's why we are organizing workshops and different kinds of educational sessions in the community.
So, we were delighted when the students' organization EESTEC asked us to be part of their seminar Soft Skills Academy. Our colleagues Jovana Radaković and Lidia Mudrinski were guest speakers and shared their knowledge and experiences with the audience.
Stay tuned and find out our impressions from the seminar that was held during the previous two weekends. This year's topic was "Leadership and Productivity".
Panel Discussion "From a Student to a Successful Leader"
Following the general theme of the event, a panel discussion was about the path from a student to a successful leader.
Besides the fact that panelists exchanged their experience and best-practices, students from the audience didn't hesitate to ask questions and share their opinions.
Our colleague Jovana shared her thoughts after the event:
"I'm glad that I had the opportunity to share my thoughts and my knowledge about leadership and emotional intelligence with students. I really enjoyed the process, especially because the students were very engaged and ready to discuss the topics, which encouraged me to give my best."


After initially getting to know the attendees at the panel, Lidia and Jovana had a chance to give a lecture on emotional intelligence in business.
Business and Emotions: Friends or Enemies?
On the second weekend of the seminar, our colleagues wanted to share their thoughts more on how emotions affect work. They talked about their own experiences and challenges they had to overcome to emphasize how important self-improvement is.
Our Lidia shared her impressions with us:
"I really appreciate the opportunity I had to meet those young people and share my perspective on emotional intelligence with them.I was really happy to see that students were interested in learning about other people's feelings as well as their own.The best thing is that learning about emotional intelligence was a real fun which improved our ability to understand others even more. "

Soft Skills Developing Is a Continual Process
We are always looking forward to knowledge sharing, especially when it comes to supporting and inspiring students. Taking part in Soft Skills Academy was an absolute pleasure and mutual learning.
It is crucial that students realise the importance of people skills and proactively work on their development. And that's just the beginning of the self-improvement journey.
If you want to constantly work on upgrading your technical and soft skills, take a sneak a peek at our Career page and find out more about our open positions and internships.