Life At Vega IT
Online Knowledge Sharing Event: Ask the Experts 2020
Uroš Gostović
Categories: Events
Date 12-Oct-2020
3 minutes to read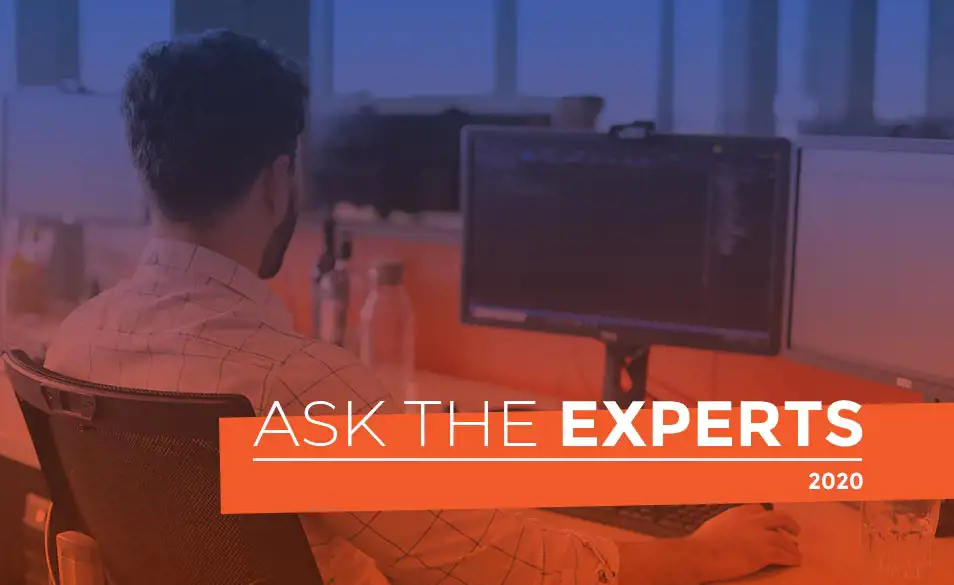 Becoming an expert in your field is not something that can be accomplished overnight. It takes years of hard work, dedication and willpower to become recognised as an expert. Regardless of the industry you are coming from, learning always continues.
If you want to stay on top, you need to challenge yourself every day, and this is how you grow as a professional.
"The more extensive a man's knowledge of what has been done, the greater will be his power of knowing what to do." - Benjamin Disraeli
The Story Behind Ask The Experts Event
Here at Vega IT, we strive to share knowledge, not only with our colleagues but also with the community. Ask the Experts is one of the many knowledge-sharing events we organise where experts in various fields hold lectures and workshops. Anyone can join this event, meet up with experts, and discuss different topics that interest them.

First Ask the Experts event was organised in 2015
Due to the circumstances that affected all of us, we realised that we needed a new approach to the existing concept of our event. This is why we've decided to gather experts from different fields such as Front-end, Software Development, QA, Project Management and People Operations online, and organise this event online so that everyone would have a chance to attend it.
The idea behind this event is to give you an opportunity to ask our experts all of those burning questions you did not have answers to.
Here are a few things you need to know:
How to Send Questions To our experts?
Our event will take place on October 27th, from 5 PM. During this one-hour session, you will have the chance to meet with our experts and get the answers to all the questions you send us previously by filling out this form.
This event is open to anyone that has an interest in any of the five areas we have listed below. Whether you are an IT engineer making your first steps in the business world, or a student with a passion for computer science, our experts will gladly answer any of your questions:
These are the topics you can choose from:
Front-end Development
Software Development
QA
Project Management
People Operations (Our way of saying HR)
If there are questions you've always wanted to ask an expert from any of the fields listed above, now is the time to do it! :)
How will our experts answer your questions?
You will have the chance to join up to five different rooms and meet up with our experts. During the sessions, our colleagues will be answering all of the questions you've sent us through our questionnaire. Besides that, you can ask them additional questions and discuss specific topics relevant to the room you are visiting.

Our experts are waiting for you! :)
Depending on which fields interest you the most, you can join one or more rooms during the event:
Front-end Development meeting room
If you have a passion for building a website using HTML and CSS technologies, then this room is the place to be. Our experienced colleague Ana Bjelica will answer all your questions and share her in-depth knowledge regarding Front-end development.
Software developer meeting room
If you wish to engage and learn more about software development, then you need to meet up with our amazing duo: Nikola Živković and Miloš Davidović. Their years of experience will help you get a better understanding of what it means to be a software developer, which challenges are they facing on a day-to-day basis, and more.
QA meeting room
Learn what it takes to be a true QA engineer, also known as a tester, from our colleague Ivana Vujić Milić. Don't miss out the opportunity to learn more about QA, Ivana, and her day to day project activities and challenges.
Project Management meeting room
In this room you will get to meet our four amazing girls from the Project Management team: Kristina Ostojić, Olga Nišević, Milana Crvenković and Aleksandra Vujanac. During this one-hour session, they will answer everything you ever wanted to know about the position of Project Manager in an IT company. Besides answering the questions, they will be open for discussions about their roles, challenges they face each day, best practices, and more.
People Operations meeting room
Get a chance to listen to our two amazing colleagues Marija Lazarević and Dunja Dmitrović who will clarify what it means to work with people on a daily basis. Meeting up with these two experts will help you get a better understanding of why People Operations are a vital part of a company, and more.
Our experts are waiting for you! :)
Fill out this questionnaire, and learn more about a specific field, technology or daily activities in the world of IT. Our experts are at your side. See you on October 27th from 17h! :)