Life At Vega IT
Most Inspiring Act of Kindness - A story about Friendship and Team Spirit
Anđela Arsić
Date 08-Feb-2022
2 minutes to read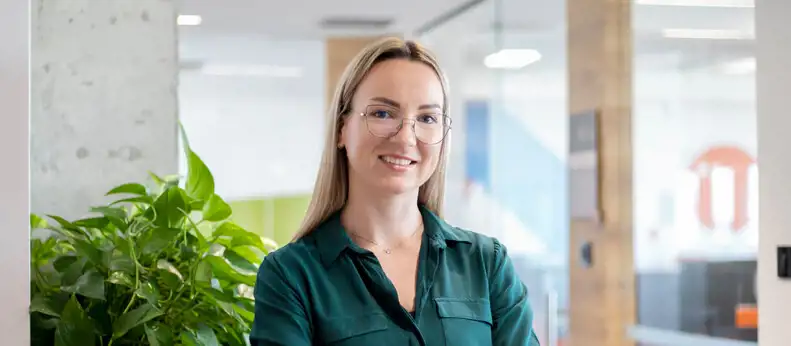 "Remember there's no such thing as a small act of kindness. Every act creates a ripple with no logical end." - Scott Adams
What inspires you every day? What is it that motivates you to be a better version of yourself?
For us at Vega IT, it's the colleagues like Ljuba Beglerbegović, whose kindness and dedication are best described by her teammates: "Ljuba is the person in our team we can always rely on. She is always cheerful and honest, and in most cases, she is the first in the office every morning. She showed us many times how much she cares about how her colleagues feel at work and how much she likes to make other people happy."
And those are not just empty words. She truly is a person who inspires everyone around her, and, recently, she made a gesture that was one of a kind:
"January was the month when Ljuba presented her idea to us and gathered all her teammates to introduce her. Actually, all of them, except for the three colleagues for whom she was preparing a surprise. She suggested that we should do something nice for Nemanja, Aleksandar i Miroljub who have done so much for us during the previous year."
Regardless of the fact that all of this was happening during holidays, our Luba was not discouraged and she waited to hear everyone's suggestions and ideas, and organize everything. Driven by Ljuba's enthusiasm, other colleagues were inspired to make real pieces of art. So they wrote poems for each of the three colleagues, three separate one, plus a one song for all three of them.
Ljuba, together with other colleagues, made a huge effort to do everything on time. She even made sure to come to work before everyone else so that she could put the gifts and greeting cards with poems written on them on each of their desks.
Ljuba is great! I would like to thank her for making us all smile and reminding us about the most important thing at work — having the right people around you!"
Our People Experience and Support team received this nomination for the Most Inspiring Act of Kindness, and we can only say one thing — reading made us feel warm at heart and reminded us what true friendship and teamwork really is!
Most inspiring act of kindness — a program that encourages good deeds
At Vega IT, we believe that by talking about the kind things we do for each other, we encourage people around us to do the same.
The Most Inspiring Act of Kindness is a program that was created with the desire to motivate, inspire and celebrate all kinds of generous things that our colleagues do for one another.
At any time, our colleagues can contact our People Support and Experience team and send their nomination for people whose kind deeds inspired them. At the end of the month, anonymous online voting is organized and all of us have the opportunity to vote for the act that inspired us the most.
Thank you Ljuba for being such a good friend and colleague!
Check out some of the most inspiring acts of kindness our colleagues did for one another and share your story about acts of kindness you were most inspired with at work!