Life At Vega IT
Konteh Fair 2022: Impressions
Author: Bojana Savanović
Date 01-Apr-2022
3 minutes to read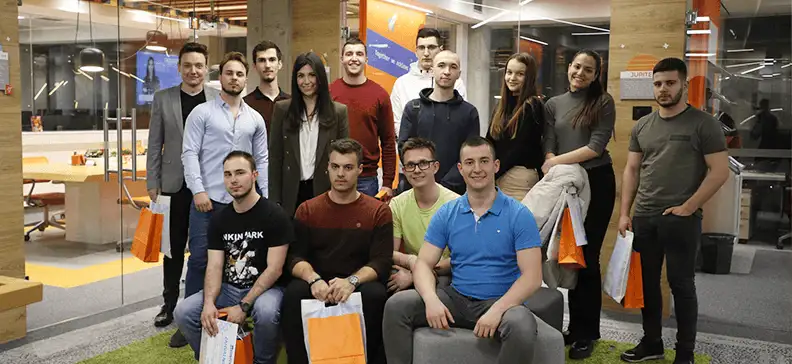 Our company continuously participates in the activities which help and encourage students to make their first steps in the IT industry. For the last six years, every March we have been looking forward to meeting a new generation of students at Konteh Fair.
We can say that this year's event was unique as it included a combination of online and offline activities. Continue reading to find out what the atmosphere was like and read our colleagues' impressions.
Online Sessions and Konteh Challenge
The first two days of the event took place online where our colleagues Marija Lazarević and Jovana Radaković were the hosts on the Vega IT stage in our online booth. They held a lecture "Feedback - attack or incitement", and together with our colleagues talked about other topics like Star mate role at Vega IT, team building activities, what is the required level of technical knowledge to work in Vega IT, Internship program at Vega IT, etc.
During the online gathering students took a chance to learn more information about our company and IT industry, but also play Konteh challenge and win prizes!
Job Interview Simulation
One of the challenges students face right after their graduation is a job interview. That's why we decided to show them what a job interview looks like in Vega IT, through a simulation conducted by our colleagues Marija Lazarević, Nenad Rad and Vukašin Janković. We hope this will help students be more prepared and more confident when they go on their first job interview.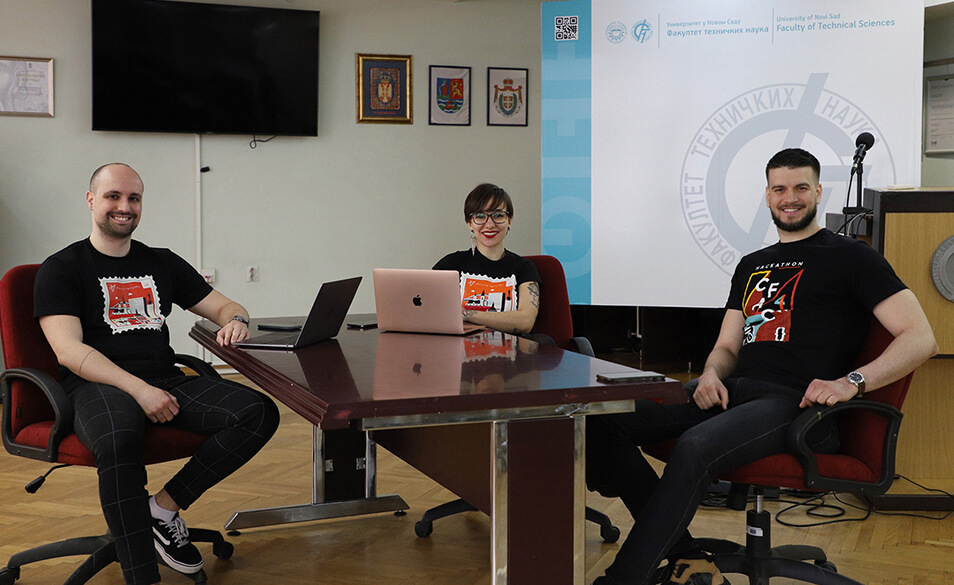 Nenad, Marija and Vukašin. :)
Technical Lecture: Are "Microservices" a Justified Buzzword?
Willing to find the most interesting topic for the students, Milan Deket asked younger colleagues for help. They agreed that microservices would be an interesting topic for the attendees.
He shared his impressions:
"Konteh is always a nice opportunity to make a retrospective of personal development and progress, because we were students not so long ago, and now we have the opportunity to talk to them at Konteh. In addition to the lectures, I formed a mini quiz and was delighted with the proactivity of colleagues in the audience. They didn't only listen to me carefully, but also quickly acquired knowledge, which the quiz showed. So instead of sharing three prizes, as planned, I shared five prizes and I'm looking forward to new friendships."
Konteh Hackathon at Vega IT
We are happy that part of the offline activities were held in our company. We were moderators of the Konteh hackathon, and hosted 4 teams and 2 mentors for a day. Their challenge was to create a system for booking spots in the University's libraries, and the competitors impressed us with their creativity, knowledge and dedication.
One of the jury members Nenad Percic said:
"I was surprised by the level of enthusiasm and the quality of the ideas that the students put in front of us and thus gave us a very difficult task of choosing the best solution on the topic of "Fair organization of reading rooms at the University." The ideas were quite unique and each competing team had something that the other one did not have, so the criteria we set at the beginning were the only guideline for determining the winner. One would imagine that only one team will stand out and that the process will look easy. However, this experience only told us more about the quality of the new young engineers who are ready to take their first steps in their professional careers."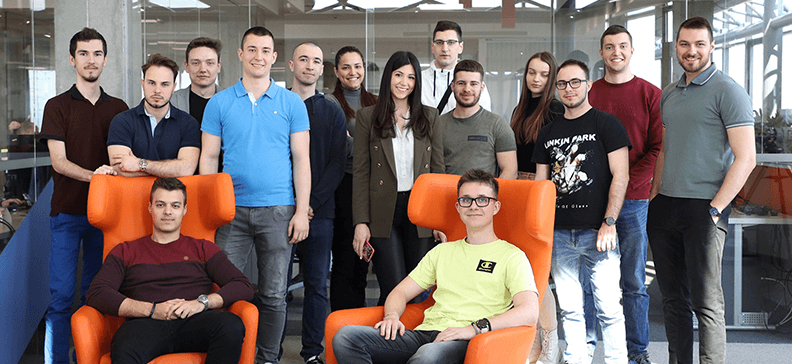 See you Next Year
We're glad that we had a chance to meet a lot of phenomenal young people and we believe we will meet them again as IT professionals in upcoming years.
If you believe that IT is the right career path for you, visit our Career page and look for an opportunity.