Life At Vega IT
Konteh 2023: Impressions
Anđela Arsić
Categories: Conferences
Date 12-Apr-2023
3 minutes to read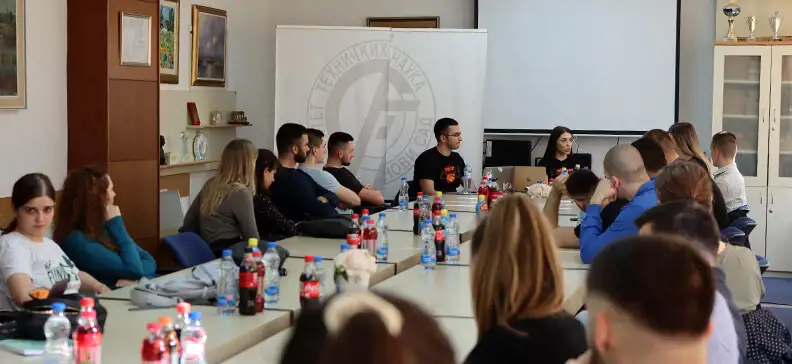 Since the very beginning of the company, we continuously participated in activities that encourage young people to make their first career steps.
After two years of online gatherings, the student job fair Konteh was finally in person on the 22nd and 23rd of March. We got a chance to meet with a lot of young bright minds, excited to learn and expand their knowledge.
Vega IT Booth - Let the challenges begin
Our orange booth is known as a zone of entertainment, with great technical challenges and lots of opportunities to kick off your career. It was nothing less this year. We prepared two technical quizzes and offline activations and challenged students to test their skills and knowledge (of course, prizes were included ;)).
In order for students to learn more about positions such as Software engineer, DevOps, Web UI developer, Project manager, and Mobile engineer, we invited our colleagues to share their knowledge and experience about these roles.
Even our CEO Saša Popović joined our booth to give support to the students and talk with them about their technical and career aspirations.
In just two days, more than 600 students visited our booth and joined our challenges. It was way beyond our expectations, and we can not be more grateful for the chance to meet with all those great young people.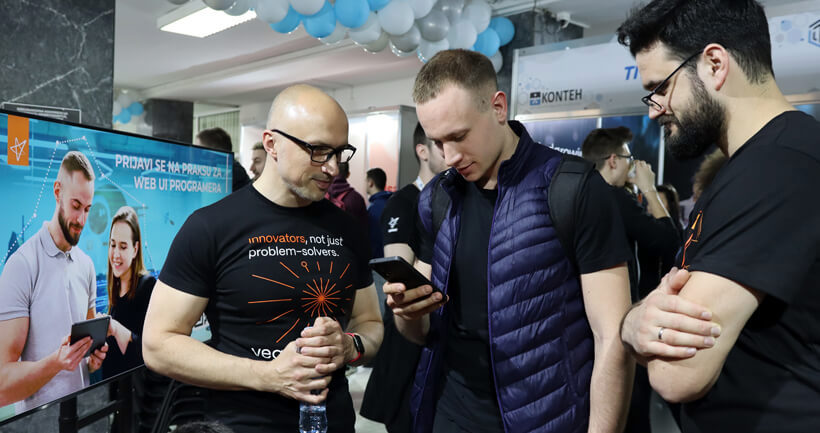 Job Interview Simulation with Jovana, Bojana, and Lazar

The interview is the first thing students face when applying for an internship or job. That's why
Jovana Radaković, Bojana Kliska, and Lazar Jović hosted simulations to show them what an interview in Vega IT looks like. We hope we helped students prepare for the first steps in their careers.
Technical Lecture with Kosta Kuprešak: "When can artificial intelligence be our ally to increase productivity?"
Artificial intelligence is one of the hot topics, especially now that ChatGPT has become such a hit. Kosta wanted to share his view on this topic and point out great and challenging parts of it.
During the lecture, Kosta discussed ways in which artificial intelligence can be our ally in writing cleaner code and coming up with more creative ideas, which can be a great help for beginners. On the other hand, he talked about the challenges AI brings and what we can expect in the future.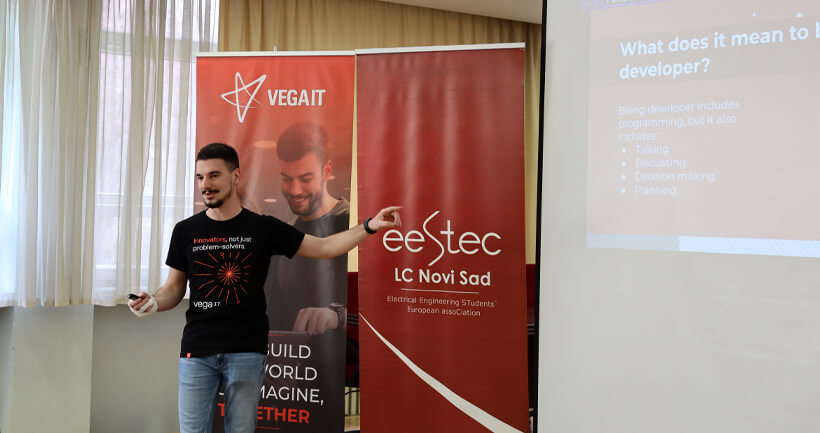 The Follow-up Activities: Tour, Workshops, and Competition
At the fair, we had the opportunity to meet a handful of brilliant students who stood out, both in terms of knowledge and willingness to work on themselves and their skills.
Some of them visited our company and had a chance to participate in a workshop held by Dunja Dmitrović and learn more about people skills and the importance of proactivity at work.
Students who demonstrated excellent technical knowledge at the fair joined the workshop "8 steps to writing cleaner code" organized by our colleagues Nedeljko Kuzmanović and Jovan Vučetić. Two days after the workshop, students had a chance to put their knowledge to the test and compete and participate in our annual Hackathon with our colleagues to help the community.
See you next year!
During the last 7 years, we have met with a lot of students at Konteh, who then became our colleagues. We are glad that this year we had a chance to reunite with such inspiring young minds with bright futures in front of them.
If you believe we are the right match, let's cross paths. Check our Career page and look for an opportunity to start your career.