Life At Vega IT
DevOps Workshops at Vega IT
Author: Maja Neducic
Categories: Life At Vega IT
Date 08-Apr-2020
4 minutes to read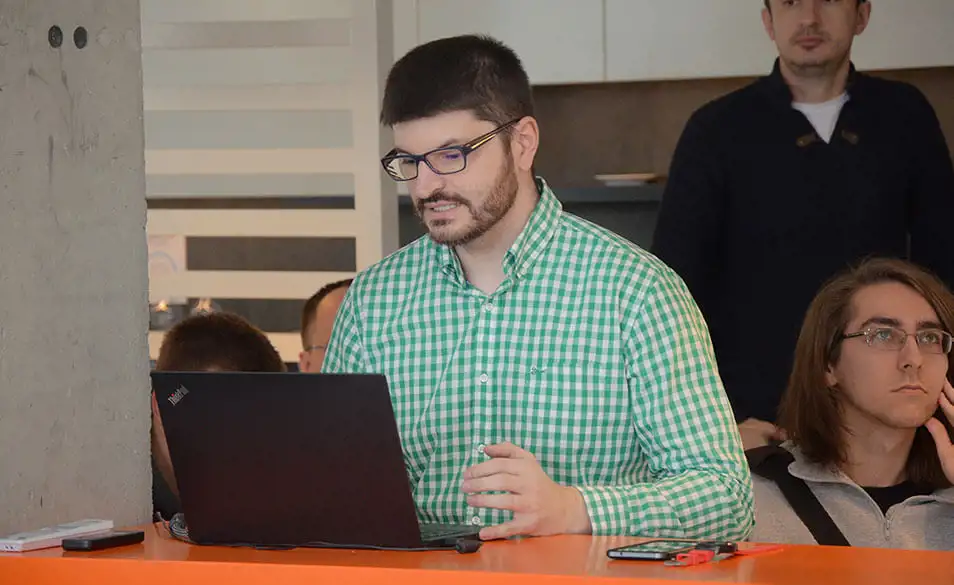 Maja: According to many people, the term DevOps implies administration, the configuration of various services and systems, while according to others, it implies the development plus configuration (Ops), and includes engineers who, besides development, also do the things that administrators are generally in charge of. These are the two views on the term DevOps. What's your opinion - what is DevOps? 
Boban: Both of them are right. According to the definition, DevOps is a culture or a movement whose aim is to integrate certain aspects of administration and development. This doesn't mean that administration will disappear or that developers will take over the role of administrators. 
DevOps includes automatisation of infrastructure and processes, continuous development and monitoring. Deployment used to be done less frequently in the past and it mainly required a developer to move the files by using RDC and FTP. Monitoring was done when needed by using the tools that were already built-in as well as performance counters, etc. 

Boban Mikšin, CTO at Vega IT Sourcing
On the other hand, administrators used more sophisticated tools to monitor the network and the hardware, and not only the application. The gap between the operational processes and development is something that DevOps is trying to solve. 
Nowadays, when we have an increasing number of small applications/services and a fewer number of monolith applications, traditional deployment is not reliable - it is prone to errors, slow and expensive. Rapid and agile development requires that changes are removed as soon as possible and this is where DevOps skills can help us meet those requirements. 
Maja: You were the one who initiated a series of lectures on the topic of DevOps which then required that workshops which would cover the same topic are organised. If I asked you to explain the importance of this in a few words, what would you say?
Boban: Traditional deployment and monitoring is dying out. All developers are expected to have DevOps skills, even if there are dedicated DevOps engineers in the team. The demand for such developers on the market is increasing daily and clients will be exclusively led by the idea to have people with DevOps skills on their team. 
Maja: Who are these workshops intended for? 
Boban: They are primarily intended for back-end developers, but it would be useful for front-end developers to know the basics. Often front-end developers adjust pipelines, builds (for example, gulp), etc. This proves that the situation has changed in that domain as well. 
Maja: What benefits can this bring to those who decide to attend workshops?
Boban: In short, these workshops will increase people's chance to get involved in specific and interesting projects. Also, in this way, they become more competitive in the market. 
Maja: What's your view on the ever-changing trend regarding the skills engineers are expected to have? How is it different from the trend at the time when you started working as an engineer? 
Boban: The way we work and plan projects has changed significantly and is pretty much different than when I started working as an engineer. Certain technologies are no longer used or they simply don't exist any more. I think it's not about trends, as they keep changing constantly. I think it all comes down to our ability to be open-minded and adapt to new requirements. 
Maja: Did you attend workshops when you were at the beginning of your career? 
Boban: There were not many organised lectures when I started my career. Workshops didn't even exist. The chance to bring some foreign lecturers was almost rocket science. 
Today, when the IT industry in Serbia and worldwide has expanded so much, we also have more opportunity to gain invaluable knowledge for free or a really small amount of money and hear about other people's experiences. Today it is in foreign lecturers' interest to come to Serbia and I think that everyone should make an effort and grab every opportunity to hear and see some of them. 
As a company we have founded Geekstone, and have been helping organisations like DaFED, IT city, VE:conf and many others. Apart from that, we organise internal lectures, conferences and workshops with both internal and external lecturers.