Life At Vega IT
Codeference 2022: Four Days of Sharing Knowledge and Connecting with Students
Anđela Arsić
Categories: Life At Vega IT
Date 04-Nov-2022
3 minutes to read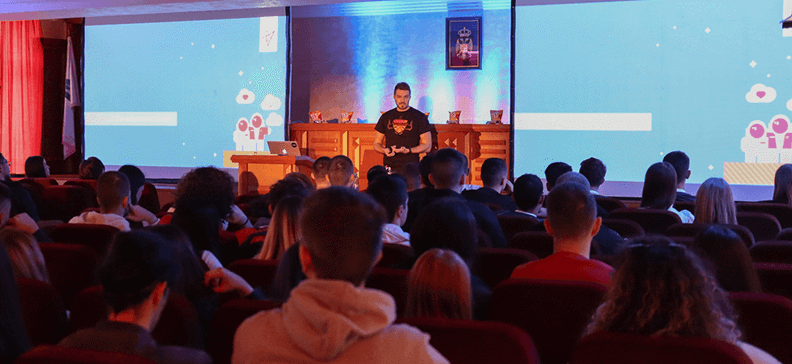 Over the years we have organized and participated in various student events and activities with one goal - to help students in their professional development and encourage them to make their first steps in the IT industry.
Last month, we took part in two major student events, CodeDay and Codeference - a 4-day student conference that took place on Zlatibor. Both events were organized by a group of students from the Faculty of Technical Sciences with the idea to give opportunity to students to connect with IT companies and further expand their knowledge.
CodeDay - Warming up for the Upcoming Conference
To warm up for the upcoming conference, we gathered a week before the conference at the Faculty of Technical Sciences.
Our colleague Vukašin Janković prepared a lecture for the students in which he covered the basic concepts of React hooks and the most common cases he encountered in his career.
During the lecture, he tasked students with a little tech quiz, and students who showed the best technical skills got tickets for the Geekstone conference.
Codeference - The activities We Prepared for Students
All four days of the conference were filled with great lectures and workshops. We also had a lot of fun during other activities. Some of those activities included:
The Lecture and Workshop with Marija and Dunja
Besides presenting our company internship programs to students on CodeDay, we also talked about our company culture - where Marija Lazarević and Dunja Dmitrović played an important role.
Through sharing her personal experience, Marija talked about the importance of feedback and how we must see mistakes as part of our journey. To help students better understand the culture of giving and receiving feedback, as well as how to deal with mistakes, Dunja held an interactive workshop on "Mistakes and feedback - a tool for successful career development".
In this way, they wanted to encourage students to take their first steps and prepare them for the upcoming journey.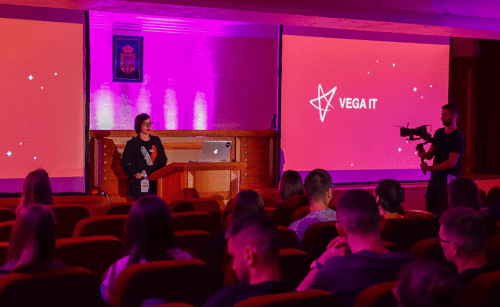 Lecture: "What Is the Difference between Good and Excellent Software Engineers?"
We can all agree that technical knowledge is crucial when it comes to being a successful engineer, however, it's not the only thing that can matter.
Through sharing his personal experience and career path, Nenad Perčić talked about what key things you need to know to go from a good to an excellent engineer. He pointed out that a big part of that journey is the importance of having good people skills and shared some useful advice on how to achieve that.
Activation: "Exploring Zlatibor with Vega IT"
Besides learning, we also like to have fun.
This is why we organized the quest - "Exploring Zlatibor with Vega IT", where seven teams had to discover five secret locations on Zlatibor. On that adventure, they had to do various tasks, and show their technical knowledge, engineering mindset, and team spirit, too.
It turned out to be a great experience where we all had a chance to learn more about Zlatibor and get to know each other even better.
Panel discussion - "First Steps to Brighter tech Future"
What better way to learn about the IT industry and make first steps in your career, than through hearing about other people's experiences?
Nenad Perčić participated in the panel discussion and shared his experience and view of the future of the IT industry. Nenad's advice for future IT professionals is to be brave when it comes to their career paths, but also life.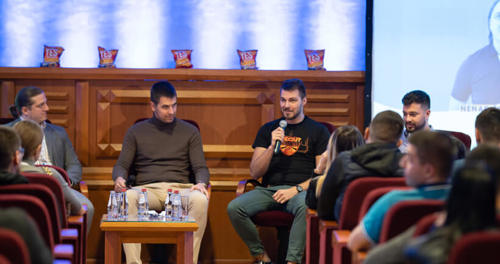 Until next year!
We had fun meeting bright young minds and we hope that all of the participants found this conference useful and learned something new that will help them in their future development.
In the meantime, we encourage you to take the first step into the IT world and check out our Career page where you can find different internship programs waiting for you!