Life At Vega IT
Aleksandar Mudric: Star That Makes Others Shine
Bojana Savanović
Categories: Life At Vega IT
Date 03-Feb-2022
2 minutes to read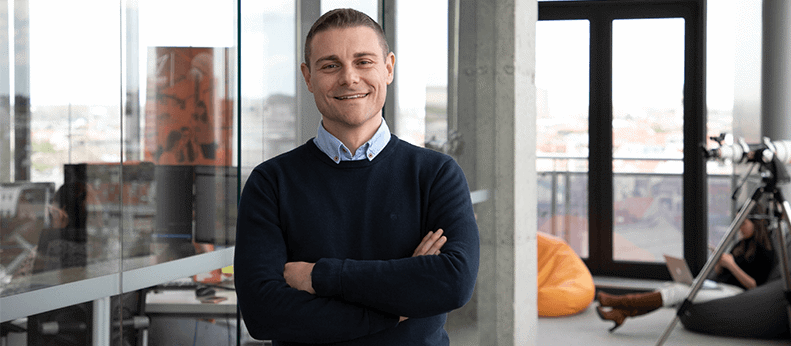 How often do your colleagues motivate you to do your best?
The way colleagues influence us at work affects the work atmosphere but also the results we achieve.
We believe that our teammates's support is an important part of our success, and we're always looking for new ways to inspire our them to recognise each other's good deeds and dedication to the company's efforts.
That's how we found our program Star that makes others shine, a few years ago.
Who Can Be the Star That Makes Others Shine?

The idea behind this program is to inspire our colleagues to show gratitude and support to each other.
We truly believe that there's always a way to help others shine. Whether that means sharing our experiences, giving advice before an important meeting, or preparing a coffee for a colleague on a busy day.
And when they do some good deed, he or she can be nominated anonymously by a colleague who will share the reasons for their nomination. Then, the nomination is evaluated by our Culture Committee and announced to everyone.
In January, they shared with us that Star that makes others shine was Aleksandar Mudric. Here is the reason behind the nomination he received:
"The star who helps me shine (and I believe I'm not the only one who feels this way) is my colleague Aleksandar Mudrić. Not only is he an expert at what he does, a great manager and a good friend, but he also does everything to help others become all of these, too!
I have been in the company for only a few months, but that was enough time for me to realize that Sasa is a colleague whose attitude and actions I will follow in my future career.
When I need a conversation, he's there for me. Regardless of his obligations, he always finds time to listen to me and advise me on how to solve a challenge I am facing. I can ask him anything without hesitation, and I know I will get an adequate answer.
He is always in the mood for coffee, but also to make coffee for his teammates.
He believes in me more than I do, which positively affects my self-confidence and helps me a lot to see my qualities even when I awkwardly forget about them.
He is a person who gives me motivation to progress, to be better every day — a better person, a better colleague to everyone and a better developer.
He trusts me and encourages me to push my limits. Makes office work fun and relaxed.
I am truly grateful to him for everything he does for us!"

Aleksandar, we are more than happy to have you in our team!
We hope that this nomination inspires you to help your teammates shine brighter! It's always a good way to move forward, personally and professionally. :)
And don't forget to show gratitude to those who support you to the best version of yourself!