Life At Vega IT
21-Day Challenge Results: How We Broke the Cycle of Old Habits and Created New Ones
Uroš Gostović
Date 25-Feb-2020
-4 minute to read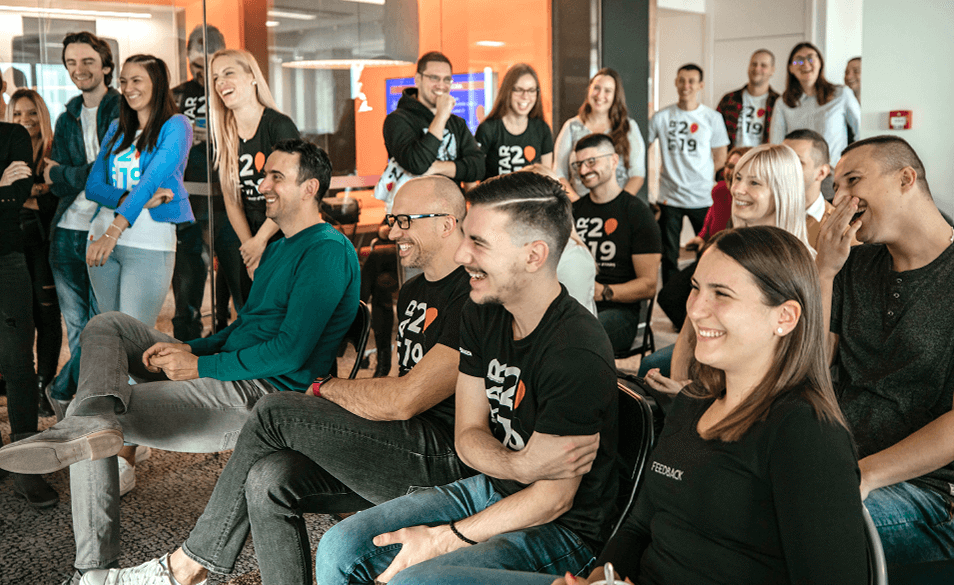 Most of us have, at least once in our lifetime, stood in front of a mirror telling ourselves that we need to start creating new and healthier habits. So why do these decisions often hit a wall? Why do we fail to keep them? It turns out that most of us don't have a clear strategy, plan or steps that will help us achieve our goal at the time we are making this decision.
So is there a way to break this cycle?
Yes, and the answer is the 21-Day Challenge. :)
What is the 21-Day Challenge?
To answer this question we need to go back a couple of years ago to the very first 21-Day Challenge when we wanted to help our colleagues adopt new habits of working out and getting in shape. After we saw the positive effect the first 21-Day Challenge had on our colleagues we decided to change the concept a bit and encourage more colleagues to join us.
Instead of focusing only on getting in shape, we invited our colleagues to choose any segment of their professional or personal lives that they wanted to change.
How does it work?
At the end of January, we invite our colleagues to choose one or more habits they want to change. What comes next is breaking their goals into smaller actionable steps and milestones that will help them stay motivated during this process. Of course, monitoring their own progress during these three weeks is really important as it allows them to see the results of their hard work.
What challenges did our colleagues decide to take up?
This year more than 40 colleagues have decided to break the cycle of old habits.
Some of the challenges our colleagues wanted to take up were: Spending more time in the gym, avoiding sweets, losing weight, giving up smoking, meal prepping, meditating, improving muscle tone percentage, gaining weight, waking up earlier than usual, etc.
Being united during these 21 days of hard work and determination is the way to go. By supporting each other throughout the process we've managed to achieve many goals we set at the beginning.
After three weeks, we are happy to congratulate our colleagues on achieving their initial goals. They've shown incredible determination and perseverance in creating new and healthier habits. So let's hear what some of them had to say about the 21-Day Challenge:
Milan Kosanović - Challenge: Avoiding eating sweets
The challenge was great. I think I have changed my habit. I even lost 2.6 kg and decreased 2,6 % of fat even though I wasn't physically active during that period of time.


Nikola Dragan - Challenge: Meal preparation
The challenge itself was not that hard for me since this was something I've wanted to do for a long time but never had the motivation to go through with it. If I have to pick one thing that was challenging, it was the organisation. Planning what to eat without making it boring with the same meals each day while keeping it simple enough so that I don't have to spend 15 hours in the kitchen every day was not an easy task.


Maja Nedučić - Challenge: Giving up smoking and eating sweets
During this challenge I have learned three things:
We don't have to feel bad to change a particular habit (I was really happy while smoking and eating sweets).
We don't have to have someone's support throughout the whole process because it can have side-effects. In the beginning, I kept encouraging one colleague of mine and she kept encouraging me. After a while, we stopped encouraging each other and it didn't have a bad effect on my results.
I feel the same, but I will see the positive impact on my health only after some period of time. This is just fine and is related to the first statement. We do not have to change something to feel better right away.

What did we learn after three weeks?
Declaring February as the month of change proved once again to be the right decision. During 21 day of hard work and determination, we managed to break the cycle of old habits and create new ones. Was it all worth it? It sure was! :)
It was hard and there were many temptations along the way. But having a detailed plan and the support of other colleagues was the recipe for success. We are very proud of our colleagues and their results! :)
If you want to take this challenge and get rid of your old habits, these are the key steps you need to take:
Define your goal
Break it down into smaller steps and create milestones
Monitor your progress
Don't forget to have fun! :)
Now that you have the recipe for success, nothing is stopping you from becoming a better version of yourself. Will you accept the challenge? ;)