Corporate Social Responsibility
Code for a Cause: Mobile Application for Fruškać (Online Guide)
Maja Misovic
Categories: Corporate Social Responsibility
Date 27-May-2019
5 minutes to read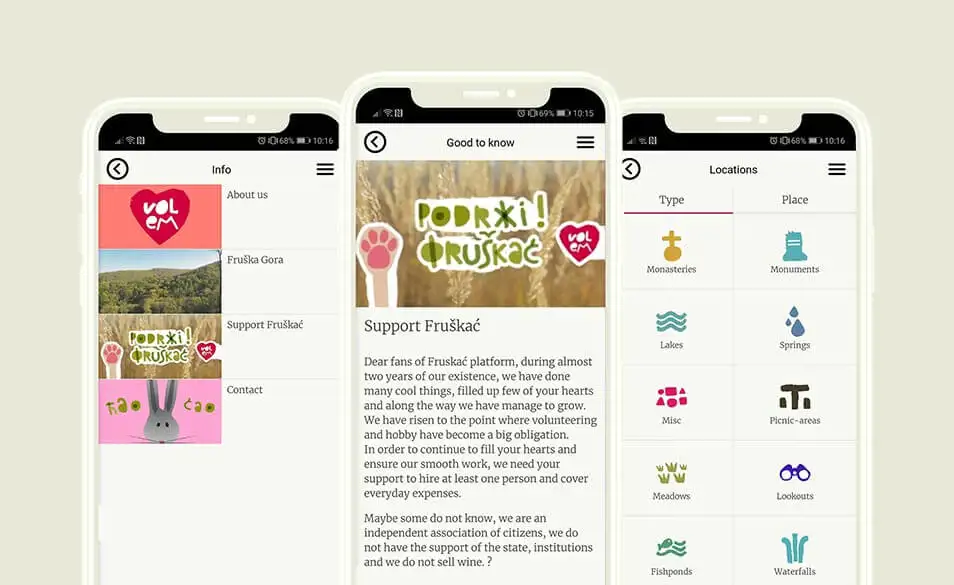 Do you know the famous statement "If only someone fixed that local problem, our lives would be way easier"? Well, this wish actually came true in Novi Sad. And this hasn't happened just once! A non-profit hackathon "Code for a Cause" was organized two years in a row with the aim to solve public problems and make Novi Sad a better place for living. This year, we plan to support even more ideas.
In September, after holidays, when everyone is full of enthusiasm, and ready to work hard, "Code for a Cause" begins. The best part is that people are actually ready to dedicate themselves to the cause for free! Believe it or not, last year 36 developers worked on 6 projects for 48 hours. One of them was Fruškać application. Let's see how that journey looked like!

Mobile Application for Fruškać
Fruškać App: The Story Behind
Have you ever wanted to go hiking but gave up due to the risk of getting lost in the middle of a forest? Or have you thought of discovering a mountain's beauties, but weren't sure where to start? Surely, many questions were swarming in your head like: "I might get attacked by some wild animals.", or "What should I do if it gets dark and I don't have any light source?", "What if I get stuck in mud?"
Fortunately, a group of enthusiasts and nature lovers gathered and established a non-profit organisation named Fruškać. Their main goal is to provide answers to all those questions about the national park Fruška Gora. That is why, they shared dozens of hiking tracks and useful information about this lovely place on their website. Above all, Fruškać volunteers want to raise the awareness and point to the importance of this "jewel of Vojvodina".
So, Fruška Gora lovers came up with an idea to create an offline mobile application which would easily navigate and inform people about this place. However, this was a rather challenging task for them. Luckily, "Code for a Cause" came to the rescue at just the right moment.
The offline mobile application for all Fruška Gora lovers
How Has "Code for a Cause" Helped Fruškać?
On Fruškać website you can find information about the latest events on this mountain. It's a tourist guide, an informer, a teacher and a hiking guide which is supposed to help anyone looking for any information about Fruška Gora. Because of its enormous value, the citizens of Novi Sad decided to support this project and that it deserves an online presence. With a mobile application Fruškać would build bigger environmental awareness, become more informative for people worldwide and engage more people in all of its events. Finally, that moment arrived! The app was launched.
From this perspective, it looks like a smooth process, but it's important to point out that it wasn't that easy. What was the catch? The app had already had an outline and it was partially developed. It was necessary to continue someone's work, to correct some mistakes and complete the app.
Despite all the obstacles, team members saw it as a challenge and committed themselves to this cause for 48 hours. They gave their best to improve and develop the already existing Fruškać mobile app.

Nikola and Dejan worked on this cause for 48 hours
Dejan Bešić, one of the developers who worked on this project, told us how Fruškać app was being developed. Although he didn't attend the hackathon, Dejan accepted this task. He shared his impressions explaining how exciting it was.
"Besides my wish to help someone, I decided to work on the project because I saw it as a chance to learn React Native better. The biggest challenge was to continue working on the project that was being developed in February last time and which was an outdated version which could not be launched."
At some point, Dejan's colleague Nikola Obradović gave him a helping hand. By joining their forces Dejan and Nikola managed to develop the application. Nikola described all the obstacles they had to overcome on their way and put everything together:
"At first, we were not sure how much time it would take us to implement the maps by using one library which we hadn't had a chance to use before. However, we learned about how it functions and implemented it. Actually, this is what we learned while working on this project."
Nikola added that although he has already participated in "Code for a Cause", he would definitely do it again. And he is not alone. After participating in Fruškać project, Dejan said that he definitely won't miss this year's hackathon, because he knows he can help, learn a lot and enjoy the amazing atmosphere!
What Has Fruškać App Achieved?
From now on, everybody who wants to enjoy beautiful nature, visit 16 medieval monasteries and numerous vineyards will be able to find those spots easily and read more about them.
Additionally, we asked the founder of Fruškać organization Nikola Arežina how it feels to complete the app's development.
"Since "Code for a Cause" is a socially responsible project like Fruškać, everything started with the amazing group of people and their enthusiasm. The story continued after a short break. What we outlined in the initial phase of the app development has been completed. We can always do better, but this does the work for now. We might decide to upgrade the app at some point."

What has Fruškać app achieved?
This year's Code for a Cause is approaching. Don't waste your time and get ready to submit your idea. We are looking forward to your project ideas. Let's solve our town's problems together!
Stay tuned because the application process will start very soon! Till then check out how it was at "Code for a Cause 2". #MakeAChange #JoinTheChange #CodeForACause