Life At Vega IT
Mighty women of Vega IT
Andrea Jerinic
Categories: Life At Vega IT
Date 06-Apr-2016
Life decisions and changes...
The way we make decisions pretty much depends on our character and attributes of our personality which make us different from others. Of course, aims, ambitions, interests and wishes have an impact on which decision will be made, in which moment and whether that decision is agreeable with our priorities we have already chosen for ourselves.
But… How many people actually possess the inner strength to make such a big step in life and turn it over in 180 degrees?
One more catch: how many women dare themselves to leave one life in past and make step forward to another one, which is, as statistics say, ruled by men?
From personal experience, I can say that this kind of decision is not that hard to make, but what follows it are the steps full of challenges. However, I am not the only one in company who did enter one new career zone, which, actually, was not my first choice when choosing a potential job (college). This text has title "Mighty women of Vega IT" because I consider my colleagues to be just like that, mighty, as they did not give up and they dared to say "I can do it" to the life itself.
Never give up on your happiness
Isidora Lekic is  an Operations manager in our company, although she has diploma from The Faculty of Science, Department for geography, tourism and hotel management. As she said, when she was 23 years old, she was given the opportunity to work as office assistant in one company and therefore she saw a chance to learn a lot and improve herself on the level of management.
I took that chance for self-improvement in various fields for which I knew could lead me to proper career in life. The road to it was not hard because in high school and college I did gain the knowledge in different areas. The transfer itself to new occupation was not an issue but a way to learn through work. The pressures and deadlines were stressful, just like in any other job - said Isidora.
On the other side, Nevena Nikolic, who works as a software developer, graduated from The Faculty of Technical Sciences (FTN), where she got diploma in Engineering management. Information technologies did always have her attention, and she knew how to work with people. Throughout her studies she got the knowledge and in Vega IT she came as an intern. For her, this was a challenge….
First contact with programming was scary to me, and challenging also. Collegiality which I encountered, limitless patience and open-minded mentors, colleagues, chiefs, only gave me the motivation and strength to overcome every obstacle which seemed impossible at first look. Every minimal progress was noticed and awarded - described our colleague.
Front-end developer, Dusica Petkovic, studied law. She found herself in IT world by accident, when she was in professional vacuum. She explored IT firstly through her husband's eyes, who is also a developer, and then she found her way of working. Discovering the new profession was like she was reborn.
That was the love at first sight. I knew that I found something I would love to work on and which made me happy. The decision to turn over the new page in my life was necessary because I needed to turn my back to something I did not want to work and which seemed so forced onto me. It was not easy to be in environment where people have much more knowledge and much less years than you. Yet, where is a will, there is a way and it's never too late for new decisions.
Her colleague Ivana Miksin, also a front-end developer, has a diploma in architecture. From her experience, she could not find her spot under the Sun because of current situation in labor market. The thing that was the trigger in breaking moment were conditions in which IT world is functioning.
As a developer, you have perfect conditions for work, and you only need to code and you can enjoy that, which is, of course, not the case among most of other professions. Constant need for improvement is something which is a huge advantage and it is unnecessary in this field. I did not give up on my professional needs and affinities and, if I could make parallel between front-end and architecture, I could say that both are engineering areas and very creative- explained Ivana.
And me? Well, the author of this text graduated Journalism from The Faculty of Philosophy. And now she works as QA engineer. While I was growing up, technology was not in my mind and nobody ever proposed that as a potential career option. I loved languages, writing, reading, so the choice of my career was somehow logical. However, I turned the new page not only for education, but also for work. The previous one did not give me much hope and I found myself in a professional trap, so I dug up my root and reached for my luck. This travel is not an easy one. It demands lots of abjurations, you are learning stuff that, at first, seems to you as "Spanish village" and sometime you feel ashamed because people that are much younger than you know so much while you are just at the basic level. I remember my first shocks when, at faculty, they bombed me with IT information and terminology… But, from day to day, it became so interesting and this profession, if it really intrigues you, somehow makes you want to know more and more, to go further, to be better than you were yesterday.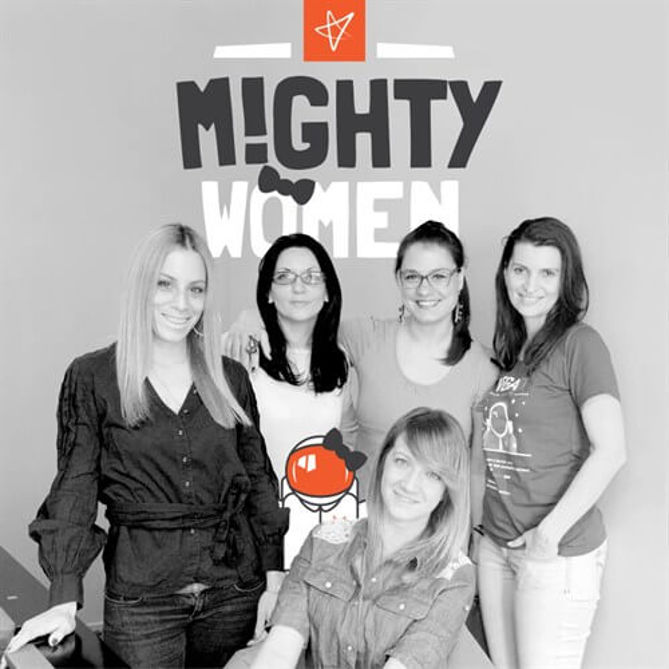 Few advices for those who have doubt in themselves
Coming into world of technology was a revelation to me. When I was younger, I did not have the clue how many options are there in IT industry. I think that mighty woman is not the one who has the world under her feets, lots of money, villas, cars... The mighty woman is one who can defeat herself and remain consistent to her values. Besides, listen to few of advices from my collegues. I can say that they are trully mighty women....
Isidora Lekic: I believe that everything in life relies on strong will and motivation. I am still a child that fantasizes and makes her dreams come true. Everything is possible if you believe in yourself. What you give is what you will get in return, and persistance leads you to the success....
Nevena Nikolic: To all who doubt in themselves, I can say: get out from the comfort zone, work on yourself and you will achieve everything you can imagine.
Dusica Petkovic: Simply I had the courage to change something, for myself, for my family. I wanted to show my children that working hard and giving your best is really worthy and that they should never give up. It's never too late to fight for yourself or with your fears and doubts.
Ivana Miksin: It is not easy to dive into some new world which is so strange to you. But, if you truly find yourself in something and you have the clear goal, success cannot be cut. You have nothing to lose. Take a risk. If you win, you will be happy. If you lose, you will be wise.