Life At Vega IT
International Day of Women and Girls in Science: Nurturing Talents
Author: Snežana Lazarević
Categories: Life At Vega IT
Date 13-Feb-2023
3 minutes to read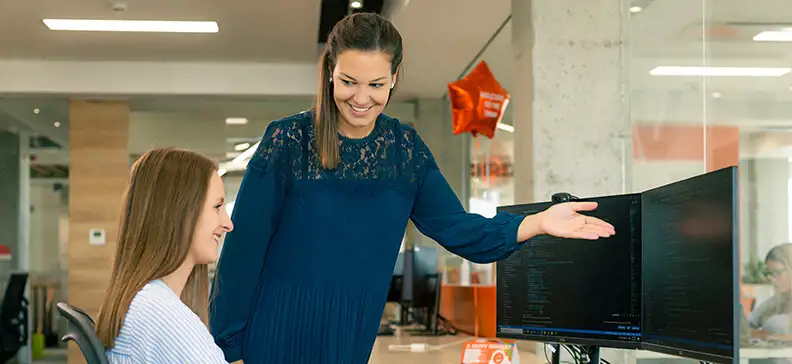 We can proudly say that our company embraces diversity, encourages women to pursue their dreams and desired career paths. We truly believe that women can equally contribute to the scientific and technological development of the world.
As a company, we are focused on promoting broad-mindedness and inclusiveness. We are striving to increase the share of women in leadership roles. Currently, in Vega IT, 32% of our colleagues are female, and 56% of women are in executive positions.

Also, throughout the years, our company has been investing in education and giving its full support to young talented minds to get involved and prosper in the IT industry. Last year we continued along this path and donated 8 four-year scholarships to college and high school students interested in building their careers in the IT sector.
We firmly believe that knowledge and skills should not be gender specific and that one's hard work and efforts always pay off.
On the occasion of celebrating the International Day of Women and Girls in Science (February 11), we wanted to chat with Anđela, Tara and Teodora, the young girls who received the scholarship, about their dreams and hopes for the future. Let's see what they have to say about this matter.
What inspired you to pick up programming?
The world of programming and its depths represent an endless area of interest to me and inspire me to explore it and become a part of it. With life being so fast-paced nowadays, I want to use the success of the tech world and make everyone's day-to-day life easier as well as my own since we all know how hectic it can be. Along with it, I would like to change things for the better. - Anđela Sipić
I am interested in art, music, philosophy, but first and foremost in natural sciences such as math, physics and astronomy which is the very reason why it was so hard for me to choose my true vocation. Eventually, I realized that there is a common element syncing sciences together and that would be technology. In today's world of technical development, programming means enjoying freedom to do whatever you want since it is incorporated in almost everything. This is one of the main reasons why I chose to pursue it. - Tara Petričić
Wide range of possibilities available through programming is what inspires me the most. I am
constantly learning something new since this kind of science is evolving every day and it cannot be boring whatsoever. - Teodora Vraneš

What does it mean to be a woman in science/engineering to you?
Women run the world because they see it differently and make their everyday life nicer and easier. If women create life, they also have the right to adjust it and make it even better. Women in science will gain the success and equality they deserve through their work and Knowledge. - Anđela Sipić
I believe that scientists, as well as engineers, are best described as people driven by the will to learn and explore. Science can be used by anyone with a passion for exploring and truly understanding the world around them. Being a scientist and an engineer means, above all, being curious and motivated. - Tara Petričić
Being a woman in the world of science and technology means being ready to face gender stereotypes which are only to be defeated through hard work and great career achievements. Looking on the bright side, I notice that the current "status quo" is, slowly but surely, changing for the better and that more and more women are able to find their place in this industry. - Teodora Vraneš

Where do you see yourself in 10 years?
One decade from now, I see myself as a young, educated, successful and accomplished woman who is making the right moves in her line of work while living in her own city and country. To combine work and pleasure, through teamwork, is the best outcome of any job. - Anđela Sipić
In 10 years, I would like to be involved in the IT sector as much as I am now and when I was first introduced to it. Hopefully, I would never run out of things to learn and research regarding it. Naturally, I would also like to contribute to the IT industry through my knowledge and future experience. - Tara Petričić
In 10 years, I see myself as a graduate IT engineer who enjoys and is inspired by their work. Ideally, it would be a job in the domain of data science all while working with music as a side business. - Teodora Vraneš

Anđela, Tara and Teodora, thank you for sharing your thoughts and opinions on this topic with us. We are super proud to have you as our scholars. Great things are ahead of you.
Women and girls, we want to see you grow and thrive. Be bold to follow your dreams. We've got your back. 🙂