Life At Vega IT
Cheers to first 5 incredible years at Vega IT
Uroš Gostović
Categories: Internal, workers, worker success
Date 20-May-2021
5 minutes to read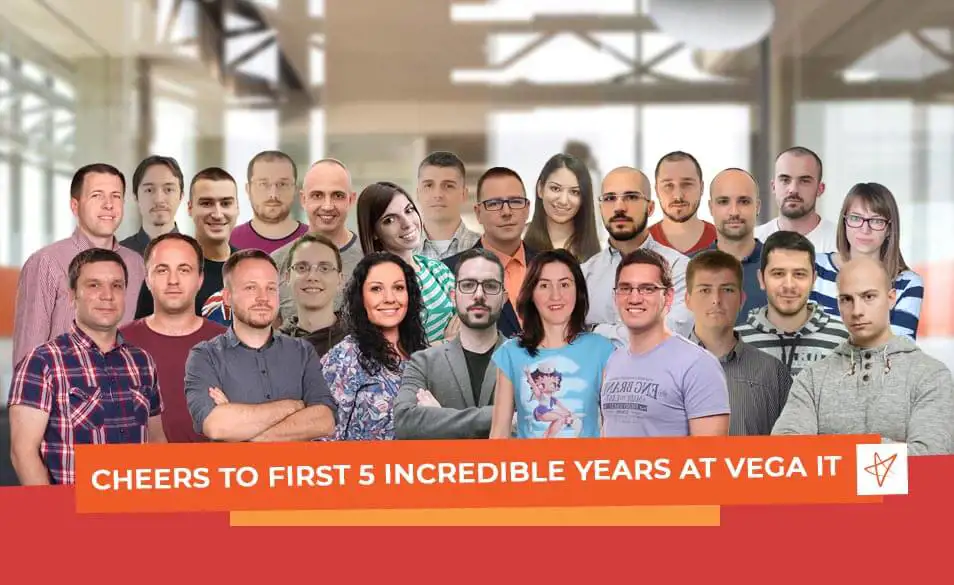 When we look back at the previous 13 years, we can honestly say it has been a great ride! We had a lot of memorable moments that made us who we are today, and shaped our company culture.

All of this could not be possible without our colleagues. Today, we are honoring those of them who have been a part of Vega IT for 5 amazing years!

Cheers to our colleagues! :)

Their dedication, loyalty and hard work is what helped us create a successful company, and they are continuing to do so every day.

Cheers to you Boris Popratnjak, Janko Vrbnjak, Nikola Živković, Milana Jovičić Poljački, Dragana Momčilović Tupanjac,Saša Lončarski, Marko Stankov, Nikola Jevtić, Ivan Bođa, Nikola Đokić, Miroslav Gaborov, Jovan Poljački, Vladimir Šobić, Milena Milakara, Nenad Rad, Vuk Raković, Nikola Dragan, Nemanja Šobo, Marko Dragnić, Branislav Đuriček, Miloš Davidović, Zorana Deurić, Željko Bal, Stanislav Perinović and Andrea Orsić!
Sharing some of the incredible and memorable moments along the way
We got together with a few of our colleagues and asked them to share their amazing stories from the five-year journey at Vega IT.
Nemanja Šobo
To be honest, I feel like I've always been a part of Vega IT. These last five years have been filled with many memorable moments.
This job enabled me to move away from my father Slaviša (to some extent, at least), so that I don't have to work in the family's rotisserie any longer. Vega IT is where I've met people who I wish to stay friends with as long as I live. This is also the place where I met the love of my life, who I started to live with after only 10 days of dating and got a little baby angel 3 years later.
As far as the job itself is concerned, I am not going to lie to you. Things generally run smoothly, with occasional bumps in the road. I still wouldn't change absolutely anything.
On my first day, I was assigned to the Doctor Care Anywhere project. After a while, I started working on the CMS projects. During this period, I learned a lot about prioritization, client communication, as well as web development.
Yet, in the end, all roads lead to the Doctor Care Anywhere team, where I am currently working as a fresh team lead with an amazing group of highly motivated and hard-working people.
To sum up, the key takeaway of this story isn't that you need to marry your project manager to enjoy your job - you should see my Trello board for house chores! If you wish to be happy like I am, you have to love what you do. Don't go thinking about how you are missing out on some other projects where you would learn more, but focus on what you can learn on the present one. No project lasts forever, except for the DCA of course!
The next milestone I look forward to is the 10-year-anniversary trip!

Thank you for everything you are doing for our colleagues and our company!
Dragana Momčilović Tupanjac
My arrival to the company coincided with the renovation of Vega IT Zrenjanin office. Even though 5 years have passed, I can still remember every little detail of the process.
The thing I liked so much was that, from the very beginning, I had the opportunity to have a say in choosing suppliers, as well as different business associates, etc.
In a short time, our Zrenjanin office expanded from having just a few occupied chairs, to having an amazing crew of 22 today!
When I look back, I see many events organized here in Zrenjanin, ranging from those that are less fun, such as medical check ups, to those we enjoyed so much - after-work happy hours, awesome parties and great team building events.
Apart from all of this, what I enjoyed immensely during these past five years was meeting so many people who wanted to be part of our company, as well as offering a helping hand to our colleagues.
Everything that Vega IT has and does in our headquarters in Novi Sad, we also have here in Zrenjanin "in miniature", and it is my job to keep it that way. This makes me feel great, and knowing that I earned the trust of the people, makes me feel even better.
After five years in Vega IT, I see the company as my home, and I care deeply for it. I like to have everything under control, and when things run smoothly. Apart from that, I truly hope that I will have the chance to see many more new faces in our Zrenjanin office in years to come.
Vuk Raković
I remember like it was yesterday – I haven't even signed the contract yet, and Maja Nedučić is already inviting me to my first team building, no more, no less but to Poreč.
I barely settled at my desk and started savoring the exquisite fresh peppers from Nišević residency, when I found myself on the seaside surrounded by some new people, going on "tube" rides, and scoring goals to Saša in water polo (it wasn't as challenging as it sounds, sorry boss).
Those several days helped me form a clear picture about the company and its people, and it made me feel as if I were among my kind, which hasn't changed ever since.
I had a very dynamic first 5 years in Vega IT. I've visited so many places that I have a feeling I went to the other part of the world and back (oh wait).
I spent most of the time in Vega IT working on a project where we had the opportunity to travel quite often, especially to the places which we probably wouldn't see otherwise. I've been to Poland and Germany, as well as Ireland and New Zealand.
I had the opportunity to use many technologies and to work with great people. I grew both as a professional, and more importantly, as a person. For all of this and many other reasons, I am proud to be a part of this company for the last 5 years. Also, I can't wait to finally enter the Radnički building (our new building in Novi Sad), this time without trespassing.
H5YR = Happy 5 Years, Raković!
Cheers to another 5 years!
You are the biggest value of Vega IT and the reason behind our successes. Thank you for everything you are doing for our colleagues and our company. We believe great things are to come in the next five years.

Vega IT is YOU. Cheers!