Life At Vega IT
Ask the Experts 2021 Event: Retrospective
Zorana Marić
Categories: Life At Vega IT
Date 02-Nov-2021
3 minutes to read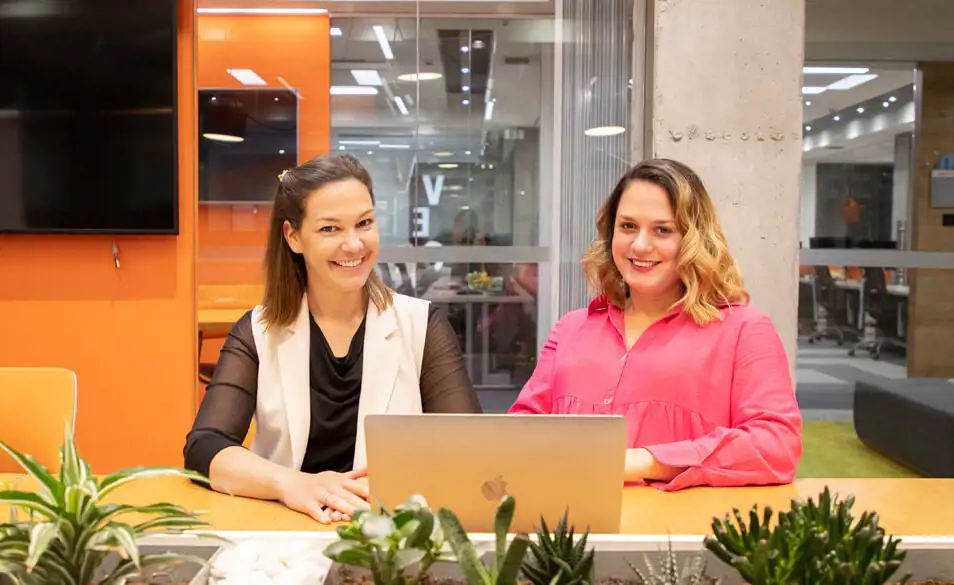 Becoming an expert in a certain area is not a sprint but rather a marathon. But isn't it great when you have a chance to gain first-hand experience and learn from someone who spent years and years accumulating tremendous knowledge and building their expertise?
We believe that knowledge multiplies by sharing. That's why we organise both internal and external knowledge-sharing events. Events like these provide people with the opportunity to hear tips and tricks that can help them advance on their career path.

Online event Ask the Experts
What is the "Ask the Experts" event?
Ask the Experts is one of the many events we organise for all people interested in learning and accelerating their growth. At this year's event, our colleagues revealed their little secrets to success and gave an opportunity to the attendees to ask them everything related to the field of their expertise.
Like last year, this year's event brought together people interested in these five topics:
Front-end Development
Software Development
QA
Project Management
People Operations
We created 5 different meeting rooms covering each of these categories so participants could switch between the "breakout rooms" we created and listen to multiple experts. Before the event, we received more than 70 questions from students, and many more questions were asked during the event as well.

Our experts answered over 70 different questions during our event
Our experts shared their impressions:
Jovana Šobo, Front-end Developer:
"This was the first time I participated in an event like this, and I can say it was a very nice experience, and I hope we opened up some new doors to the people who came to listen to us.
Tijana and I wanted to explain what it looks like to be a front-end developer in our company and answer all the students' questions and concerns.
I believe that we managed to make it a little easier for them to understand what this job position entails and that we helped them resolve their doubts. I also hope that we will have the opportunity to meet some of them in person in the future at our internship and training programs and maybe even become future colleagues."
Milan Deket, Partner & Software Developer:
"I attended this kind of event for the second time this year, and I have to admit it was unique.
There were a lot of people curious about our projects, how we expand our knowledge, and how we spend our day. I think we triggered a lot of interest as there were many questions we needed to answer at the end of the event.
We had a chance to tell the audience the story of our amazing journey, and, hopefully, we helped some of them become better engineers or at least motivated them to start exploring software development."
Dušan Subašić, Quality Assurance Engineer:
"As this was my first 'Ask the Experts' talk, I didn't know exactly what to expect. I can now say that I really enjoyed this experience.
People sent us interesting questions, mostly on how to enter the industry. I feel like I was able to answer those questions and actually bring them closer to what QA looks like and what to expect in their career.
All in all, my final impression could be summed up in one sentence - 'I'd do it again!'"
Olga Nišević, Digital Project Manager:
"This was the second time I attended the 'Ask the Experts' event. I cannot decide which one was better as I was super-excited during both events.
The best part of it is that it was a team effort. Since one of the participants at the last year's event has now become one of our colleagues, I do expect the same thing will happen this year as well."
Jovana Radaković, Human Value Generalist:
"The questions we answered were interesting and gave us space to share our experiences, tips and practices with the listeners.
I really liked the atmosphere and it would be my pleasure to participate in this kind of event again."

What was your favourite moment from our event?
In case you weren't able to attend this year's Ask the Experts event, we got you covered. Visit our YouTube channel and check out videos with all of our experts' responses.
Knowledge sharing is a never-ending process in our company, and we will certainly continue organising events like this. If you want to work in a learning organisation visit our Career page and check out our currently open positions. We would love to meet you!