Life At Vega IT
7 Must-watch videos from Craft conference
Vladan Ostojic
Categories: Life At Vega IT
Date 08-May-2017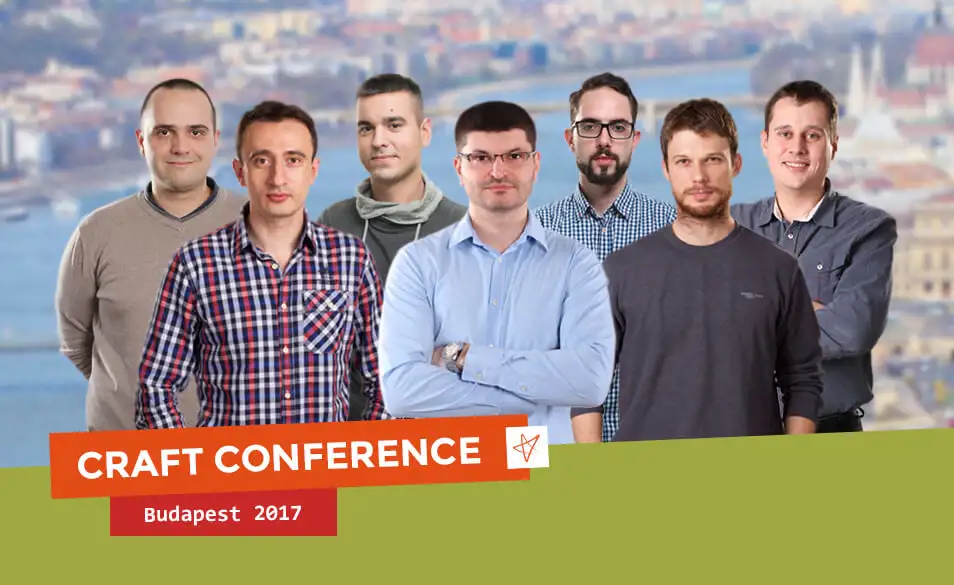 In order to expand their horizons and gain new knowledge, our colleagues spent two days in Budapest, attending the Craft Conference. Below is a brief description and links to the lectures that left an impression on them.

Our Colleagues at the Craft conference 2017
Started In Security Now I'm Here - Christopher Grayson
Neven Milakara: The lecture 'Started In Security Now I'm Here' by Christopher Grayson talks about security and how much it is present in modern software development. Christopher encouraged developers and architects to plan ahead with security in mind and to make it an important part of development lifecycle including it in regular regression testing, thus ensuring not just software quality but also software security. It is a known fact that security is, more often than not, sacrificed in favor of functionality and delivery on time. He also gave a couple of suggestions how to easily get some quick wins in everyday development and thus significantly improve software security. 
Tech Lead Skills for Developers - Patrick Kua
Milan Kosanović: An essential talk for all the developers who made it to certain positions where they lead a team (Team leads or Tech leads). There are lots of other talks on psychology in teams, but this one was the most down-to-earth, providing first-hand advice from a person who was in the same position as a developer-turned-tech-lead. The presentation was nicely structured and laid-out, with well defined key points, and great focus on people and the process aspect of teams. 
Decisions Decisions - Dan North
Miroljub Enjaković: A great and interesting talk about getting tied up to a specific technology or design choice. A lot of teams adapt new trends without much thought on the "why", or stick to old solutions for inadequate problems. The topic of buzzwords also came up, with the current trend being Microservices. Dan even proposed a game for the audience to say "Wooo" every time Microservices were mentioned during the conference, which later on (as the conference progressed) proved that there were a lot of "Wooos" :) . The moral of this talk is: "it depends" and always give valid reasons for your decisions. 
Better: Fearless Feedback for Software Teams - Erika Carlson
Nikola Živković: This talk was all about the importance of feedback (the relevant one) and the role it can play for future development of a team and the atmosphere inside it. The speaker told us how to give both a positive and negative feedback, how to choose the right moment etc. While listening to this lecture, you could notice that the speaker had a lot of experience, having in mind his title of psychologist and project manager it all came as natural. Not only was it interesting, but undoubtedly useful, since it was related to soft skills development in a team. 
Keys from the castle: ancient art of managing keys and trust - Anastasiia Voitova
Ivan Nemeš: This concerned a very complicated and difficult field in the software engineering world - security; more specifically, the topic of the lecture was where to place relevant security keys (and other sensitive data) and in which manner. This is a topic that is often taken for granted, although it is pretty significant. She pulled it off in a very simple and intuitive way (and quite illustrative as well). What fascinated me was the fact that such a young girl was greatly interested in such a complex (one could even say repulsive) issue, so much it seemed that she was in love with it (not to mention that she is also a lead developer), and we are talking about an issue which nearly 90% of engineers avoid or generally do not know anything about it. Plus, the girl is really cool, and I mean it. She has this great charisma. 
The Build Trap - Melissa Perri
Boban Mikšin: The lecturer was very eloquent, spoke very fluently and clearly, using fantastic and simple "to the point" slides, which fully clarified how we should actually deal with our clients and our products, and which is the best way to obtain information as to what clients want. She distinctly explained how to adequately balance between your team and end clients, and how to guide the process of product development, i.e. actually discover which feature should be added to the product. The lecture addressed some standard issues related to product management, how many new features one needs, how to obtain adequate feedback from end clients, how to communicate with the team etc. 
If you missed the opportunity to be a part of this amazing event we hope you'll find this article helpful. Feel free to share your experiences or thoughts with us after reading and watching the talks.