Life At Vega IT
We Are the IT City: The Tour That Came After
Biljana Milenković
Categories: Life At Vega IT
Date 21-Oct-2021
3 minutes to read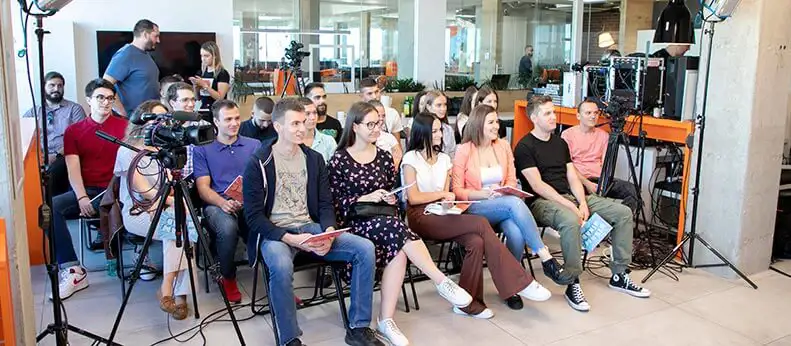 For a lot of young people, the business world is uncharted territory. The future can be quite a scary thing when you're just starting to take the first steps on your career path.
In an attempt to demystify what working in an IT company looks like, we welcomed a small group of students from the previously held "We Are the IT City" conference.
Why Do We Believe Investing in Education Is Important?
During the We Are the IT City conference, students had a chance to learn more about partnerships within our company, and how our partners managed to develop entrepreneurial skills while working at Vega IT.
Glimpse of the atmospehere from the We Are the IT City conference
Through events like this one, and many more interactions we have with students, we aim to build meaningful relationships with young people who are about to start their careers.
We see investing in education as a support system for our vision: creating a successful business that is beneficial for the whole community.
By inviting young people to join us at our company, we want to show them a glimpse of our everyday working atmosphere, give them an introduction to the IT world, and motivate them to pursue their dreams.
What Happened Last Tuesday
Our colleague Bojana Savanović was the tour guide for the day, as she led students through our headquarters while telling them a story about Vega IT and our company's culture.
The second part of their visit included the Active Listening workshop, held by our human value manager, Dunja Dmitrović.
We also invited two of our colleagues, Ana Svitlica and Nemanja Fent to join us, giving the students an opportunity to ask them anything they want to know about their career paths, and what it's like working at Vega IT.
Ana explained a bit more in detail about the role of a development lead in our company, while Nemanja answered questions about the front-end development.
They Came, They Saw, They Tried the Slide!
Students really showed how proactive they are. They didn't hold back, but asked numerous questions regarding technologies, web security, and our internship programmes.

Students at the conference
It was amazing to see how enthusiastic these young people are about their future professions.
Who knows? We might bump into each other in the hallways of Vega IT!
Book a Tour!
Have you ever wanted to see what the inside of our company looks like? Perhaps talk to our colleagues in person and gather valuable information about our company's culture? Whether you're a student or a teacher, don't hesitate to book a tour by filling out the form on our Book a Tour page.
Looking forward to meeting you!