Life At Vega IT
The Colleague of the Month of June 2020: Stanislav Perinović
Tijana Popov
Categories: Internal, workers, worker success
Date 02-Jul-2020
2 minutes to read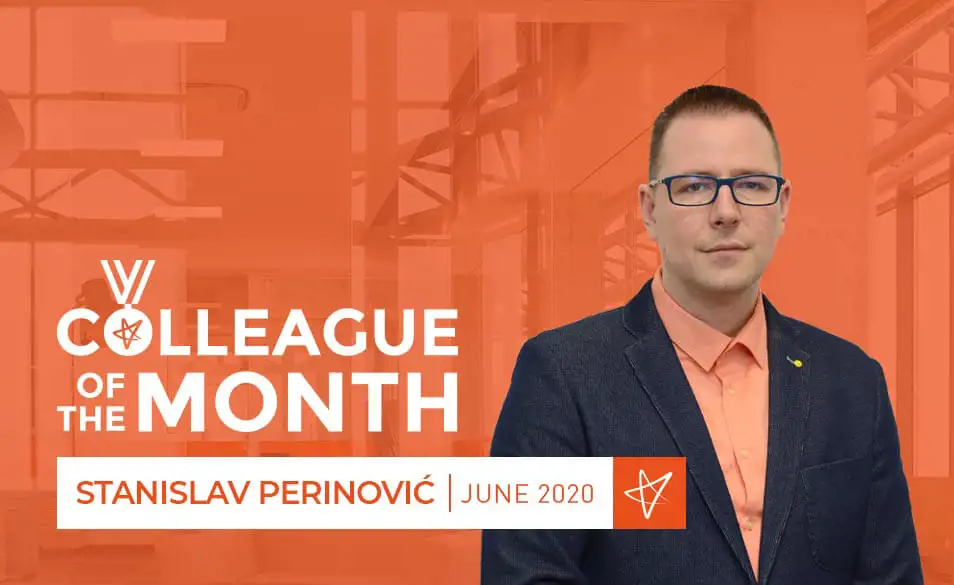 It's the beginning of the month, and it is time to announce our Colleague of the month of June 2020.
During the last 30 days, we have received a number of nominations for our Colleague of the month program. At any time, anyone can send one or more nominations and explain the reason why they have decided to nominate that colleague. At the end of June, we organised anonymous online voting, and here is the result:
The title goes to... our Operation Manager, Stanislav Perinović.

Stanislav, we would like to thank you for everything you do for us!
As you will see, Stanislav likes to help other colleagues feel better at work. Check out both nominations:
The first nomination:
Stanislav has made a lot of effort recently to make things work both in the company and for the colleagues who work from home. Except for the fact that he thinks about machines and other equipment, Stanislav takes care of his colleagues even more which he has shown so many times.
A few days ago, he heard that I wasn't feeling good during the lunch break, and soon after that, he approached me with a jug of water and a jug of lemonade. This meant so much to me at that moment and I am really grateful to him for that.
The second nomination:
I decided to buy a computer for myself and I asked Stanke about his opinion regarding configuration. Apart from the fact that he was willing to check the components on my list, he advised me about what else I could buy in the same or similar price range and get the best components possible. He was also so kind as to use the discounts he had on his own account to buy the equipment that I ordered and therefore saved me a lot of money.
When the computer was about to be delivered, I came to the company so that we could set up all the necessary things, but there was a misunderstanding. Only the empty boxes of computer components were delivered :-) Then Stanislav went to the storage to find and bring the computer to the company because we had already paid the full price for the box that was full of boxes. :D
Taking into account that Stanke was willing to offer his help in any possible way in this whole mess, I didn't feel stressed and I knew that everything would go well and that I can always count on him.
Get to Know Stanislav
He is interested in everything that has to do with hardware and new technologies. At the beginning of his career in Vega IT, Stanislav was Sys Admin. Now, he shares his knowledge and experience with the rest of the amazing team.
He has been interested in dismantling different objects and then putting the pieces back together ever since his early childhood.
Besides that, he has gained most of his knowledge from a wide range of tech magazines and various courses and training he attended over the years.
Although he is also a part of the digital age and his job is closely connected to it, Stanislav is a little bit nostalgic about the old days when he used to play games like sling or hide-and-seek and spend a lot of time outside.
He has two beautiful daughters who pose new challenges for him daily.
If you want to find out who will be out next colleague of the month, stay tuned and follow us on our Social Media pages. ;-)