Life At Vega IT
Leadership is a choice
Aleksandra Narancic
Categories: Internal, workers, worker success, Team work
Date 07-Feb-2019
4 minutes to read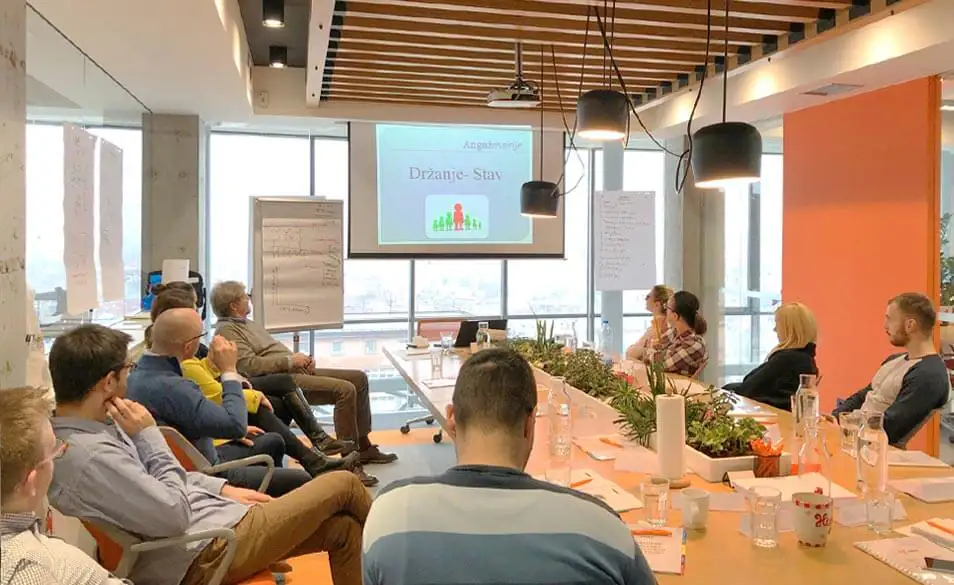 "Leadership is neither rank nor a title. It is a choice. It is the choice to provide care and protection for those whom we are responsible."
The last year was special to us. Besides the fact that it was a ten-year-anniversary of our company, it was also one more year in a row that we marked as The Year of Learning.
From the very beginning, our company has represented a good example of the organisation that has a "flat structure" and, in the last couple of years, we have realised how important the role of a leader is in our organisation.

Our colleagues are our biggest values.
In order to continue investing into the knowledge and the skills of our colleagues and create the right conditions for our colleagues to improve themselves on both a personal and a professional level, we have organised another workshop on leadership.
Why Leadership Training?

We are well aware of how significant and responsible the role of a leader is. In our company, a leader is a person who has good communication skills and who does not need to have the most extensive technical knowledge. This is someone who is always ready to listen to and to help his or her team members; someone who will follow and guide them and their work in the right way and someone who will encourage and nourish a team spirit.
"A leader must be inspired by the people before a leader can inspire the people."
The thing that we would like to distinguish as an advantage of this training is the fact that before the training itself, we did the evaluation of the competence level in various fields of leadership for each colleague individually.
In that way, the lecturer gained an insight into how skilful our colleagues are currently and how much space they have for further improvement in order to become even better at leadership. During the training itself, which lasted for two days, an excellent lecturer, Miroslav Živković gave our colleagues a variety of tools and methods they can use during their work on a daily basis, and which will help them become better at what they do in our company.
After the training, each colleague had an assignment to create their action plan and try to adopt some of the techniques and tools he or she learned about during the training session in a certain period of time.
What did our colleagues say about this training?

Miroljub Enjaković, Lead Software developer
"I got a chance to discover various tools that will make both my job and life easier. After the training, I felt prepared to handle a wide variety of situations I didn't know how to recognise before. Besides all that, I got to meet the colleagues I don't collaborate on a daily basis, which is a very pleasant experience.
What I see as the most useful things I learned are the ways how to delegate tasks, how to criticize or praise my colleagues' work and how to motivate and encourage my colleagues to share their ideas more openly."
Maja Božić, Chief Marketing Officer
"The training was excellent, the best one I have ever attended. Apart from the fact that the topic itself was very interesting, I realised how much I need to work on myself to become a good leader.
By using specific examples, the lecturer demonstrated typical patterns of behaviour one leader should adopt. The lecturer gave us a number of tools which we can instantly put into practice at our work, such as, for example, how to run meetings, educate our colleagues, how to encourage our colleagues to give their maximum at work, what means to delegate and how we should do that, what the role of a leader represents in this organisation, and many other topics.
The lecturer's sentence that a good intention is not enough to do something and that my behaviour needs to be in accordance with my intentions so that the others would understand me more clearly is what left the strongest impression on me during the lecture. I know it sounds simple, but, in practice, it is not easy at all, and I am currently working on it. :)"
Our Plans for Further Personal and Professional Development of Our Colleagues in Our Company

We will continue to organise different pieces of training/workshops for our colleagues as we have done so far within our "Vega IT values you" programme. We truly believe that our colleagues are our biggest values and that investing in their professional and individual development is the right way towards bigger collective achievements. Having that in mind, we set a date for a new training session in the field of leadership as well as the workshop for our entire mobile team. We are happy that our colleagues share our values and constantly work on themselves.
We are aware of the fact that the professional and personal development is a continuous process, so feel free to share your own good practical examples with us! We will be glad to hear more details about them and exchange our experiences.