Life At Vega IT
2018: The Year of Learning
Sasa Popovic
Categories: Company success, News
Date 08-Jan-2019
4 minutes to read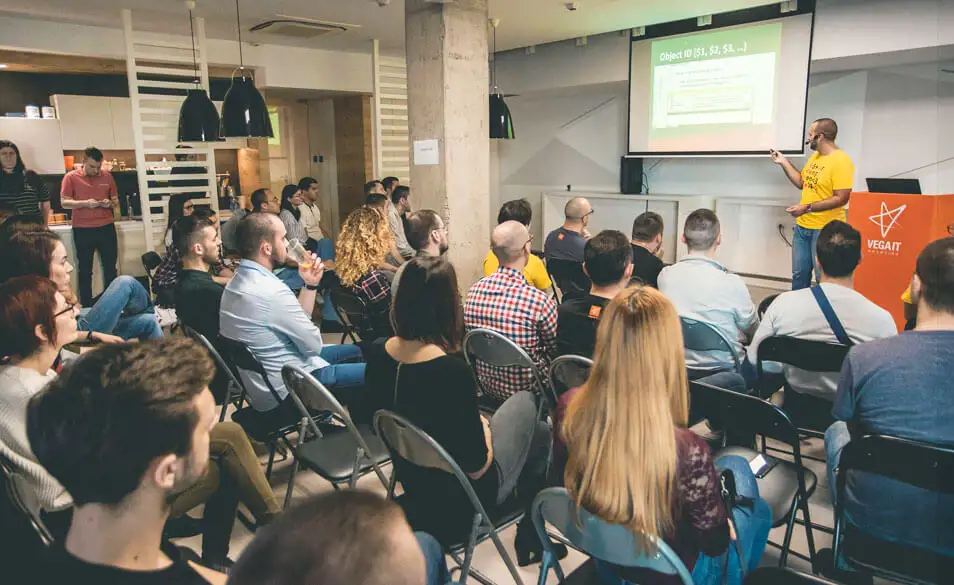 Another year has passed, and I thought this would be a good moment to reflect on what we've done in the past 12 months.
I looked at our performance from several different angles: from how many people have joined Vega IT and a number of successfully completed commercial projects, all the way to the number of community projects we've delivered to non-profits and finally our financial results. A growth of 40% in revenues looks impressive, especially when I take into account the fact that we didn't have any financial goals for 2018 and that we just did what we love and enjoyed doing it. But one thing that made me feel genuinely proud was to see how my colleagues contributed to our long-lasting idea of turning Vega IT into a real learning organisation.

2018: The Year of Learning
Some of the most interesting events we organised last year were proposed and often implemented by our colleagues. The biggest two are two full-day conferences (STAR conference and Front-end Day) that were organised by our colleagues for our colleagues. When my colleagues proposed that we should organise a full-day, two-tracks conference, where our colleagues would plan and implement the whole event and also prepare and do the talks, I thought that would be too much. My colleagues showed that I was wrong once again :-)
We invited external trainers to do more than fifteen technical and soft skills workshops and training sessions for our colleagues. On top of that, we organized more than 40 internal lectures and presentations.
And, not only did we share our knowledge among ourselves, but we also took part as speakers in more than ten external conferences and events.
And what a better way to help our colleagues learn and keep up with the technology trends than having dedicated mentors within the company? I was thrilled to hear that we would have the second full-time mentor within Vega IT. Another experienced engineer took the opportunity to expand his knowledge and share it with others by becoming a full-time mentor. And we don't plan to stop here.
How is all this possible?
I believe the critical contributing factor in this year's exquisite performance of the company at all levels is that we have surrounded (and are still surrounding) ourselves with amazing and inspiring people who are eager to learn and share their knowledge with others. Without them, none of this would be possible.
I strongly believe that only a true learning organisation can be successful year after year in this fast-growing world of technology. We'll, therefore, continue to learn and invest in the personal and professional development of our colleagues, and we'll enjoy the ride.
For 2019, I wish us all even more knowledge sharing events and better results in improving ourselves both personally and professionally!