Life At Vega IT
STAR Conference 2018: Colleagues for Colleagues
Tijana Popov
Categories: Life At Vega IT
Date 08-Nov-2018
7 minutes to read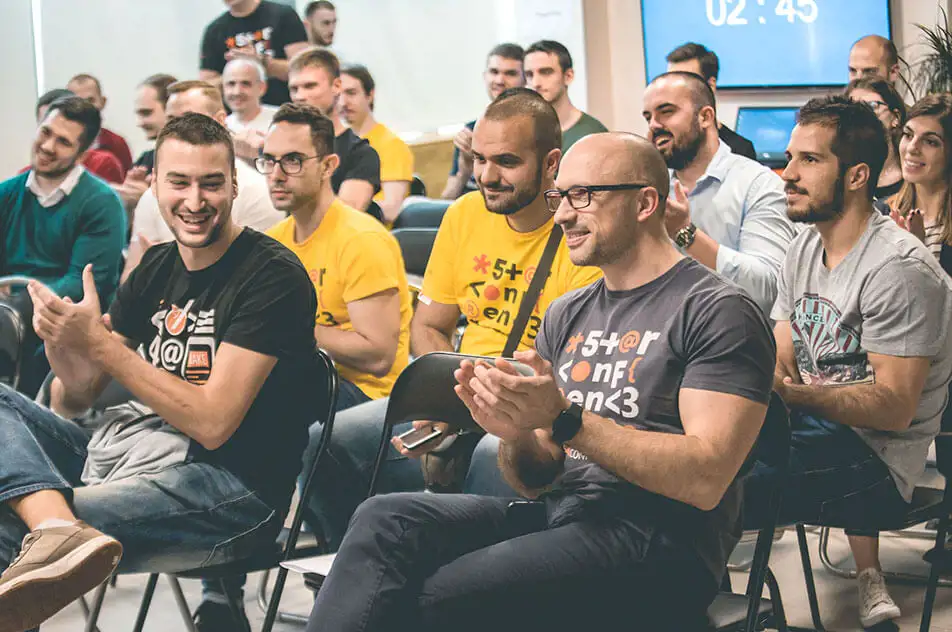 After the success of the last year's STAR Conference, we knew that we needed to turn this internal conference into a tradition. Our learning organisation's motto stayed the same: "Colleagues for Colleagues".
Each of us had a role at this unforgettable event - whether as a Speaker, a Contributor or a Guest - and no role was more or less important. Only by joining our energies, ideas and creativity, we could have a successful event.

From walking through the doors of Vega IT on Saturday morning to attending the very last lecture, we saw that our colleagues were enthusiastic about knowledge-sharing and giving their individual contribution to making the STAR Conference what it really is - a comfortable learning place where we can challenge our skills and learn something new in a non-traditional way.
How many of us were involved in making the STAR Conference one of the best ones we attended? 125 Colleagues. Sounds impressive, doesn't it?
Learn more about the impressions our colleagues gained at the conference:
The speaker - Ana Bjelica:
"As one of the speakers at the Star Conference 2018, I was delighted to see so many colleagues attending lectures with such enthusiasm! Each lecture I had the opportunity to listen was exquisite - well prepared and well presented. I'm pleased that a kind and responsible cause resulted in this amazing knowledge-sharing event where colleagues from different cities could mingle and get to know each other better.

Congratulations to all the speakers and the contributor team for all the hard work they invested in making the second STAR Conference so amazing! It's clear that we will have to work even harder for the STAR Conference 2019 if we wish to have an even better conference next year."
The guest - Janko Vrbnjak
"At this outstanding conference, I was able to see high-level organisational skills of the contributors and hear professionally prepared speakers. We were welcomed with a very positive atmosphere. All the speakers were very relaxed and stress-free which made their lectures even more fun and engaging.

Whenever I saw colleagues from the organisational team, they had big smiles on their faces and were in a great mood throughout the conference.
Seeing this compact group of knowledge-driven, and above all, friendly individuals, I instantly knew that our STAR Conference, even though it's internal, will be at a very high level."
The contributor: Aleksandar Milić
"Being a member of the organisational team for the STAR Conference wasn't an easy undertaking. At moments, it was quite challenging but also, exciting, creative and interesting at the same time. A whopping number of colleagues (more than 120) attended the conference, where we had to keep an eye on each detail and guest individually. Sounds demanding, doesn't it?
The preparation for the conference began a couple of months in advance, where we presented our ideas and elaborated them to the smallest details. The organisational team was divided into groups where we signed up for the tasks which we thought could make the biggest contribution to the event. We tested our time-management, creative skills and putting the needs of our colleagues before our owns.

The STAR Conference helped us significantly, not only in terms of technical knowledge we had the opportunity to gain during the lectures but also in terms of spending more time with the people we work on a daily basis. To me, it was amazing to be on the other side of this event and to learn how much work and dedication any organisation need to invest in order to have a successful event."
The speaker - Nenad Perčić:
"The very first day when the call for speakers was announced, the sole thought of being one of the speakers and giving a talk in front of the colleagues swept me off my feet. I knew that this conference would be an amazing experience, so I signed up as one of the speakers on the topic I was most comfortable with. I decided to do a live demo coding session which pushed me to get even better and learn new tools and shortcuts in order to present it the best way that I could.

The whole crew which worked on the organizational part of the event was exceptional, all the effort put into small and big details, staying after work hours to make sure that things are going as planned just gave me more reason to prepare better for the session. Anticipation and excitement increased as the event date was approaching. The crew blew the roof and exceeded all the expectations. I enjoyed every step of the way next to these amazing people and I can't wait for the next edition!"
The guest - Vladan Velojić
"The best way to sum up my impressions can be done in three words:
KNOWLEDGE
The knowledge each speaker displayed and the natural way they shared the same was absolutely unique. I enjoyed hearing about the new ideas, topics, concepts, clarifying existing doubts and proving what I already knew.
FRIENDSHIP
I met new colleagues, both through their lectures, discussion and spent time with them after the lectures and conference (yes, there was a party afterwards). I believe that we learned how to change our point of view if we need to, and also to strengthen our good practices on topics related to IT and other aspects of life.

ATMOSPHERE
Definitely, one thing that I was fascinated by was the presence of a very positive atmosphere at the lectures and in the Chill Zone. I believe that everyone could find some activity that resonates with them the most, and spend one quality Saturday among great people!"
The conference initiator and Mystery speaker - Maja Nedučić:
"I was always fascinated with implementing the motto "colleagues for colleagues" into reality.
When I started questioning what our colleagues can do for each other and develop both personally and professionally at the same time - either gaining technical knowledge or improving their soft skills, the STAR conference was born.
STAR conference has a direct impact on happiness at work since it builds good relationships between colleagues while learning something new. This helps us achieve great results.

One of the traditions at this conference is that the final lecture of the day is held by a Mystery speaker (his/her identity remains hidden until the last second)! This year, I had the honour to close the conference as a Mystery Speaker. It was great seeing the last year's Mystery Speaker, Boban Mikšin, having so much fun recording the video announcement, and keeping the secret from everyone.
I feel so proud of each colleague who joined us at the conference, whether as a speaker, contributor or a guest. Everyone who dedicated their time to our knowledge-sharing event last Saturday made STAR conference what it is - a place where we can improve ourselves while taking care of the others."

Not only did we have a marvellous time together this weekend, but we also gathered around a greater cause - helping those who need support. We were unanimous about making the donation for each colleague who attended the conference to the NURDOR Association (National Association of Parents of Children with Cancer).
We will continue to invest our resources into internal training, trips to other conferences, educational and soft skills workshops, and yet we are looking forward to the next year's STAR Conference the most!
After working with you, no one can tell me that I haven't touched the STARS!