Life At Vega IT
Empowering leadership journey: The First-Time Leaders Program
Isidora Madic
Categories: Life At Vega IT
Date 15-Sep-2023
5 minutes to read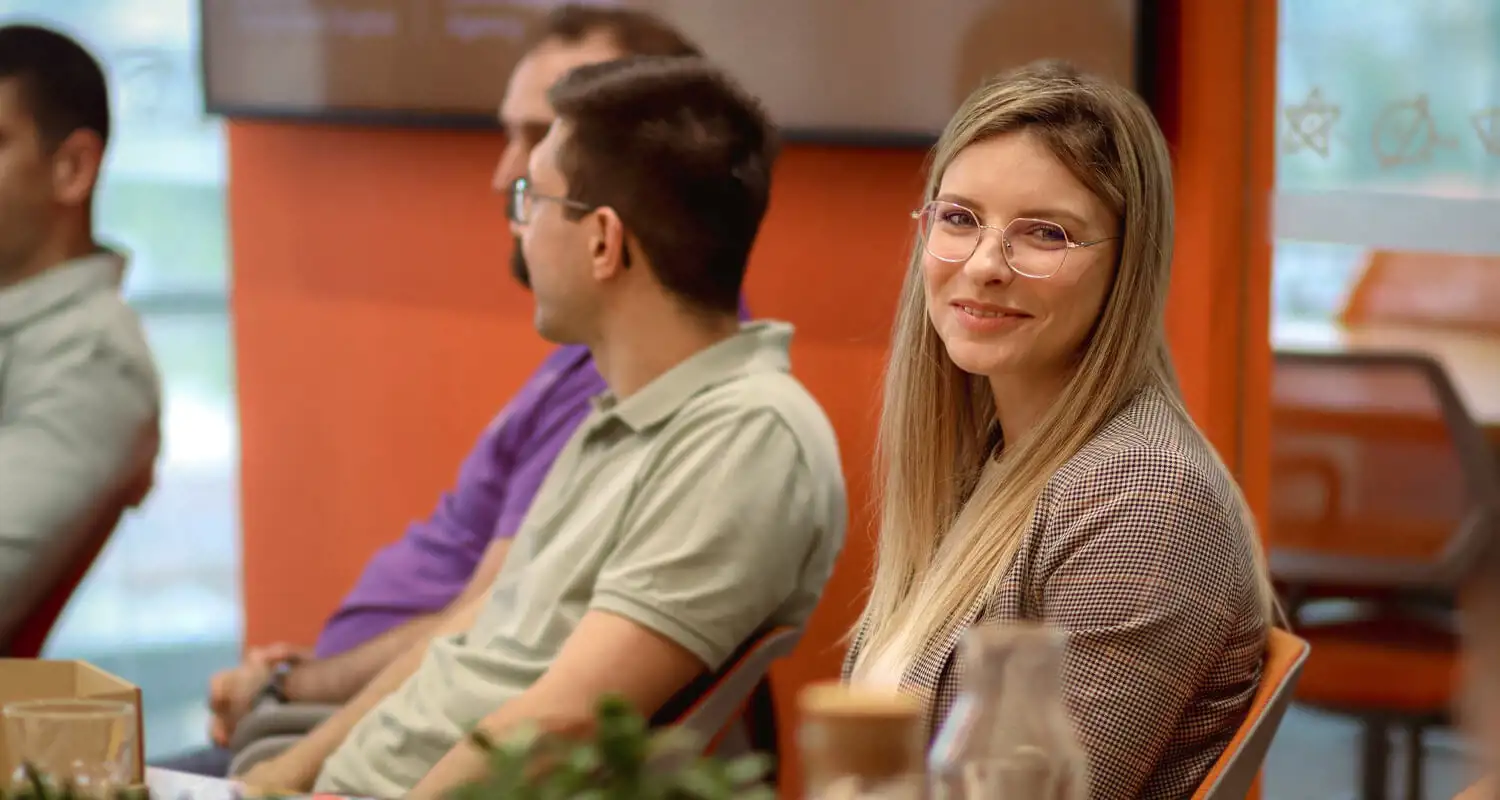 We always strive to push the limits of software development and move forward through innovation. This requires us to constantly work on ourselves.
At Vega IT, we embrace a culture that thrives on continuous learning and growth. To maintain this crucial aspect of our organizational culture, we have introduced The First-Time Leadership Program. It is a journey for aspiring leaders, empowering them with the essential skills and confidence to unleash their full leadership potential.
What was the idea behind the First-Time Leaders?
In today's rapidly changing world, nurturing leadership skills is crucial for business success. Recognizing this need, our People Development team created the First-Time Leaders program.
Stepping out of comfort zones, demonstrating acquired skills, and setting new developmental goals – that's the essence of the First-Time Leaders program.
Our colleagues Dunja and Katarina created six modules of this program with the aim to provide support to colleagues in developing people skills that will help them in their careers and contribute to their success. It is specifically designed to help participants acquire a diverse set of leadership skills.
We all have an opportunity to approach our professions either from the viewpoint of a leader or an executor. If we choose to be executors, we may perform our duties correctly, but we certainly won't add any additional value. However, if we approach what we do from the perspective of a leader - we are proactive, think strategically, and set ourselves developmental goals. That means that we are the ones who are in charge of our responsibilities and not the other way around.
This program lasted for six months and was completed by twelve of our colleagues. The participants were colleagues in leadership positions or aspiring to be in such roles, including Project Managers, Team Leads, and other positions that require these skills.
What are the modules all about?
This programme consists of six modules, each focused on a specific aspect of leadership development.
Module 1: Understanding leadership
In this module, participants dove into the fundamentals of effective leadership. They gained insights into the role of a leader and explored five key leadership competencies. Also, they learned about different leadership styles and how to use SWOT and STEP analyses for making better decisions.
Setting SMART goals is important in order to align actions with aspirations, and gain insights into differences between coaching, mentoring, and psychotherapy.
Module 2: Practical leadership skills
During this second module, they focused on emphasizing the art of communication through conversational and natural sound of a good speaker. Participants discovered the art of feedback - how to give and receive feedback. They also discovered techniques for effective one-on-one meetings, managing change, and adopting solution-oriented perspectives on how to focus on a solution, and not problems.
Delegating is a key skill to empower teams and optimize outcomes.
Module 3: Soft skills
During this module, participants developed strategic communication skills while enhancing their soft skills. Building quality relationships and earning people's trust are key points.
The idea was to learn how to encourage yourself and your colleagues to step out of their comfort zone. They also acquired strategies for effective communication with difficult individuals and mastering conflict resolution.
Module 4: Well-being
This module highlights the importance of well-being in leadership.
Our colleagues learned how to manage stress effectively, develop emotional agility, and create psychological safety for themselves and their teams.
Module 5: Presentation skills
The goal of this module is to overcome stage fright. They learned how to do effective presentation planning and acquired tools to engage and inspire their audience.
Module 6: Practical application of knowledge
Within this module all participants had the opportunity to present what was most useful to them and where they applied what they had learned, in which situations and in what way. Each participant had about 10 minutes to present and they received feedback from the rest of the group.
We guided them to unleash their leadership potential and effectively apply their knowledge, leading to their development as capable leaders.
What our program graduates have to say
The First-Time Leader program empowers aspiring leaders with the skills needed to excel in their roles, build meaningful relationships, and inspire others within the organization.
They not only acquired and shared knowledge but also supported each other in stepping out of their comfort zones, demonstrating acquired skills, and setting developmental goals. This program not only allows them to develop strategic communication skills, but also helps sharpen their soft skills at the beginning of their career.
Over the course of a few months, we spoke to all the participants to learn more about their own experience and view of the program. So, we are sharing takeaways at the end of our program.
Leadership isn't just about management: Being a leader also means inspiring and motivating the team towards achieving common goals. This program has significantly contributed to my personal development and has also enhanced my role as a leader within my team.
My takeaways from the FTL program are knowledge and support from the wonderful people. I learned that we do have what we need to overcome a challenge and be good at our job, it's kept in our pocket, as Katarina used to say, and once we need it we can pull it out and use it.
For me, the First-Time Leads program was an experience full of great socializing, learning and development. The participants in the program inspired me with their efforts and investment in the previous six months! From month to month, I noticed the development of each of them, and it seems to me that they all finished the program with an accomplished goal, which is the development of basic leadership skills, which I see that they are already applying in their further daily work. Thank you, team, for a great six months!
Why is this program meaningful to us?
By investing in internal talent development, we not only nurture a culture of growth and thriving future leaders. Program graduates influence our teams, projects and our company culture. We believe that this program directly impacts our company's growth and success.
It is not a "nice to have" plan. Instead, it is a "must-have" plan for any organization that strives towards building a competent team of colleagues who work well together.
We are always looking for new people, so if you want to find out more about our company and join us, you can check out our open positions!
Thank you, Dunja and Katarina, for sharing your knowledge and showing such support every step of the way. And a big thanks to all our colleagues who put so much effort to advance their skills and become true leaders!