Life At Vega IT
Codeference: Four Days Of Knowledge-Sharing and Fun at Zlatibor
Author: Zorana Marić
Categories: Life At Vega IT
Date 18-Nov-2021
3 minutes to read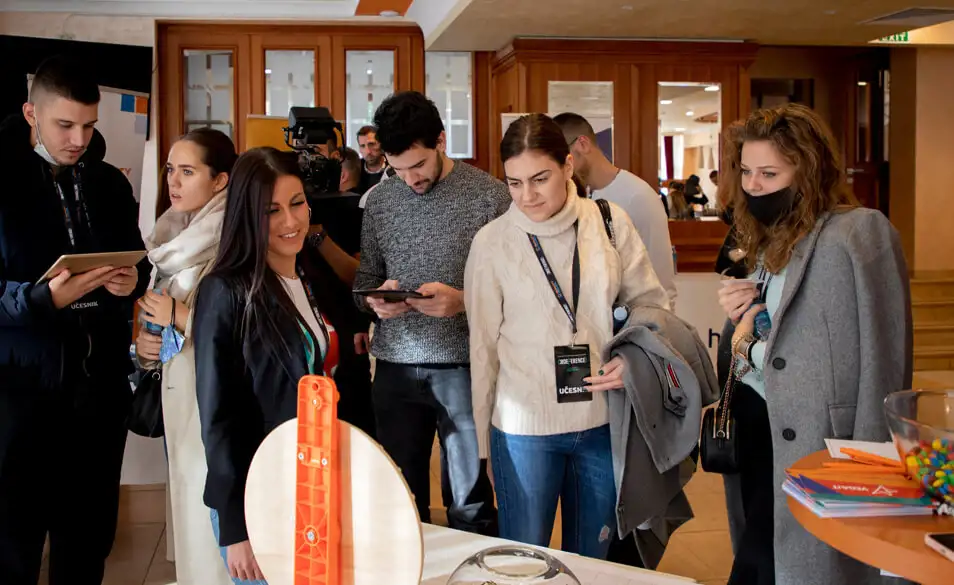 We at Vega IT love to share knowledge, connect with the IT community and meet individuals who are making their first steps into the IT world.
Over the years, we have visited and organised different events, during which we have shared our experiences, but also gave students a chance to get to know us better.
To keep this line of communication open with these young bright minds, last week, we visited student conference on Zlatibor - Codeference. :)
Codeference: The new generation of IT professionals
Codeference was created by a group of young students from the Faculty of Technical Sciences in Novi Sad. The idea was to help future IT engineers connect with companies that could potentially become their first employers.
We are really happy that we had an opportunity to be part of such a great event that gathered over 300 students.
During the conference, students had a chance to participate in various lectures and workshops organised by the companies.
What Activities Did We Prepare for Students?
Entering the IT world and building a career in this world can be challenging. Being aware of how curious young people are when starting this journey, we organized several activities during the event to answer all of the questions students might have. Those activities included:
Workshop: How To Create a CV And Prepare For a Job Interview
Good CV can boost up your chances of getting that first job interview.
During these 3 hours, our colleague Dunja shared some of the best practices about creating a CV. After talking about all the do's and the don'ts, it was time for students to put all of that knowledge into practice and create a resume for their next job or internship application.
And, this was only the first part of the workshop. ;-)
What came next was a simulation for a job or internship interview, during which Dunja interviewed one of the participants. The goal of this exercise was to help students get a better understanding of what a real interview at our company looks like.

After sharing best practices about creating a CV, students had a chance to test their newly acquired skills. :)
Lecture: How to Manage Your Professional Career?
During this lecture, Dunja talked about the importance of working on yourself. She also reflected on the importance of taking those extra steps (reading books, visiting conferences, attending workshops, volunteering…) that will expand your skills and help you differentiate yourself from others on the market.
She also talked about the importance of planning ahead and setting up goals in order to achieve success!

"For me, Codeference was a wonderful experience — I had a chance to be meet many curious and enthusiastic young people willing to learn new things and advance in their career. :)"says Dunja.
Vega IT Booth: Let The Fun Times Begin!
Besides taking part in knowledge sharing activities, students could also visit Dunja and Uroš at our booth, play our technical quiz and spin Vega IT wheel to win great prizes.
Besides testing their technical skills and luck, students could also inform themselves about our company, internship programmes and current job opportunities.
We believe that participating in these kinds of events are twofold. Students can get the answers about different internships programmes, meet IT companies, learn new things and expand their network. On the other hand, companies have direct contact with the future IT professionals who will, potentially, become their new colleagues in the near future.
We hope that all of the participants found this conference interesting and learned something new.
In the meantime, check out our career page and learn more about our internship programme or new job opportunities. We would love to meet you!