Life At Vega IT
A new generation of young minds at KONTEH
Maja Colak
Date 24-Mar-2017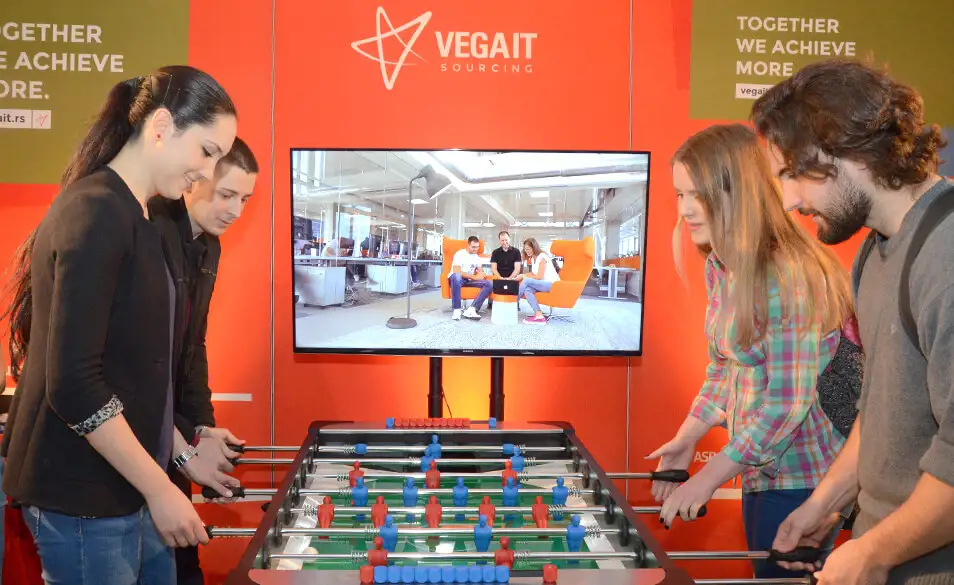 At the risk of sounding cliché, the truth is that we will never have as much time to improve ourselves and expand our borders as we have as students.
Finding the ways to realize what are the things that move and motivate you can be crucial in deciding which career path you are willing to take.

The first day of fair at our booth
Answers to questions like "what do I need for an internship in your company" and "can you tell me more about the things you do" were often demanded during KONTEH, a two-day fair held at the Faculty of Technical Sciences. We had the chance to meet a new generation of young minds who are ambitious, willing to get out their comfort zones and make the first step in approaching companies.
The gap between what we learn in school and what we do on the job can be major and one of the ways to overcome it is an internship in our desired company. The experiences we gain on our paths are what shapes us. Your internship will not only encourage personal development, but it will also provide greater self-understanding.

The lecture: 9 things you didn't know about Vega IT
During the first day of the fair we also got the chance to present the 9 things that were unknown to students about Vega IT and its culture:
Happiness at work
Vega IT open door
Healthy lifestyle
Dinner with the founders
Totem
Open plan office
After all, there is no better feedback after a lecture than raised hands of those who are curious to find some additional answers.

The lecture: 9 things you didn't know about Vega IT
The two days that are behind us were an amazing experience and we would like to take a moment and thank all of the students and people who were a part of organization of such an important event.
We are organizing a Career Open House event for all the students who gave us the correct answers and won the foosball game. In addition to the t-shirts that they won, it will be the perfect occasion to meet each other better.
If we haven't met yet, or if you saw the crowd around our foosball table and flinch, our doors are always open for you. If you want to catch a glimpse of our company's culture, just book a tour and try the slide.