Life At Vega IT
10 Books to read this summer
Maja Colak
Categories: Life At Vega IT
Date 20-Jul-2017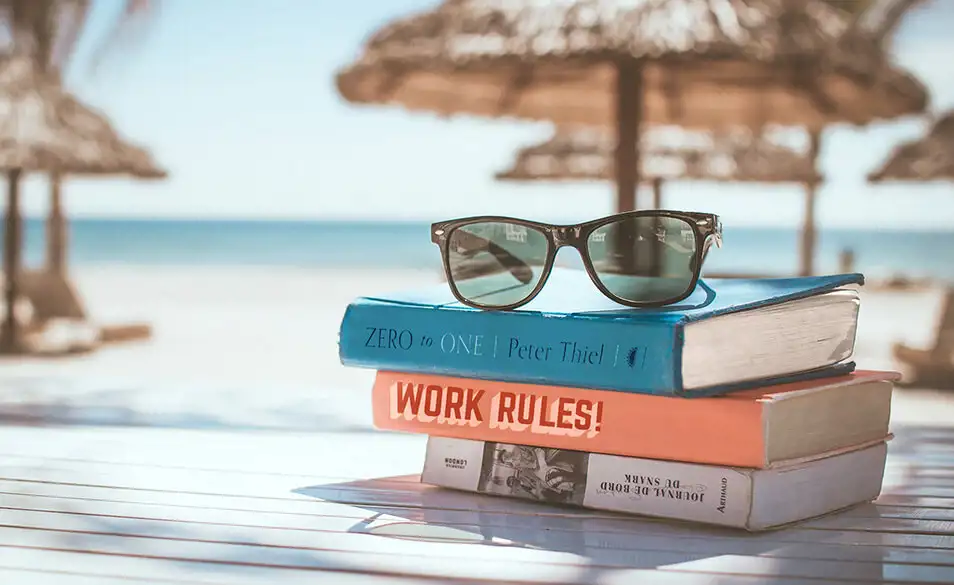 It is, again, that time of the year when we would all like to pause our daily lives, put on some sunscreen and head towards the nearest beach around. There is this special feeling of indulgence created by the summer breeze and the Sun that suddenly makes us reach for a good book. To make your search for the perfect book easier, we are sharing 10 titles recommended by our colleagues.

What is your favourite summer book?
Enjoy your vacation and we hope that you'll find something interesting on our reading list.
"Zero to One", Peter Thiel
This book tells it all about how to create an outstanding business. It is important to think outside of the box when deciding to build a business and, instead of copying what other companies are doing, you need to make something brand new. The book is guided by the notion that there is no reason to think the future is only made in Stanford or Silicon Valley, but that it rather reaches far beyond.
"The 100-Year-Old Man Who Climbed Out the Window and Disappeared", Jonas Jonasson
The unbelievable Swedish humor aside, this book is a perfect choice for a beach scenery where, with a fresh and cold drink by your side, you are ready to dive into the story of a man who decided that it's not too late to start over.
"Turn the ship Around" - L. David Marquet
"Turn the ship around" is a true example of how our founders imagined our company to be, from the very moment they established it – leadership, responsibility and trust as a lifestyle of all the members of our organization.

Turn the Ship Around by L. David Marquet
"Software Craftsman" - Sandro Mancuso
This title tells the story of an engineer's development path, about what's really important in software engineering and which approach we should use in order to become true masters of our craft.
"Dependency Injection in .NET" - Mark Seemann
When the brilliant Mark Seeman writes about dependency injection it can't get any better. As this one is a very important topic for every junior who aims to conquer it, this book becomes crucial to their goals since nobody mentioned dependency injection at Faculty. And one thing is certain, you can't expect to evolve as developer without learning about it.
"Working Effectively with Legacy Code" - Michael Feathers
What we have been taught at Faculty and throughout all kind of different courses is how to write code from scratch. The reality, though, is a bit different. There is no developer who never had a chance to write a legacy code - a code previously written by someone else that we are now requested to improve or maintain.
"Everybody Lies: Big Data, New Data, and What the Internet Can Tell Us About Who We Really Are" - Seth Stephens-Davidowitz
A former Google data scientist argues that much of what we thought and we still believe in is, in fact, and has been wrong. The reason for this lies simply in human nature and the tendency we have to not fully disclose ourselves when sharing something with others. With new data from the internet we no longer need to rely on what people tell us because the traces we leave on the internet finally reveal the truth. Sometimes, however, new data can be a bit disturbing and it can definitely make you think.
"Happy Hour is 9 to 5" - Alexander Kjerulf
If you feel satisfied with your work does that necessarily mean that you are happy? When asking this question we might also raise another one - who is the person responsible for creating a happy environment. This book provides the answers to everything you may have ever wondered about happiness at work. The catchphrase is - happiness is always found in the smallest things around - which is also the author's light motive.
"Work Rules!" - Laszlo Bock
One of the greatest tech companies today - Google - took a huge step towards making our lives much easier. The fast development of the market meant direct growth for the company. This books gives an insight into the activities that, over time, became Google's best practices. They do certainly regret some of the things they tried, while others are the reason why they are constantly rated as one of the best workplaces. This book can be defined as a playful manifesto that can change the way we work and live.

Have you read the book "Work Rules"?
We invite you to share with us your book wishlist as well as your thoughts about the titles on ours.