Corporate Social Responsibility
GreenIT 2019: a Joined Effort to Go Green
Tijana Popov
Categories: Corporate Social Responsibility
Date 20-Nov-2019
3 minutes to read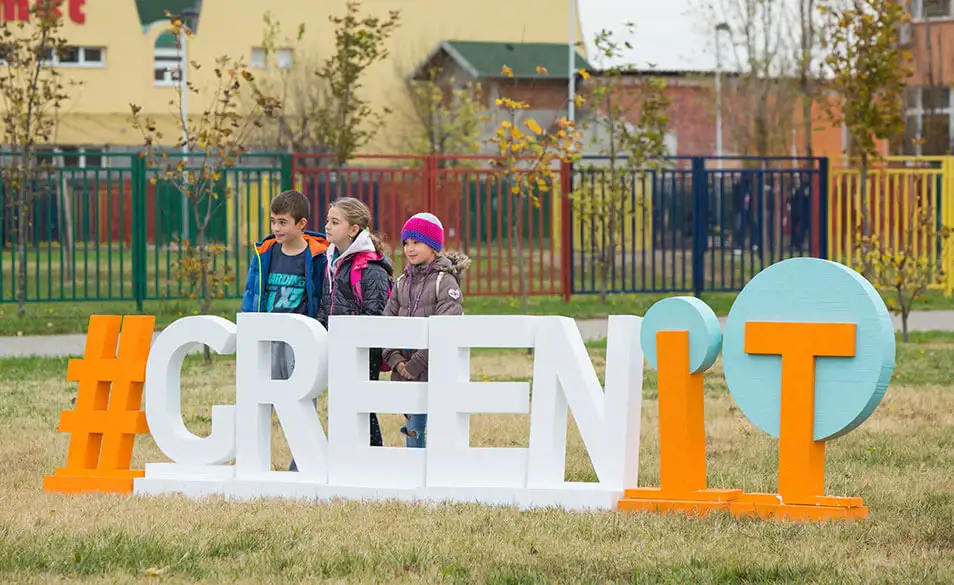 Caring for the environment is a social responsibility of every individual. Simple as that. Each of us can commit to contributing to well-needed real changes.
This responsibility towards our environment was exactly what powered our enthusiasm during each phase of the GreenIT campaign. :-)

Marija Trandafil Primary School
For more than 6 months, each meeting with Milan and the boys from the Eko Kurir organisation ended with the same phrase: "This will be one extraordinary campaign!".
After the GreenIT event on Saturday morning, we can proudly say that it was beyond our expectations.
GreenIT in Numbers
Let's sum up what happened in Marija Trandafil Primary School.
Together we raised over 500.000,00 dinars
More than 100 eco enthusiasts joined our initiative
Together we planted 86 trees
15 Green Hero companies supported GreentIT
We all had 1 Vision: Making our city a greener place

More than a hundred green heroes worked hard, and, more importantly, changed the landscape design for the future generations in just a few hours! Thank you for everything you did!
Who Are Our Local Green Heroes?
Once we'd sent the invitations to IT companies in Novi Sad to join our initiative we knew we had to accomplish our goal. We hoped that invited companies would be eager to roll up their sleeves and help the community.
Each business works hard to ensure financial security for their families and colleagues in order to have a comfortable lifestyle. We are proud that we live in a city where securing the future of the environment for the next generations is equally important!
Companies who recognised the effort to go green:
Emakina.RS, Quantox Technology, 3Lateral, BDIT Engineering, fSD, MENU Technologies, Sixsentix, CCBill, Gradnja, a dental surgery Matijević, Typhoon HIL, QACube, Levi9 IT Services and Vivify Ideas.

Without you, this wouldn't be possible! That's why you are our local Green Heroes.
What Is The Plan For The Next Year?
By the time you have read this blog post, we have already started planning GreenIT 2.0. ;-)
What can you expect? Our goal is to encourage more companies to participate in the campaign, and, therefore, have the opportunity to change the landscapes in more schools.

A part of GreenIT eco enthusiasts
Do you have an idea or advice you'd like to share with us? We'd love to hear what you have to say. Let us know in the comments or write to us at greenit@vegait.rs.