Corporate Social Responsibility
Code for a Cause 4: Help Non-Profit Organisations Digitalise
Tijana Popov
Date 20-Apr-2021
3 minutes to read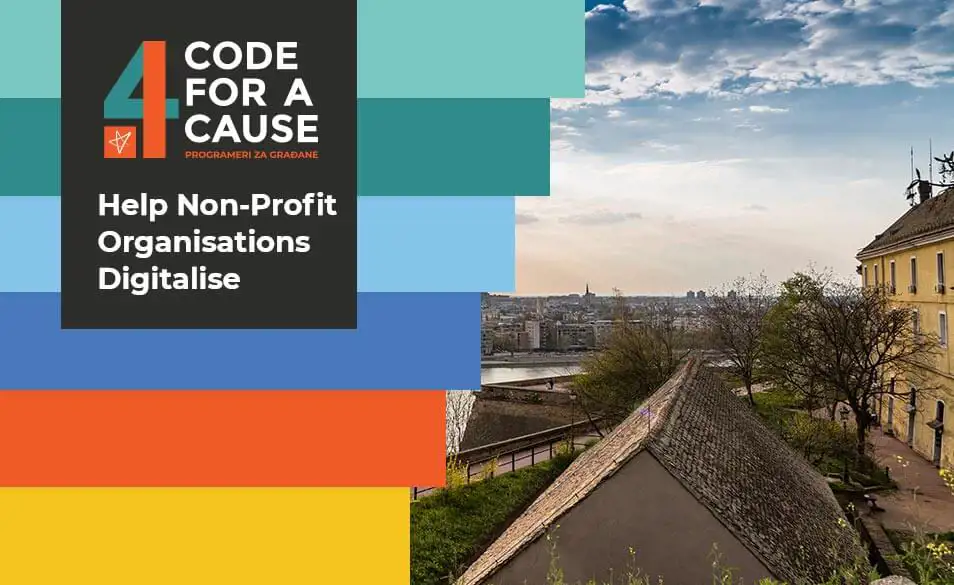 Every cause produces more than one effect." - Herbert Spencer
After a year, we are excited to announce that our award-winning CSR campaign Code for a Cause ("Programeri za građane") is back!
This time our focus will be on helping non-profit and NGOs digitalise their work and stay connected with the community, even during the pandemic.

So far, during the last four years and three Code for a Cause campaigns, we have helped multiple organisations by providing them with custom software solutions tailored to their specific needs.
Are you interested in joining us? Whether you are an NGO, a software developer or a designer, learn more about our timeline and see where you can contribute the most.
Phase #1: Submitting ideas
We want to know: What problems are you facing and what software solutions can come to the rescue?
If you already have an idea, let us know by SUBMITTING YOUR APPLICATION HERE.
From today until the 14th of June, you can submit one or multiple ideas. Get involved and help make our country a better place.
Phase #2: Public voting
After receiving all the ideas, we will analyse the scope of each project with our colleagues and determine which ideas can be realised during the 48-hour long hackathon.
From the 21st of June to the 25th of June at 12 PM, we will ask our citizens to vote for the projects that resonated with them the most and help us determine the priorities. The voting will be organised on our Facebook page, so keep your eyes on it. ;-)
Phase #3: Open Call for IT Companies
During the Code for a Cause 3 campaign, we invited other companies to join our cause and help us complete more projects. This time we plan to do the same and help as many organisations as we can.
From the 29th of June to the 30th of July we will ask other companies to become a part of the Code for a Cause 4.
Does your team want to help non-profit organisations? Write to us at cfac@vegait.rs. We are looking forward to connecting with you!
Phase #4: Open Call for Designers
From the 5th of July to the 30th of July we will hold an open call for designers and design agencies.
We are looking for enthusiasts who are willing to work closely with the project initiators and shape their ideas into a great design.
Phase #5: Hackathon Code for a Cause 4
For most of the participants, the 5th phase is the most anticipated one in the campaign.
Why? It's when they roll up their sleeves and start programming. ;-)
The Hackathon will take place from the 24th to the 26th of September and last for 48 hours.
This is a great chance for all IT enthusiasts to show off their skills, exchange ideas with like-minded people, go well beyond their daily routine work and help those who are helping others.
Important:
As event organisers, Vega IT reserves the right to include an additional project after the voting phase if we believe that that particular idea will have a positive impact on society.
All the ideas, as well as the developed software (source code), will remain the property of the idea initiators and will be given to the public to use.
So, what's stopping you from submitting your idea that would benefit our community?