Business Insights
What Is Salesforce And How Can Your Company Benefit From It?
Uroš Gostović
Date 25-Sep-2020
5 minutes to read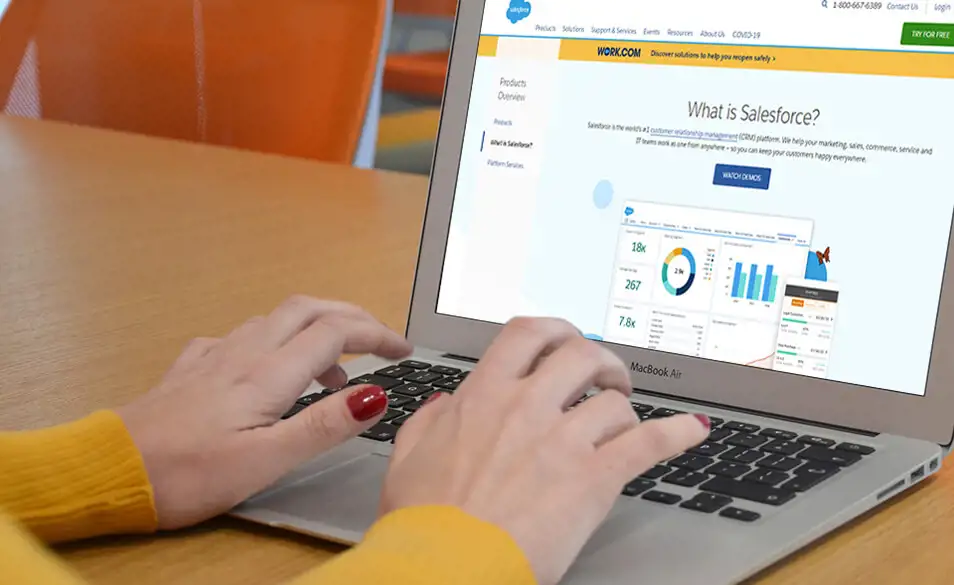 Customer behaviour has drastically changed in the last few decades. Due to market globalisation, customers got exposed to a plethora of products and services causing them to become much more choosey, smarter and demanding.
Whether you are a startup, small or large business, knowing your customers and their needs is a crucial element on your path to success. This is why many companies are incorporating CRM platforms to help them manage their customer relationships much more effectively and with ease allowing them to build strong relationships that inspire customer loyalty.

Salesforce is the largest SaaS company in the world
What Is Salesforce?
In the past, mainly big and powerful companies could afford to create their own, exclusive CRM solution. Why so? Because developing CRM was a complex, comprehensive and expensive endeavor, and it needed to be hosted on the company's own server.
Salesforce was the first cloud-based CRM software available for other companies to use and incorporate it into their system. Besides offering a variety of different products at affordable prices, Salesforce is the largest SaaS company in the world.
This is how Salesforce describes their CRM solution:
Salesforce is a customer relationship management solution that brings companies and customers together. It's one integrated CRM platform that gives all your departments, including marketing, sales, commerce, and service - a single, shared view of every customer.
How Can You Use Salesforce at Your Company and What Are its Main Benefits?
Salesforce is a powerful CRM software that provides you with a 360-degree view of your customers thus allowing you to run your business more smoothly, and drive success.
The main reason why companies use Salesforce is to understand and connect with their customers better, which would ultimately help them drive sales and reach success.
This includes tracking of different teams, such as:
Sales
Marketing
Support
Commerce etc.
The best part is that you can access all of the data in real time, across different devices which will help you track sales, analyse performances and customer success. It's a win-win situation for both managers who can follow their team's progress and employees who can get feedback for their work.

Salesforce CRM can be used across all of your devices
By having the option to create your own modules, applications and plugins tailored to your specific needs, it's no surprise that some of the biggest companies in the world such as Amazon, Adidas, Canon, Philips, Spotify, Aston Martin, and others use Salesforce CRM.
If you don't have developers to help you create custom Salesforce solutions, you can always search for apps in Appexchange, which is similar to App and Play store. Here you can find various apps, modules and plugins (some of them are free) to suit your company's specific needs which is a great benefit for companies using Salesforce.
Which Cloud Services Does Salesforce Offer?
Salesforce splits into several products or Salesforce clouds that can provide you with specific functionalities so that you can manage your customer relationships in a more efficient way:
Salesforce Sales Cloud
Salesforce Sales Cloud is designed to support the sales team in such ways to help them close deals much faster and smarter. Why? Because all of the relevant information about a potential or current client is stored at one place and accessible from any device.
Features like collaboration, contact management and marketing tools enable companies to find new leads, keep track of them, and convert those leads into sales. Salesforce Sales Cloud is designed for B2B and B2C companies who want to drive sales, nurture their leads, but also generate new ones for their businesses.
Sales Cloud also comes with dashboards and reporting features to help you keep track of your team's success. You can also track all of the past activities, communication with clients, key contacts for a specific account, and so much more.
Salesforce Service Cloud
Salesforce Service Cloud helps customer support teams work faster and smarter so they could deliver more personalised service to the customers.
Support teams that use this service have access to customer data and can use different templates, macros and shortcuts to solve customer problems much more efficiently. This module lets you automate processes and helps you by matching your best agents to the customers so that their issues can be solved much faster.
Salesforce Marketing Cloud
Sales Marketing Cloud helps companies deliver relevant and personalised journeys to each of their customers.
To help you engage your customers and provide them with the right message at the right time, Salesforce Marketing Cloud includes integrated solutions for:
Journey management
Email
Mobile
Social
Web personalisation
Advertising
Content creation and management
Data analysis
All of these solutions can help you tailor marketing activities to align with your customers' needs.
From managing your email campaigns to creating and delivering web content to your customers, every customer interaction scenario is covered. You can do it all. Plus, you can analyze all of the data and track the success of your marketing activities.
Salesforce Commerce Cloud
Salesforce Commerce Cloud uses artificial intelligence to discover customers' shopping patterns and provide them with the best experience across all channels - mobile, social, web and store. B2B or B2C companies can use this service to create conversions, inspire brand loyalty and create more meaningful and deeper connections with their customers.

Salesforce Analytics Cloud
Salesforce Analytics Cloud is used to bring all of your CRM data in one place, helping you tailor it to your business needs and goals. Analytics Cloud helps you understand all of the data you gather over time. With the help of artificial intelligence used in Salesforce Analytics cloud, you can harness the power of your data to spot opportunities, predict outcomes and get recommendations which can help you to identify ways to achieve your business goals much faster.
You can also create your own custom dashboards that can contain specific data, trends and predictions regarding outcomes based on collated data. With the help of collaboration tools you can share that dashboard with your team to analyze and discuss the presented information.
Community Cloud
Community Cloud is an online social platform that lets you connect your employees, customers and partners. With this product you can create various communities, from customer self-service portals to your own communities such as forums. For example, you can streamline business processes to specific departments, teams or partners allowing everyone to have all of the information at their fingertips to help them work more efficiently.
You can pull data from any source and then use different templates to create communities for your employees, partners and customers. These communities are mobile friendly which means that you can access them anytime and anywhere. Besides the ability to collaborate with others in real time you can also share, download and record any data across all devices.
Why Should You Start Using Salesforce at Your Company?
Salesforce has played a very important role in the unprecedented growth of cloud computing. They have grown into a global company that offers a variety of cloud services to help companies manage customer relationships in a new, better and more efficient way.
Salesforce makes everything customisable and tailored to your specific business needs. Isn't that a reason enough why Salesforce is the No.1 CRM platform in the world today.
If you are thinking of integrating Salesforce CRM at your company, here are a few key takeaways to remember:
With Salesforce you can:
Track opportunities and automate sales processes
Create new leads and nurture existing ones
Track and analyze your data more efficiently
Use marketing tools to expand the reach of your business
Create communities, personalised shopping experiences and so much more
For more information on how to start integrating Salesforce CRM at your company feel free to browse through Salesforce services we offer and contact us.