Business Insights
What are the biggest mistakes in software development outsourcing and how can you avoid them?
Jovica Turcinovic
Categories: Business Insights
Date 03-Nov-2022
5 minutes to read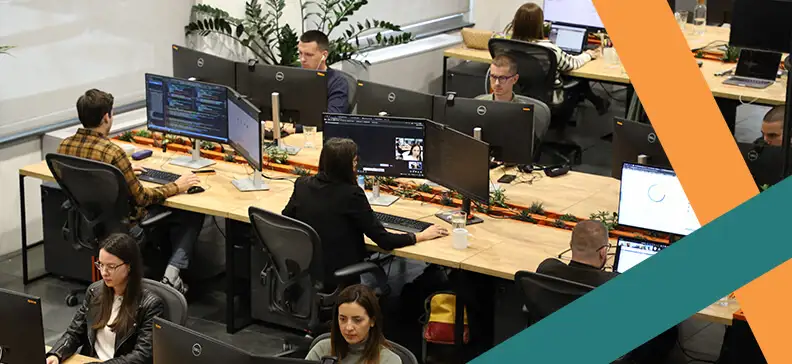 According to Deloitte, a leading global provider of audit and consulting services, 70% of companies choose to outsource their software development to save money and drive down costs during the post-pandemic crisis. The number of companies outsourcing is on the rise.
There are over ten thousand software development companies worldwide. So, once you've chosen to outsource and potentially save money, decrease the risk and increase agility and flexibility, you now have to find the right partner. Looking for quality, talent, innovative thinking, and deep domain expertise is a wise start but let's take a look at software development outsourcing trends, the common outsourcing mistakes, and how you can deftly avoid them.
When should you outsource your software development?
Companies generally outsource their software development for three key reasons:
Expert help (technical and/ or domain expertise)
Save money
Improve efficiency and decrease the risk
Faster upscaling and downscaling
When internal resources, projects, and responsibilities are stretched, IT projects become stalled and expensive. Billions of dollars are spent in software development each year so hiring a professional development team delivers the resources and knowledge often lacking and allows you to complete projects on time. Products are often better quality, too.
Whether you're scaling or saving, smart software delivery is key.
Key questions to ask before you outsource your software development:
Do you have the time and the right resources to deliver your IT projects?
What is the true cost of late/unfilled software development projects?
Do you have the necessary internal resources?
Do you have internal software development expertise?
What knowledge and skills gaps do you currently have?
Are you willing to take on more staff?
Can the company in question fill your team's knowledge and skills gaps?
Are you on a budget and deadline?

What are the trends in software development outsourcing?
Global IT spending growth is a trend set to stay with projected spending predicted to hit $4.5 trillion by the end of 2022.
The Covid-19 crisis has led to greater demand for global teams. As countries closed their borders, companies shifted to a geographically dispersed workforce which is known to offer improved support and functional expertise. This strategy is expected to play an even greater role in 2022 and beyond.
Smart operators are starting to recognise the benefits of outsourcing which offers a genuine solution to many business problems. Outsourcing partners now share in the decision-making process and complement other areas of business operations such as risk assessment and strategic planning (among others).
What are the most common mistakes when it comes to software development outsourcing?
Mistake #1: Failure to consider all roles needed within the software development cycle.
Often there is focus only on software developers (programmers), but you should choose the partner who has talent in all roles in the development lifecycle as you may need them down the road. There are many different roles needed in the software development lifecycle, and the ideal team is made up of the following roles:
Product owner
Scrum Master/Project manager
UX & UI designers
Business analyst
Software engineers
Data Scientist and Data engineers
Devops engineers
Team lead
Tech lead (sometimes Team Lead can take ownership of the Tech Lead role)
Mistake #2: Choosing the cheapest software development partner.
This might sound budget-friendly, but a fairly priced partner is more likely to have the resources and experience to fulfill your project and meet your needs. Ask about similar projects, supported technology stacks, and how the project and processes work. Check case studies, referrals, and portfolios, and you can easily research companies and leaders on LinkedIn.
Mistake #3: Hiring the first software development company.
This is an easy mistake to make when you're under pressure and over budget. But choosing an incompatible partner makes for further hurdles down the line. Check that they mirror your values, needs, and goals. For example, what communication and feedback can you expect?
Mistake #4: Neglecting the expertise of your business domain.
Making this mistake can disrupt transactions, damage the customer experience, and even present cybercriminals with opportunities to exploit. Instead, look for a partner who will secure and maintain your digital assets.
Mistake #5: Failing to define your expectations.
Not defining your expectations from the start leads to further issues down the road. Your goals, your budget, your input, your needs – you are the customer. Discuss and record your needs internally and with your potential partner. A software vendor who understands your business domain is imperative. When utilized properly, domain expertise can help deepen your understanding of your customers, their goals, and the unique issues and challenges they face. It will also help you identify how customers can best use your product or service, and ensure you become a trusted adviser - all of which your software vendor can help you leverage. Honest dialogue is key. Present your project's goals, requirements, and expectations and ask for clarity, evidence, and projections.
Mistake #6: Outsourcing without a clear plan is often an error committed by those in haste.
The right software development outsourcing partner can help answer your questions, offer valuable expertise and help you devise the right plan of action together.

Mistake #7: Choosing vendors in time zones that are not convenient for your team can present delays and frustration.
Ask where the head office is, who will support your project and how communications and updates will be effectively managed. Nearshore, onshore, and offshore choices all have advantages and disadvantages that should be considered before making your final decision.

Mistake #8: Failure to pay attention to language and cultural barriers is often overlooked but can be costly.
A second language and cultural barriers can impact comprehension and lead to mistakes. Check that your potential partner's team is proficient in your preferred language and that there is a good cultural fit with your team.

Mistake #9: Failure to set up clear governance and project management structure.
Without a proper project governance framework, you risk lengthy decision-making, ambiguity, lack of responsibility and project failure. Instead, create a clear governance and project management structure that enables ethical, effective, and strategically aligned decisions that consider all stakeholders and ensures your project objectives are met.
Mistake #10: Wasting your hired talent.
Throwing money down the drain and talent is a horrible thing to waste. Instead, allow your experienced hands to support and collaborate with your external software developer. How can you work together? How can you avoid duplication? It's important to interview and get to know each extended team member. By doing so, clients will be aware of team members' individual strengths and competencies, thus, can better plan newly hired talents. Flexibility and agility start with your chosen partner.

Mistake #11: Choosing inadequate software.
Software quality drives predictability. Do it once. Do it correctly. There will be less rework, less variation, and better performance. Your bottom line will thank you.
Mistake #12: Risking data security and not doing background checks.
Cybersecurity threats and data breaches are on the rise and a failure to do background checks is putting global businesses at risk. Candidate screening and checks should be extended to include temporary workers, contractors, and interns.
How to find the right development partner:
Create a list of potential software development companies in line with your requirements
Validate their technology and domain expertise
Validate that they have talent in all roles needed in the development lifecycle
Get to know them and check for language proficiency
If possible, travel and meet them in person to better understand whether you're a good fit
Ask for references and case studies
Create a shortlist
Negotiate terms and pricing
Are you still looking for an experienced software development partner?
Vega IT helps clients all over the world achieve exceptional business outcomes.
With more than 15 years of industry expertise, we have over 750 software development professionals including Architects, Product Owners, Business Analysts, Project Managers, DevOps, and QA Engineers. We are the external resources that revolutionize the way you do business.
Please review the case studies within your industry to see (exactly) how we can help and get in touch.