Business Insights
Celebrating a milestone: The first 15 years of Vega IT
Tijana Popov
Categories: Life At Vega IT, Business Insights
Date 27-Jul-2023
5 minutes to read
2 roommates. 15 years. 200+ clients. 1500+ projects.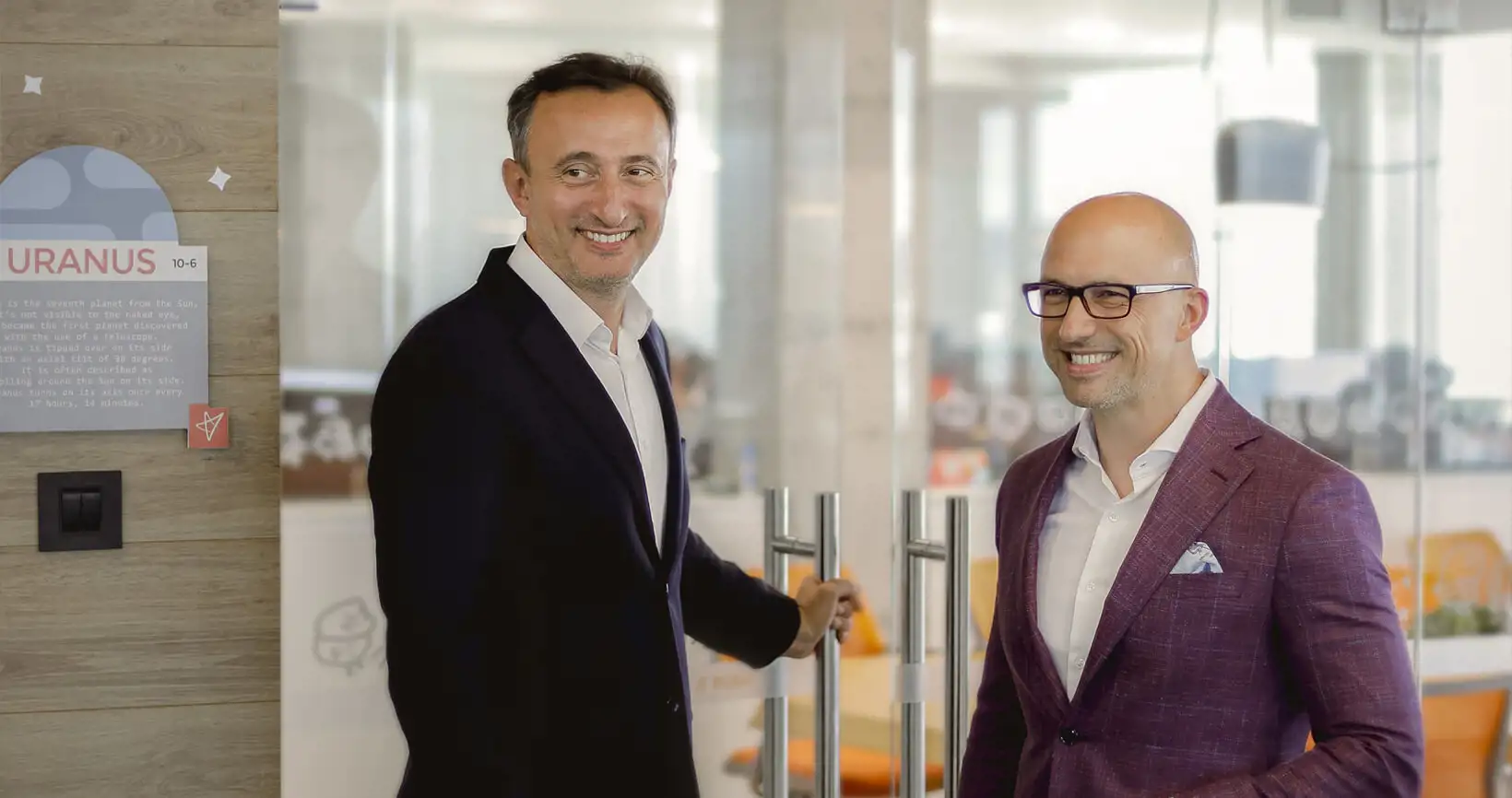 This month we mark Vega IT's 15th year in business. We came a long way from our humble beginnings in 2008. From a founding capital of 4000 euros to having multiple offices across the world, and still expanding.
We wanted to know what the journey was really like for the two co-founders, Sasa and Vladan. So, in the midst of the celebration, we sat with them to reflect on the years behind us. 
Sasa, Vladan, congratulations on this milestone! How would you describe the first 15 years of Vega IT? 
Sasa: The first thing that comes to my mind is that the time flew by so fast! I did what I enjoy doing, and most importantly, I did it together with a bunch of wonderful people. I'm proud to call some of them my friends now.
Looking at the results achieved in the past years, I feel proud of the strong organizational culture we've built and the network of amazing people coming from our partner companies from all over the world. It feels great when I see that we have partners who are with us for 15, 13, and 12 years, and who we still co-create the world's best digital products with. 
This was also an opportunity for me to work on my personal and professional development and to learn a lot about business. An important part of that was also learning how to approach daily challenges and how to lead a company of various sizes over time through good and bad times. 
Vladan: It is often said that people overestimate what they can do in a year but underestimate what they can do in ten years. I'd say that was very much true for me. 
It is often said that people overestimate what they can do in a year but underestimate what they can do in ten years. I'd say that was very much true for me.
If somebody had asked me 15 years ago what I expected in the next 15 years, I would never guess it. Let's be honest, I couldn't even make a close guess. 
I was 28 when I co-founded Vega IT. So I would describe these years as my "growth years," where I developed both as a person and entrepreneur. What I learned is to be prepared for anything, as it's hard to predict what's hiding around the corner and what effect it can have on us. With that mindset, we became self-reliant, which got us to where we are today.  
We are the only tech company of this size in Serbia that's still owned and led by the same people who founded it. Were you ever tempted to sell Vega IT? 
Sasa: Because of the results we achieve year after year and because of our size, we are being approached by potential investors at least on a monthly basis. We still believe that we can do much more, both in terms of growth and further strengthening of the business, without external investment. Additionally, we believe we can provide much better services to our partners if we can act independently and if EBITDA doesn't have to be our number one priority. We are still very passionate about our partners and want them to get the best possible service from our company.  
Vladan: To be honest, I can say that I was tempted to sell the company multiple times - especially, when I was a young entrepreneur. The offers we were getting were better and better and sounded out of this world to me. I remember thinking to myself how amazing it is that something that we created with only 4000 euros can be worth that much. 
However, I always felt great relief each time when we decided that we were not going to proceed with the sale. Even though those offers were amazing to boost our ego, that excitement was quickly deflated and replaced with thoughts that we can achieve so much more and that it's just the beginning for us. 
Only now can we start to look at the outcomes of that decision. We became the largest Serbian IT company, which is something I am very proud of. I still believe that we are just at the beginning.  Especially now that we are joined by almost 40 shareholders in the company who are transforming our offering, and when we are going global.
Now that Vega IT is today a much larger, global company, what advantage did that decision give us? 
Vladan: The advantages are numerous. The independence and a flat organizational structure allow us to be pragmatic, fast to adapt, and unconstrained to pursue new opportunities on a daily basis. 
As I mentioned earlier, we are self-reliant, which makes us far more agile, than those slow and big semi-independent companies. We still have the same mentality where we still cherish our clients as we did early on. I'm proud that we still work with our first client. 
At the moment, the world economy is on the brink of recession. However, this is not the first time you have led a company through world economic crises. What have you learned about tough times?   
Sasa: We've all seen throughout history that economic activity often follows a cyclical pattern: from expansion to contraction/recession and back. When running a business, we don't have the luxury of hoping that expansion will never end. We know there will be tough times, and we always have to be prepared for them. We founded Vega IT in 2008, during the global financial crisis, so we learned that early in our careers. 
There are a few core principles that we've followed for the last 15 years:
Always be prepared for tough times,
When a tough period comes:

Do our best to protect our colleagues' jobs and
Be passionate about the work we do for our clients and be extremely focused on their success.
That worked well for our colleagues, partners, and the business. I like the saying, "Tough times don't last, but tough people do". Be it a recession or not, we'll continue to do our work as best as we can and not be afraid for the future of our business. 
Vladan: We went through a couple of crises in these 15 years. In these crises, we always followed Churchill's famous observation, "Never let a good crisis go to waste". 
The tough times force us to step up and become more resilient. We focused on one of our core values - hard work. We continue delivering premium solutions and the "wow effect" to our clients, which protects the jobs of our colleagues who share the same values as we do. After each crisis, we came out stronger, more efficient, and consolidated. As a rule, our growth usually explodes after the crisis. 
Where do you see the company in the next 15 years? 
Sasa: The world of tech is fast-paced and ever-changing, so we have to be too. We plan to continue investing in learning and relationships, which should bring us even closer to our vision of co-creating the world's best digital products with the world's most innovative businesses. 
Vega IT is already a global company, and I believe we'll do even more when it comes to our global expansion in the future. More specifically, in addition to already having a local presence in the US and the UK, we'll most likely be expanding to the GCC and South-East Asian regions. 
Vega IT is already a global company, and I believe we'll do even more when it comes to our global expansion in the future. More specifically, in addition to already having a local presence in the US and the UK, we'll most likely be expanding to the GCC and South-East Asian regions.
We developed strong domain expertise in several industries in the past, like FinTech, HealthTech, InsurTech, Mobility, and EdTech, and I believe we'll expand our domain knowledge across more industries in the coming years. 
All this should provide even more opportunities for our colleagues and even better service to our partners.
Vladan: It's simple, we want to deliver more value to our customers. Whether it's domain or tech expertise. In the beginning, our main value proposition was engineering. Now we additionally focus on bringing more value to our customers and helping them achieve their business goals. Our clients see us as premium partners, so we work on even more exciting and innovative projects. 
We are currently going through this transformation, and at the same time, we are expanding globally. It's hard to predict what's gonna happen in the next 15 years. My dream is that Vega IT becomes a truly global company with many thousands of employees and with a huge base of international employees that will bring us all the knowledge and experience that we might be missing here in Serbia. This will allow our colleagues to move with their careers in many different directions.
When looking back, is there anything that you would do differently? 
Sasa: Until a few years ago, we didn't value very much and didn't practice formal strategic planning. I believe we didn't use our full potential because of that. 
If I could do it all again, I probably would use the same approach to building a strong culture and great service for our clients, but I would spend much more time on strategic thinking and setting specific long-term goals. Nonetheless, we are still relatively young as an organization and as individuals, so I believe we'll have plenty of time to compensate for that in the future :-)
Vladan: Of course. I can see that we missed a number of opportunities because we played it safe. I understand our decisions at the given time. Probably we needed to mature (both as people and organization) and gain more confidence to step into the arena with bigger players or make bold business moves. We have that confidence, and that's why I'm looking forward to our global expansion and the new era of Vega IT. 
Thanks, Sasa and Vladan, and cheers to the first 15 years!