Life At Vega IT
Vega IT Book Club: Are You Ready for a Literature Adventure?
Kristina Ostojić
Categories: Life At Vega IT
Date 23-Mar-2020
3 minutes to read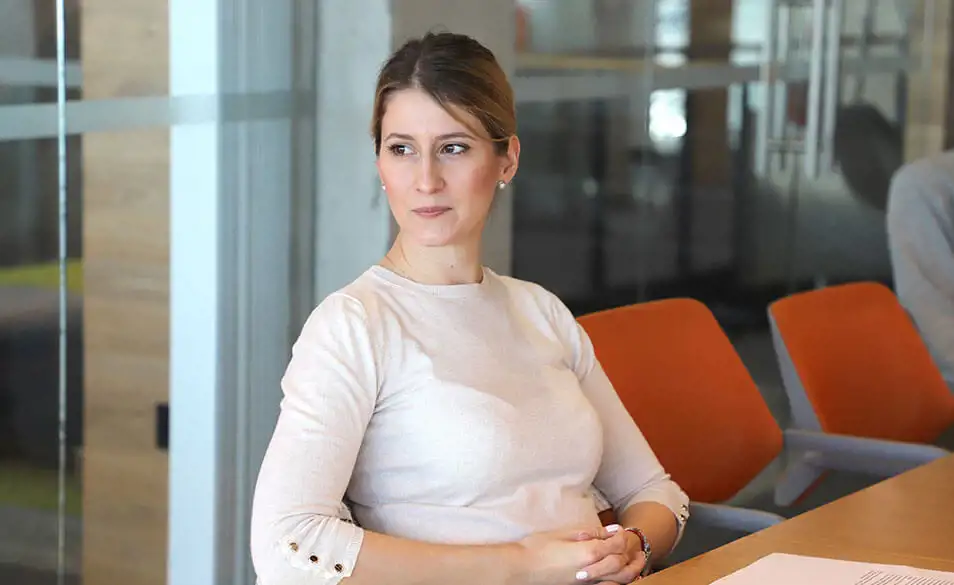 While I was reading one of the chapters of the book "Radical Candor" by the author Kim Skot, I came across this sentence in the part where she explains how we can spread our idea about "Radical Candor" principles, the culture of giving feedback, and how we should start implementing them in our own working environment.

Kristina Ostojić at the Vega IT Book Club meeting.
Since it is unlikely that I will buy each of my colleagues one copy of the book, I've been thinking about how great it would be if we could at least talk openly about this and other books which are worth reading, which left a strong impression on us and which helped us become better versions of ourselves, both in our business and personal life.
Book Club at Vega IT
Initially, my plan was really modest. I wanted us to try promoting a reading habit as something nice as well as the books we recommend on social media networks.
Once a month we would take a photo of one of our colleagues holding a book they would like to recommend. Also, they would write a few sentences about why they would recommend others to choose that specific book to read. Much to my great joy, Saša liked the idea. He even suggested that we should go one step further and found a Book Club!
Since January this year, Vega IT has its own Book Club. We meet once a month where we discuss the book we agreed to read in the meanwhile. On our first meeting, we chose all the books we would like to read, and then we voted on the order those books should be read.

Kristina, Jovana, Bisera and Rade during the Book Club meeting.
The book club is an ideal opportunity to spend some more time with people who are connected only by their profession. This kind of socialising should bring the relationship between colleagues to a whole new level and result in better professional cooperation between team members.
The Book: "Never Split the Difference"
"Never Split the Difference: Negotiating as if Your Life Depended on It" by Chris Voss, a former leading FBI agent, a negotiator in hostage-taking situations with more than a few decades of experience in the field, is the first book which we analysed in the Book Club.
He shared his knowledge of negotiating in his bestseller book where he describes how we can implement some of the techniques in our daily routine, because, no matter what our life is like at the moment, it can be even better!
If you are interested in finding out what the "mirroring" is, and if solutions reached through compromising are something we should strive towards and what we should say "yes" to, and if you want to know how to negotiate the price of a car, an apartment, or how to provoke your co-speaker to say "no" so that two of you would reach and fulfil your agreement together, then I suggest you take some time to read what Chris has to say.
If you manage to implement at least 10% of what is written in the book, you are 10% better than someone who doesn't know anything about this. Isn't that a good enough reason to read this book?
What's Next?
On our next Book Club meeting, we will negotiate one of the books which marked the beginning of the 21st century - "Homo Deus: A Brief History of Tomorrow", by Yuval Noah Harari. This is an exciting, intelligent book which provides us insights into different points of view of the things we believed we knew well.
Stay tuned! ;-)