Life At Vega IT
Techfestival Copenhagen: Speakers' Takeaway
Tijana Popov
Categories: Events, News
Date 11-Oct-2018
4 minutes to read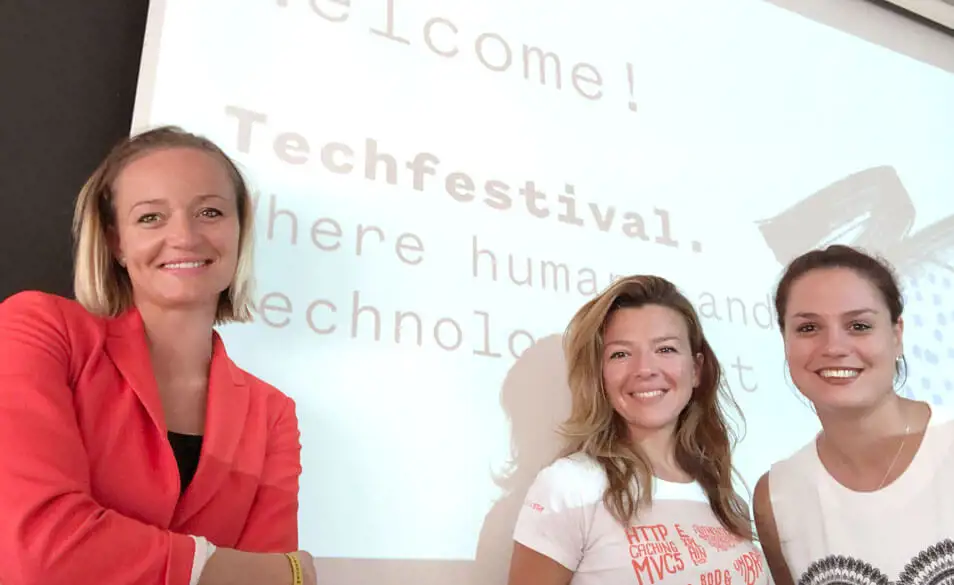 Recently our colleagues Mila, Nevena and Maja were invited to participate in a panel discussion at the Techfestival's meetup in Copenhagen. The subject of this panel was interesting to the visitors such as HR managers, business owners and project managers who wanted to hear about our best practices and learn about how to achieve happiness in their companies.
Without further ado, we present you their impressions in full:
Mila Lukić:
"The concept of the Techfestival in Copenhagen is to evoke a deeper thought and a discussion on the topic what technology really means to us as humans. It is an event where people put money and profitability aside and put mankind in the centre of the discussion instead. It is a place where we question the purpose and discuss the benefits that technology brings to humans in general.
I am sure that you can already guess why we simply had to participate in this event and share our story with like-minded people.
The turnout of participants was overwhelming and absolutely inspiring: different genders, ages, industries, experiences and roles. But, what inspired me the most was the engagement and sincere interest in the topic "Happiness in the workplace". We managed to create an atmosphere of trust, competence and comfort. Everyone talked openly about their real challenges at work, as well as their present and past experiences while learning and getting inspired by what we do at Vega IT.
We had fun, we learnt a lot and we definitely made Vega IT proud of us"
Nevena Nikolić:
"Before starting an adventure like this one, I usually catch myself wondering: "Who will be in the  audience"? And, usually, right before the meetup, I start to think of the participants as of my University professors - they are here to ask me the questions I'm not prepared for.
But, after the first minute, I realise I am wrong and that there's nothing to worry about. I'm glad that I had the opportunity to share the Vega IT Happiness at work experience and stories with the people at the Techfestival. Everyone at the meetup was very interested in hearing our stories, but they also shared their own experiences with us.
I was delighted to see how important happiness at work for these people is and I hope that they will adopt some of the "happy principles" that proved to be working well for Vega IT."
Maja Nedučić:
"This meetup was everything we've been dreaming of, as it gave us the opportunity to share the experiences from our company and from our country. We have been given a chance to send a strong message that happiness at work is reachable in any industry. The main principle is that the success doesn't only depend on the management of the company, but ourselves as well.
Approximately, 50 people from different countries coming from various industries shared their past and current experiences with us. By using real-life examples, we helped them solve many dilemmas they had encountered while implementing happiness at work principles in their companies.
For me, the most exciting part of the Techfestival was when Alexander Kjerulf came to the panel to support us! Can you imagine - CHO himself!"
After hearing the comments and learning more about the amount of interest our company culture aroused at the Meetup, we have to congratulate Mila, Nevena and Maja for presenting the values of Vega IT at this event! We hope that all the people who visited the Meetup and participated in the discussion will be able to achieve happiness at work in their own organisations. Well done girls!