Life At Vega IT
Promoting Entrepreneurship: Startup Week 2019
Author: Tijana Popov
Categories: Internal, workers, worker success
Date 29-May-2019
4 minutes to read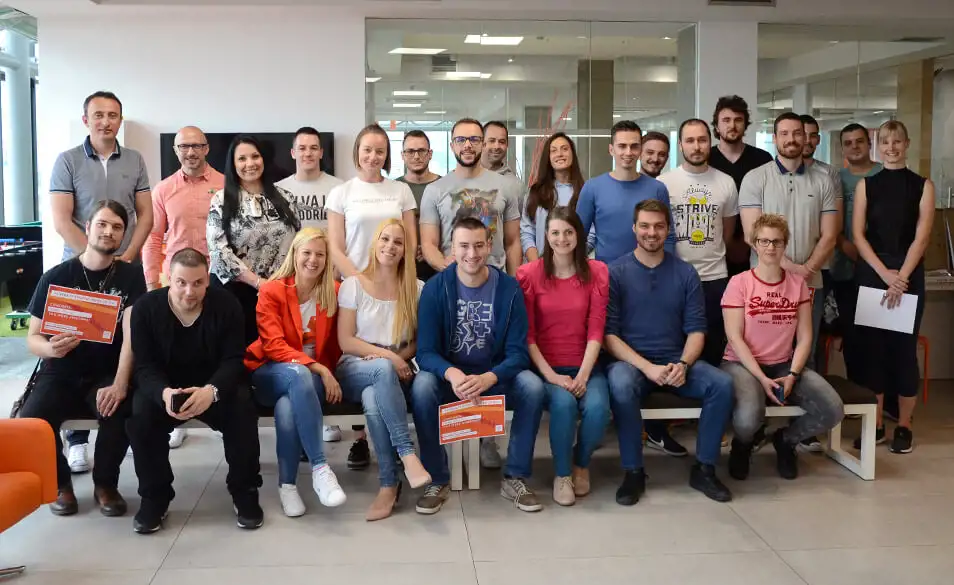 In addition to investing in education, we strongly believe that promoting and supporting entrepreneurship efforts is the right way for our country to prosper.

Our colleague pitching his team's idea
This is why a couple of months ago, we encouraged our colleagues to come up with Startup ideas and present them to us at internal Startup week. Sixteen people worked hard on developing 5 amazing ideas for 9 days. During a 5 minute pitch, our colleagues, together with the jurors, Sasa and Vladan, had the opportunity to hear 5 interesting ideas given by 5 enthusiastic teams.
What Were the Ideas?
The teams chose to tackle the problems which they encounter frequently and to offer solutions. During the pitch, jurors weren't focusing on the quality of code, nor on the brand building process. Instead, they were analysing each idea based on whether it is:
Product/market fit
Feasible
Potential (local vs global market)

Vladan Ostojic and Sasa Popovic at Vega IT Startup Week
Our colleagues and their ideas went beyond our expectations. Each team was eager and fully prepared to take over the stage for five minutes, and these are the ideas they presented:
A virtual television platform which utilises Eye Tracker technology to collect behaviouristic user data. It relies on Blockchain, openly sells processed user data and shares sales profits with them
A platform that matches registered consultants with businesses which need their services
An app that allows you to organise your photos easily
A personal trainer app that will improve the way trainers interact with their clients
A price comparison app
Why did We Organise This Event?
The goal was to inspire our colleagues to step out of their comfort zone, take risks, try something new and learn from this experience. Taking the leap into entrepreneurship can significantly change the person's mindset. But, this also teaches us personal responsibility and perseverance.
Innovations and startups go hand in hand and this why we'll focus on promoting entrepreneurship inside and outside of our company.
Entrepreneurs and startups are important for economic growth and prosperity of our country. We believe that we need more people who are willing to turn their dreams into reality and run successful businesses one day.
Where to Go from Here?
During knowledge-sharing events and incentive programmes in our company, we encourage our colleagues to discover new interests, improve their existing skills and push themselves out of their comfort zones.
Innovations and startups go hand in hand and this why we'll focus on promoting entrepreneurship inside and outside of our company. Who knows! Maybe one day one of our colleagues will leverage their love of technology to improve our country's standard and truly make the difference. At the end of the day, that's what this is all about!
Vega IT Startup week will be one of those events we look forward to each time. We want to see a change happening. And, what's the better way to do that than supporting those who are not afraid to try? ;-)